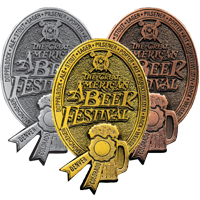 Congratulations to the 35 Colorado Breweries that brought home 40 medals from the Great American Beer Festival in 2023!
First of all, huge congratulations to Wibby Brewing Company for being chosen as the Brewery and Brewer of the Year for their size category (5,001-15,000 barrels)!
Then, in the Pro-Am competition, the gold medal was awarded to "She Fancies Herself A Little Bit French" brewed by CooperSmith's Pub and Brewing & AHA Member Mark Pennick. A silver medal was also awarded to Rob's Baltic Porter from New Belgium Brewing Co. and AHA member Rob Hardisty.
In the 2023 Collaboration Competition, Cheluna and Prost brought home a gold for their Luna Mexican Export Lager.
Colorado won 12 Gold Medals!
Colorado won 20 Silver Medals!
Colorado won 4 Bronze Medals!
Congratulations to all of the winners!
See the full list of Great American Beer Festival winners here.