Congratulations to Jeff Parker on completing the quest to visit every currently open Colorado brewery!  He has now earned the title of "Colorado Brewery Master," joining a small group of beer enthusiasts who have also accomplished this feat.
I first heard about Jeff while on a brewery tour with Ryan & Ashley Steadman and they showed me an Instagram post from this guy who kept tagging Colorado Brewery List.  We really enjoyed seeing all of these posts with his iconic pose, (see below) and greatly admired all of the details that he included about the breweries that he visited, especially the line of "Why I would come back."
I didn't actually meet Jeff until he happened to be stopping by Rocks & Hops Brewing in Boulder at the same time Ryan & Ashley were celebrating their Master finish line.  We had a great chat and I discovered that he was very close to finishing "the Quest."
I am now happy to welcome him to the Colorado Brewery Master family and, as I have done previously with the other Masters, I was pleased to ask him some questions about his journey…
Who is Jeff Parker?  
I am a Colorado Native that has never lived more than six miles from Red Rocks Amphitheatre. Husband to Karen for 32 years and counting, father to two sons, David 26 and Joseph 22, and now our favorite child, our daughter-in-law Amy!
I have been home brewing for over thirty years. We have 10 taps of our beer on our deck, and love to entertain.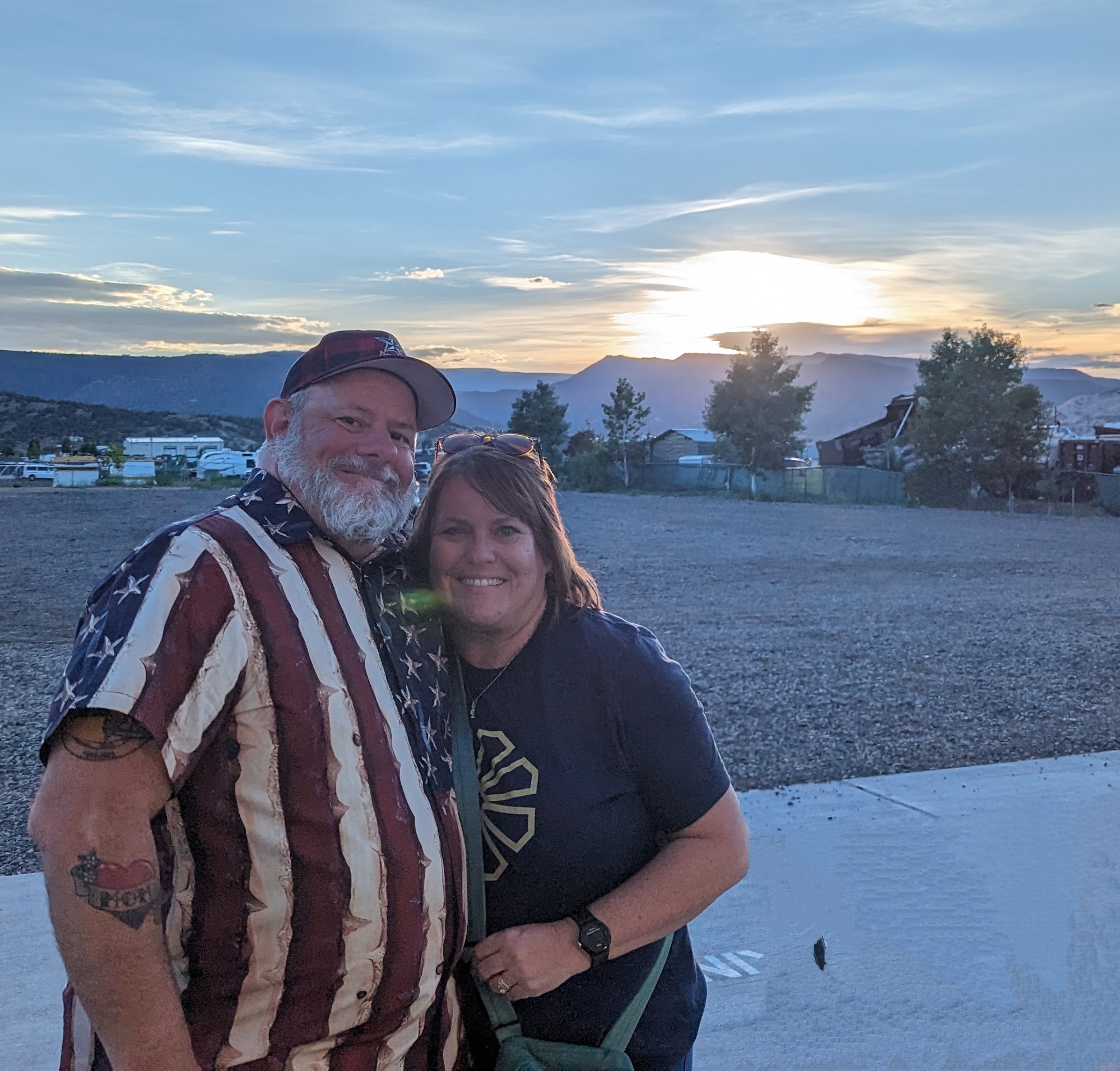 When and what was the first Colorado brewery that you remember visiting?

Like many on the Western side of Colorado, I visited Coors on numerous occasions as a kid, and once I got to 21, I learned about the 'short tour.' Many a weekend pregaming happened at Coors' Tap Room.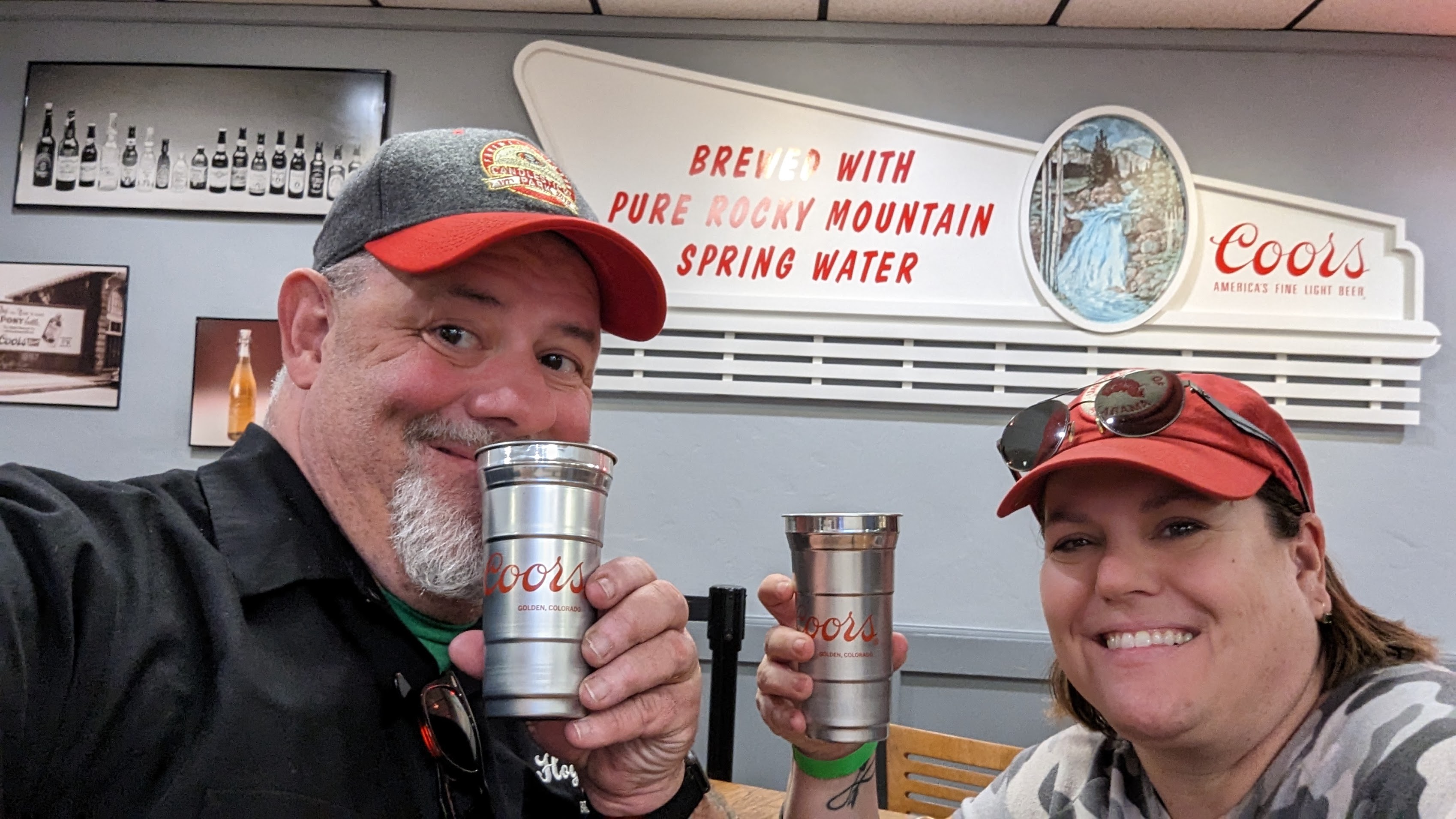 From a craft beer perspective, my fondest early memories are of Tabernash in Denargo Market. They made what I still feel is the best Hefeweizen that I have ever had. Exploding with banana and clove, the creamy libation was liquid heaven. At first the tap room was only open on Saturdays, and there was many a trip to fill our growlers and have a few 'tasters.' Tom Hail and Eric Warner were also great resources as a home brewer, helping me hone my craft, and also lending some of that magic Hefe Yeast on occasion.  [Note:  Tabernash merged with Left Hand Brewing in 1998.]
While you have been to many CO breweries over the years, when and where did you start this particular quest to visit them all and where and when did you finish?
While we have been trying to get to all of the Colorado breweries for decades, we never set it as an official goal. Just visited as we were in the area on vacation or for some sporting event with our kids. If a new brewery opened and it was close, we would often make plans to be in the area. Being empty nesters recently, we really fell in love with some of the beer passport programs and used that as a guide to our weekend adventures.
I follow Paul Myhill on the socials, and was inspired by his journey to become a Colorado Brewery Master. Honestly I thought he did it in less than a year. So, looking for a new goal, we decided that we would track the breweries and set a deadline, one calendar year. We had been to most of the breweries already over the years, but taking Paul's journey as inspiration we wanted to start with a clean sheet and visit every one of them. Searching for some list of breweries, we came upon the Colorado Brewery List, and have used it as our bible. Our goal ended up being to visit all of the Colorado Breweries and Brewery Tap Rooms in one calendar year, based solely on the Colorado Brewery List. The list is great, as you can quickly see what you have done, and are needing to complete. There is also great information like open hours, which really comes in handy when you are planning a loop of breweries to visit.
I have logged each brewery, starting with a A Bit Twisted Brewpub on January 2nd of this year. Each brewery is rated, and as the year has progressed, I am adding in more details to the rating, focusing on things I like in a brewery, like sitting at the bar and number of TVs to watch sports.
Paonia United Brewing on August 25th was my finish line. I had thought I would be celebrating alone, but Lawrence Hancock had been following my quest after seeing me on 9News, and welcomed me into PUB. It was a wonderful experience; he told all the locals about my journey. It was a blast to celebrate with him and all of the regulars.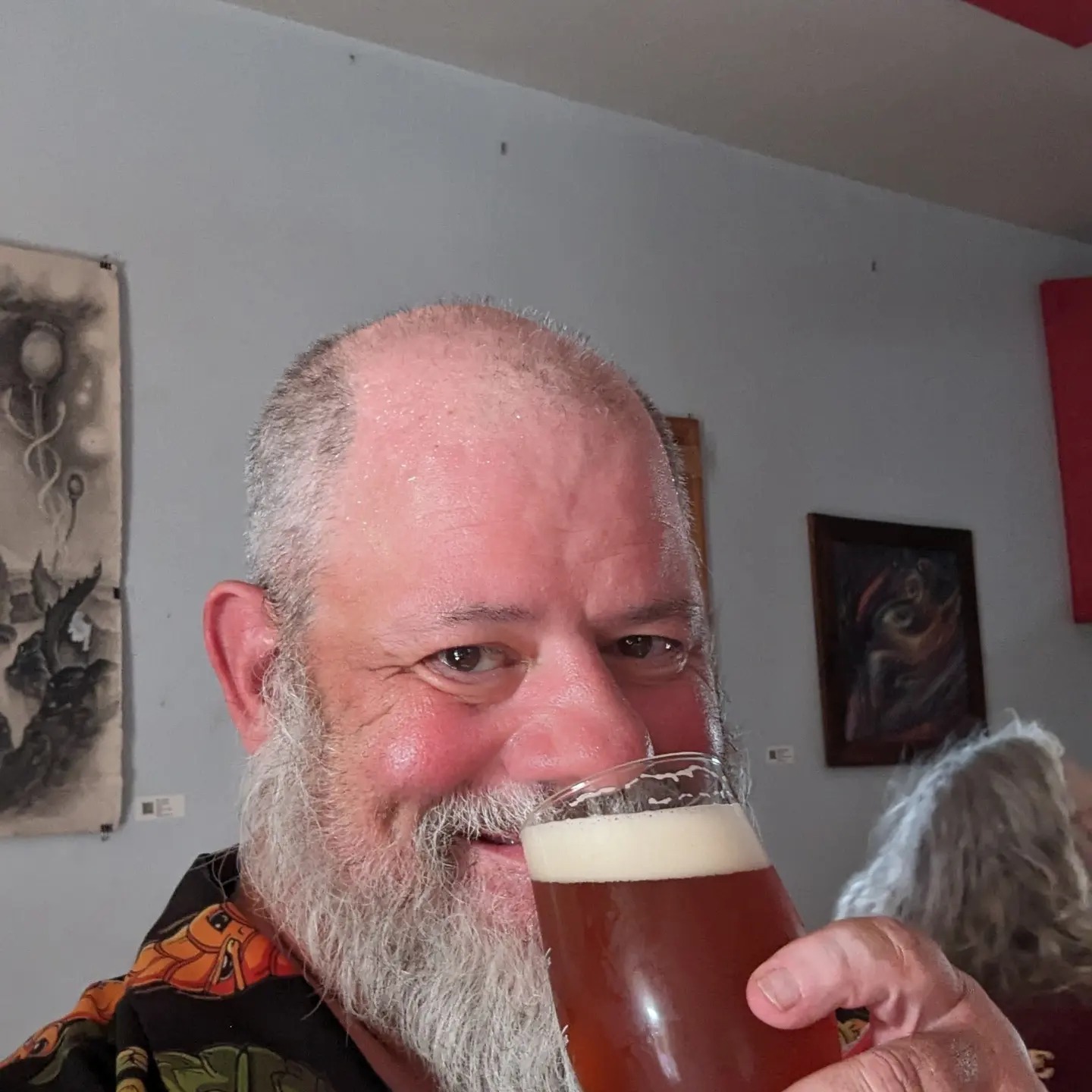 What are some of your favorite memories of your quest?
More than anything it is traveling our beautiful state with Karen. Visiting places that we have not been, scaling mountain passes to visit out of the way, white knuckle death grip on the 'sissy' bar as I looked into the abyss off of Trail Ridge Road and Slumgullion Pass. The beauty of the sunrise against the edge of the valley as you summit Kenosha Pass, the flicker of light on the Rio Grande near sunset and the sound of laughter in tap rooms across the greatest place to call home.
The road trip with my youngest, and designated drinker, from Flagstaff was amazing. We solved the world's problems while enjoying the majestic views in Telluride and the dusty sunset in Mancos.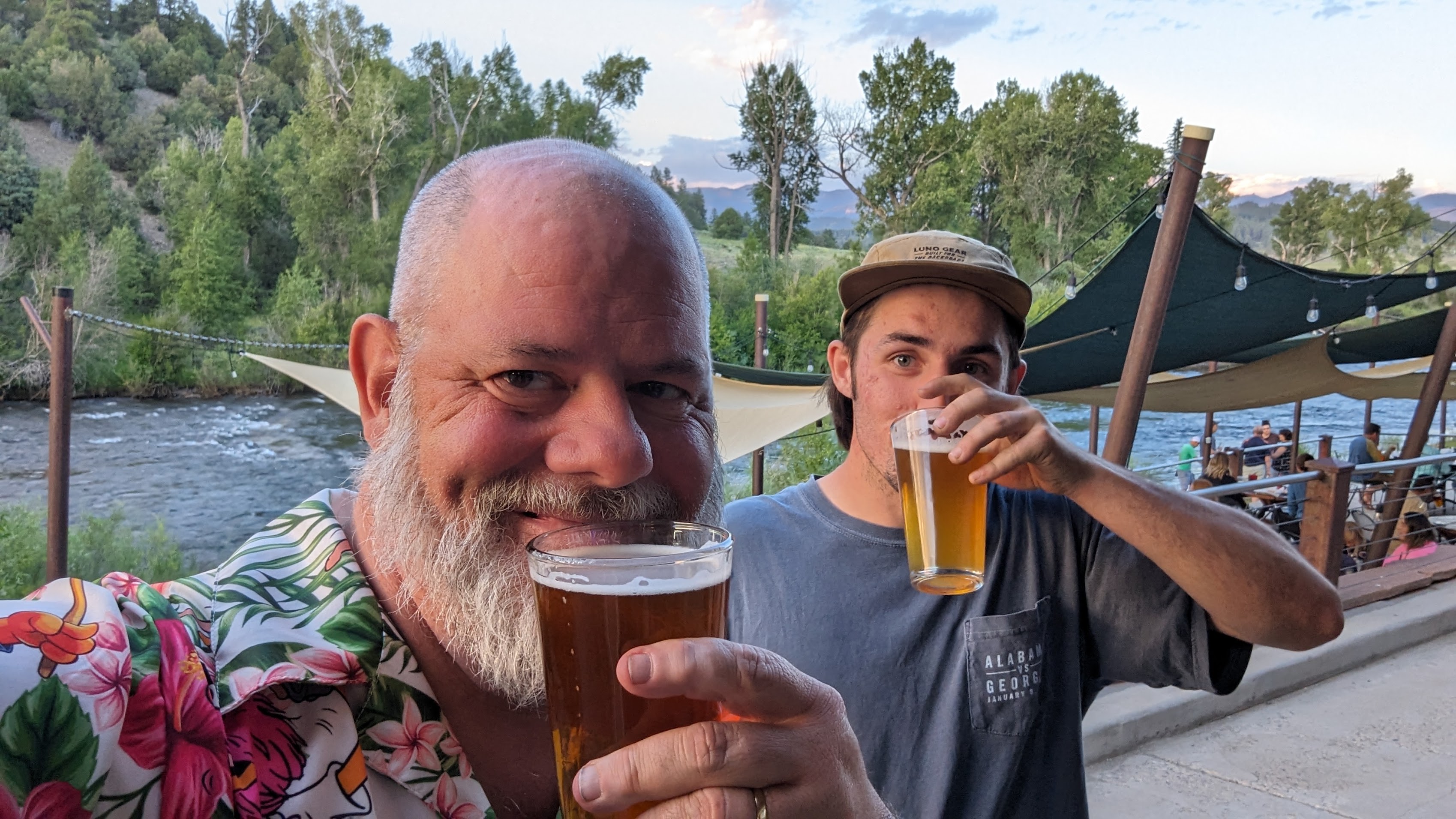 Meeting locals at each brewery that could tell you why their brewery was the best. What was cool to visit in their town and recommending places to visit. Colorado is truly a community, and the craft beer lovers are proof of this.
Running into brewers that not only wanted to share their story, but the story of the beers they made and why. And mostly the ones that were buying rounds of samplers.
We walked into Eagle River in Gypsum minutes before last call and begged for even a sample just to tick the box. Instead of denying us, they invited us in, poured us a mug and walked us through the brew house, sharing their vision for the future.
Convinced that Google Maps was wrong as I tried to locate breweries in strip malls or interesting alleys like Fritz Family Brewers.
The view of Mount Massive from Two Mile Brewing.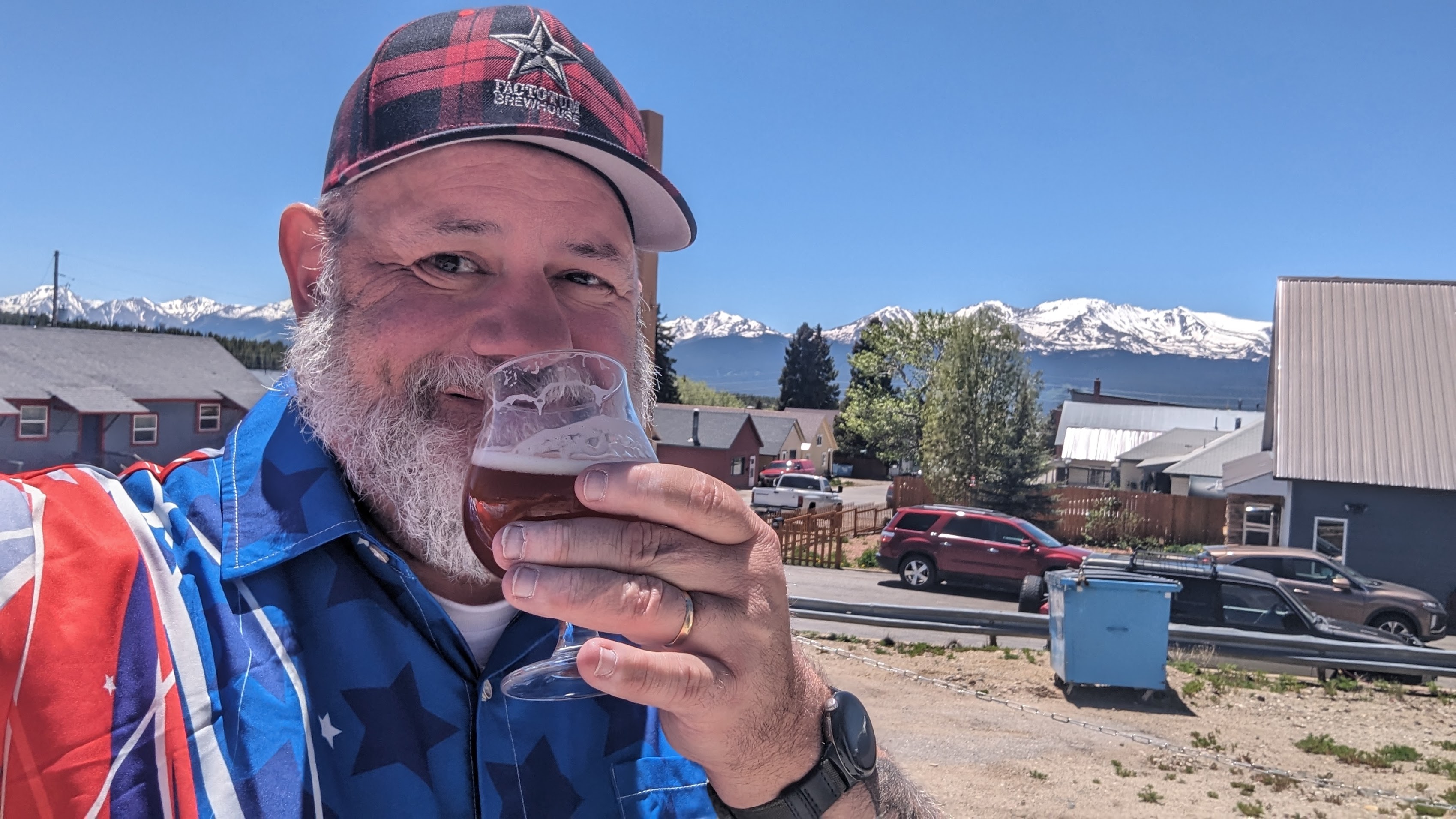 I hope to never forget all of the great memories from this journey.
What are your favorite styles of beer and your top breweries in the state of Colorado in terms of your beer taste?
This is a trick question, and the answer is YES!
I tend to avoid wheat beers and kettle sours, but stay open to about everything else. I think that Avery's Mephistopheles is the best Imperial Stout ever made, but I also cannot pick out my favorite Hazy/Juicy/NE IPA from a taster flight at New Terrain or Weldwerks. I love beers that challenge me, like some of the amazing ones at Jade Mountain.
Hard to beat a Maß at Prost or Bierstadt, or SpringToberFest at Black Forest.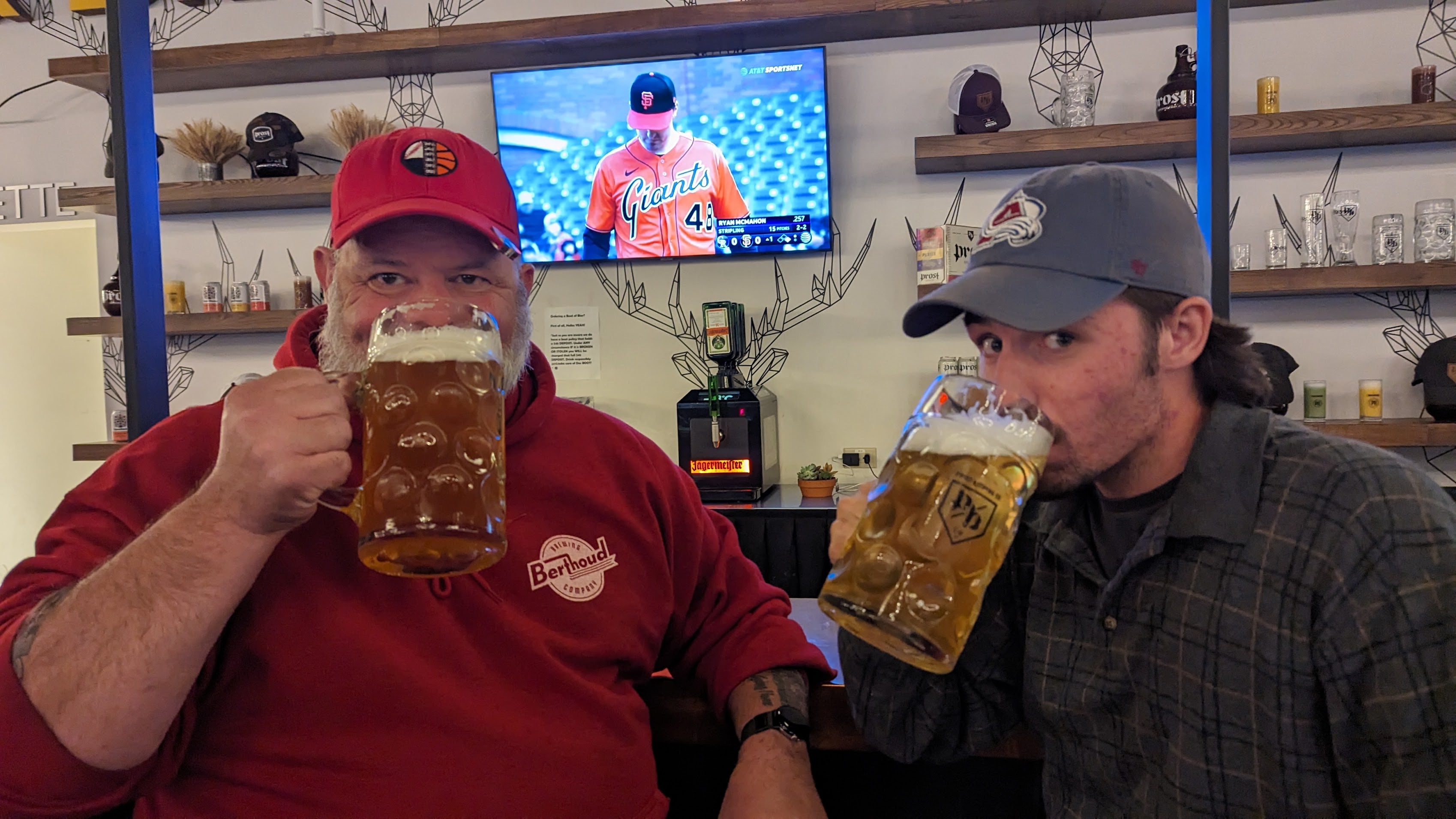 What are some of your favorite destination breweries?
Avery. If we were forced to pick a favorite, it would be difficult for us to not pick Avery. The facility is beautiful, the tap list is daunting and challenging. The food is out of this world, decadent and the kind of stuff you dream about when having an average meal elsewhere. Did I mention the beer?! Avery will have 20 beers on tap, or more. Many are only available at the brewery. I also often end up spending a small fortune on the foils…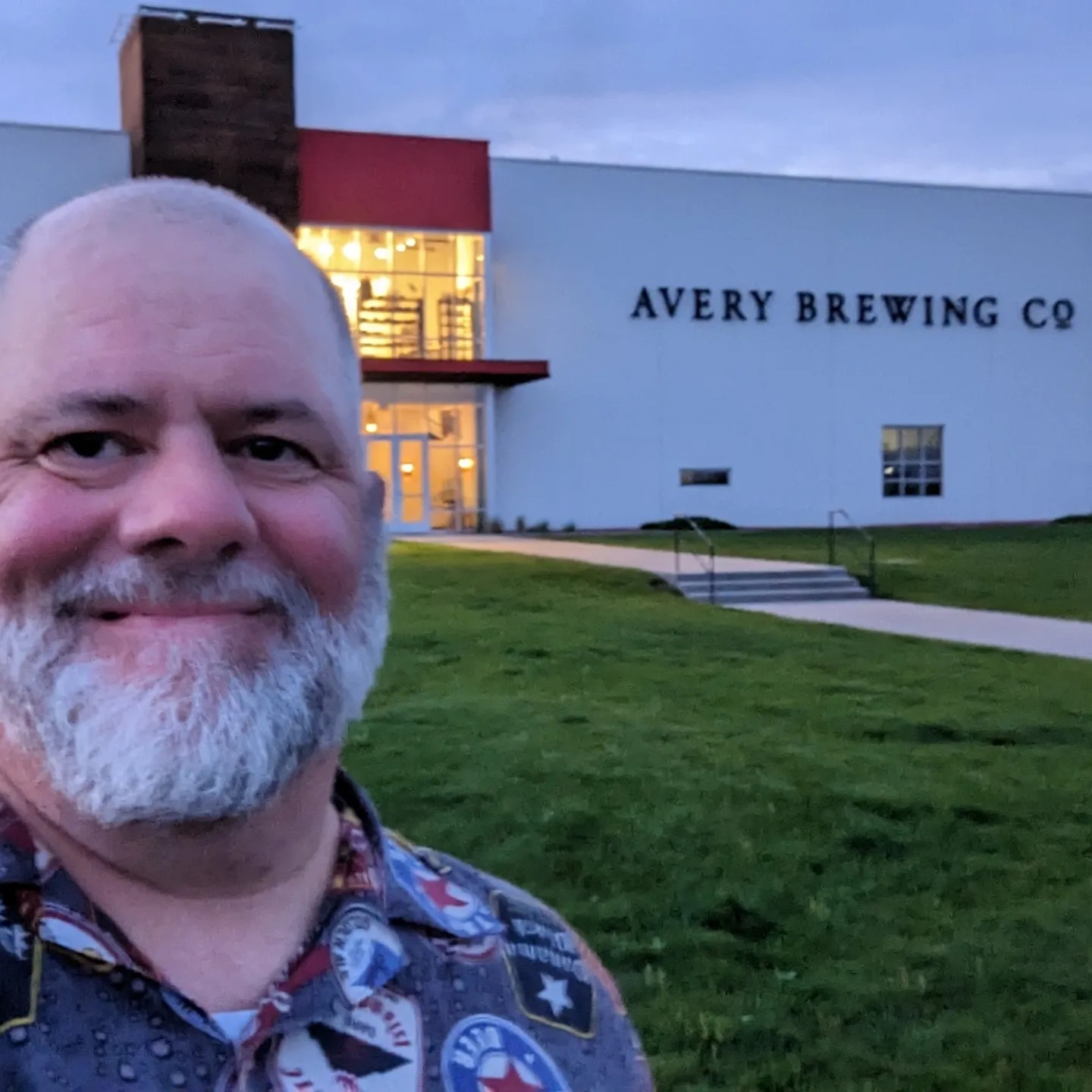 When we first walked into Timnath we almost turned around. The owner or manager are Auburn fans, and the Parkers are Roll Tide until we Die! But the crew there is as amazing as the beers. It's out of the way, but right around the corner at the same time. Small town feel with big fun beers. There is often a food truck, and they have a great patio. Well worth the stop, even if you cheer for the Tigers.
Cerberus makes amazing beer, but we live in Colorado, there is amazing beer everywhere. Beyond their great deck and beer garden, (parking is a little tricky when they are busy) they have a great tap room. What I like best is the team there really knows their beers, not just the 20+ brewed there, but what's on the market that is comparable. It's great to watch them consult with a drinker on what they like, what is close on the menu and even offering a splash or two to taste as the customer makes the final decision. Never hurried, they are trained to take time with every patron, treating each as special. The food is also fantastic, but the beers are off the charts, even for Colorado.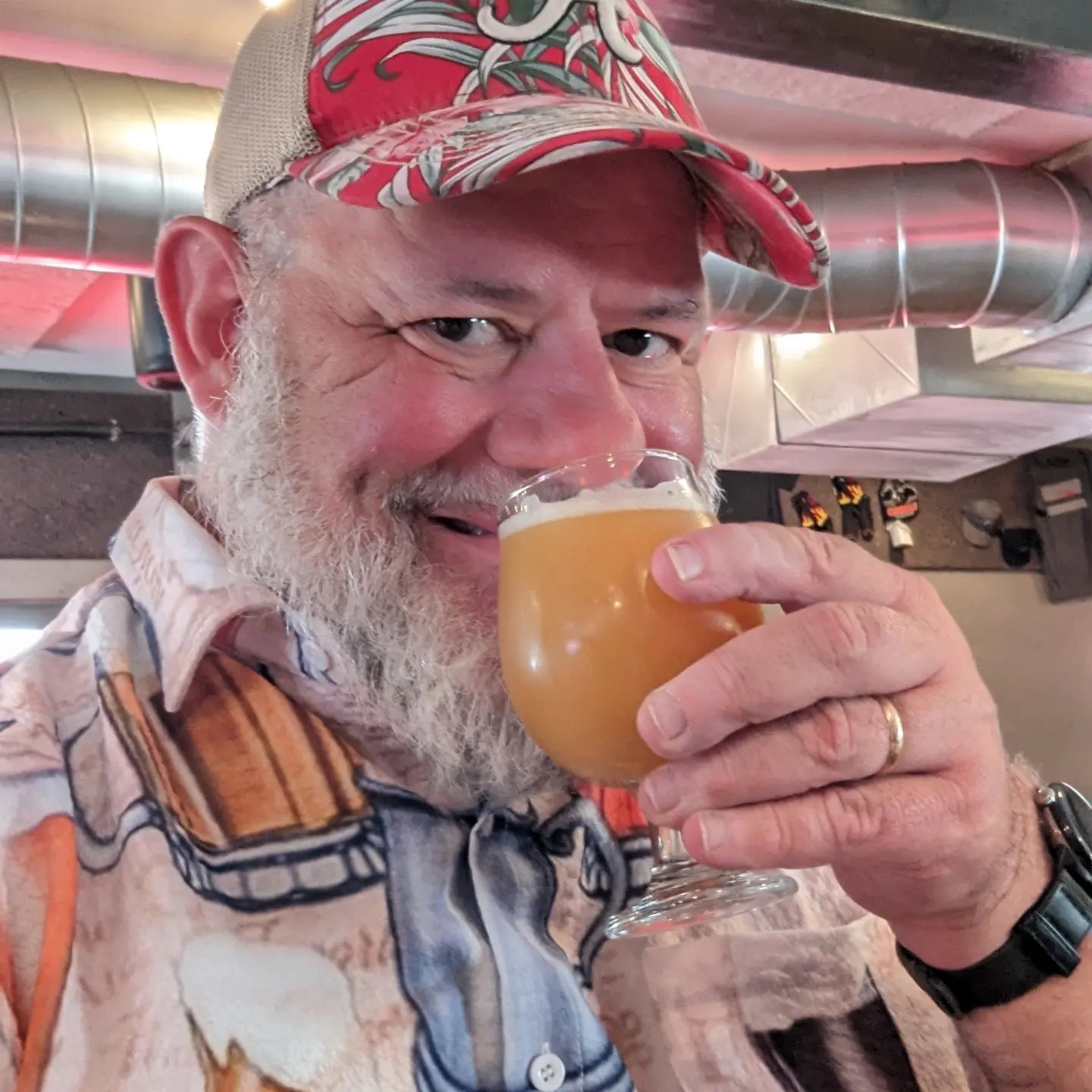 Red Leg has a new production facility and what can best be described as a party destination. Huge, ginormous, outdoor space with games, lounge chairs and even a stage for live music. The space is family friendly to the max. The main bar is HUGE, 20+ seats around the bar with many other smaller tables in orbit. What puts this over the top is that there are several shipping containers that have been modified into little restaurants. There is pizza and lobster rolls, plus many more. It's a fun space, with great views and a place we look forward to returning to when in the area.
Peculier opened in Downtown Windsor a couple of years ago, and yes, we were also surprised that there was a Downtown Windsor. The brewers worked at other great breweries and brought their skill to the beer. Even styles I don't care for, are great at Peculiar. The space is beautiful and amazing, with garage doors opening the indoor space to a multilevel patio next to a huge silo. Community tables let you sit and meet new people and there are even a few seats at the bar for those of us that prefer being closer to the taps. The beer is great, and they just opened a taproom/production facility in FoCo.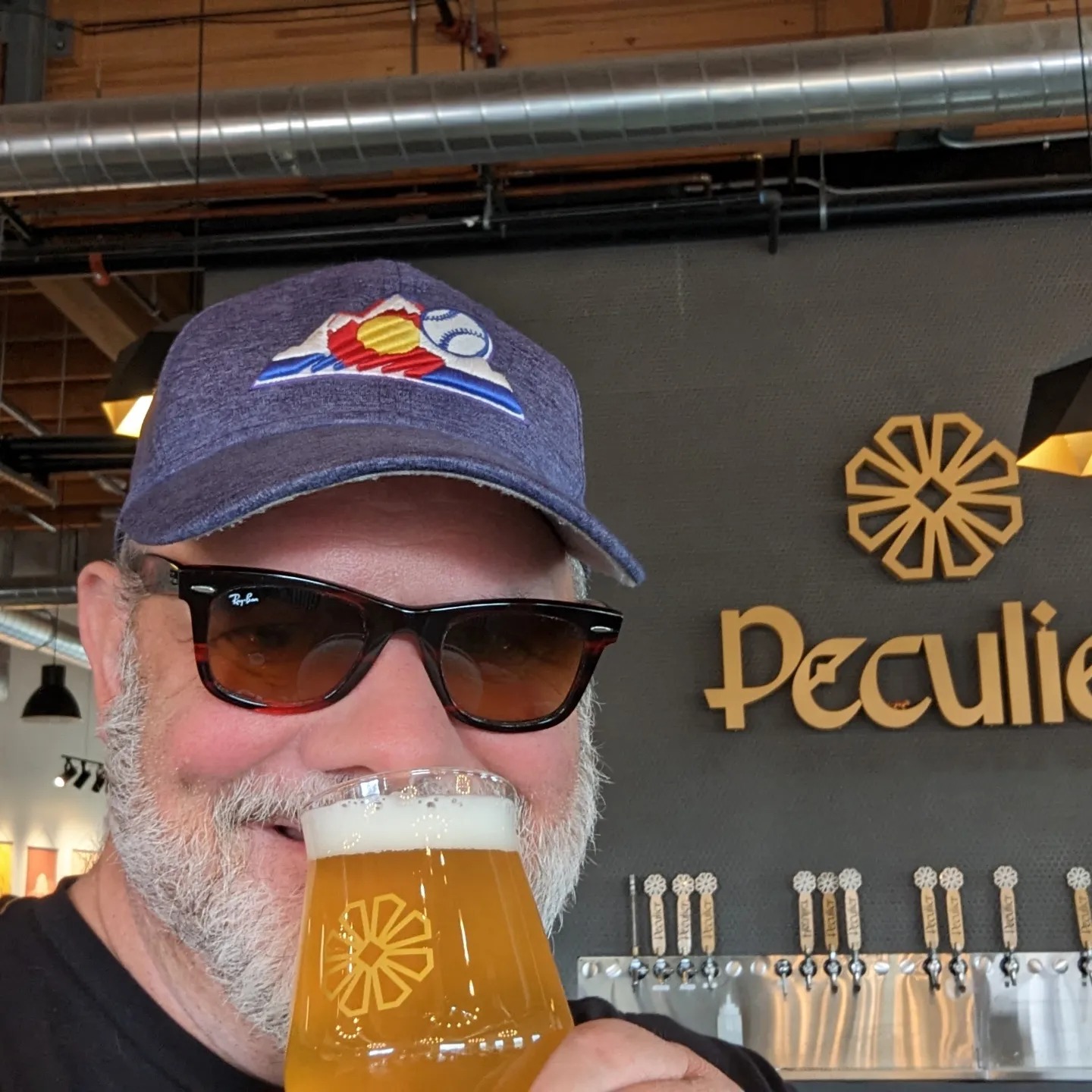 Pack up early and get on the road to Parts and Labor in Sterling, CO. If you get to Nebraska, you missed it, but not by much. They take the automotive theme to the max with great old memorabilia and artifacts. The food is terrific, the people are friendly, and the beer makes the meal. It's worth the drive.
Yampa Valley is a new favorite to our list, with three distinct locations in Craig, Hayden and Steamboat Springs. Each is a little different; Steamboat has a huge patio and a funky bar with mood lighting. Craig is a traditional brew pub that has a beer garden that opens into the town park and Hayden is a quirky little tap room (main brewing facility) with a ton of locals hanging out after parking their ATVs. The beer is good to great, and we had fun at each location. Well worth the stop(s).
Aspen Brewing Co. is in downtown Aspen now, which it probably has been for a while, but for our first time they were in a warehouse outside of town. Nice to see the upgrade. Bright open space, great patio for people watching and great food. Not only is the drive beautiful, but Aspen tap room is also worth the trip.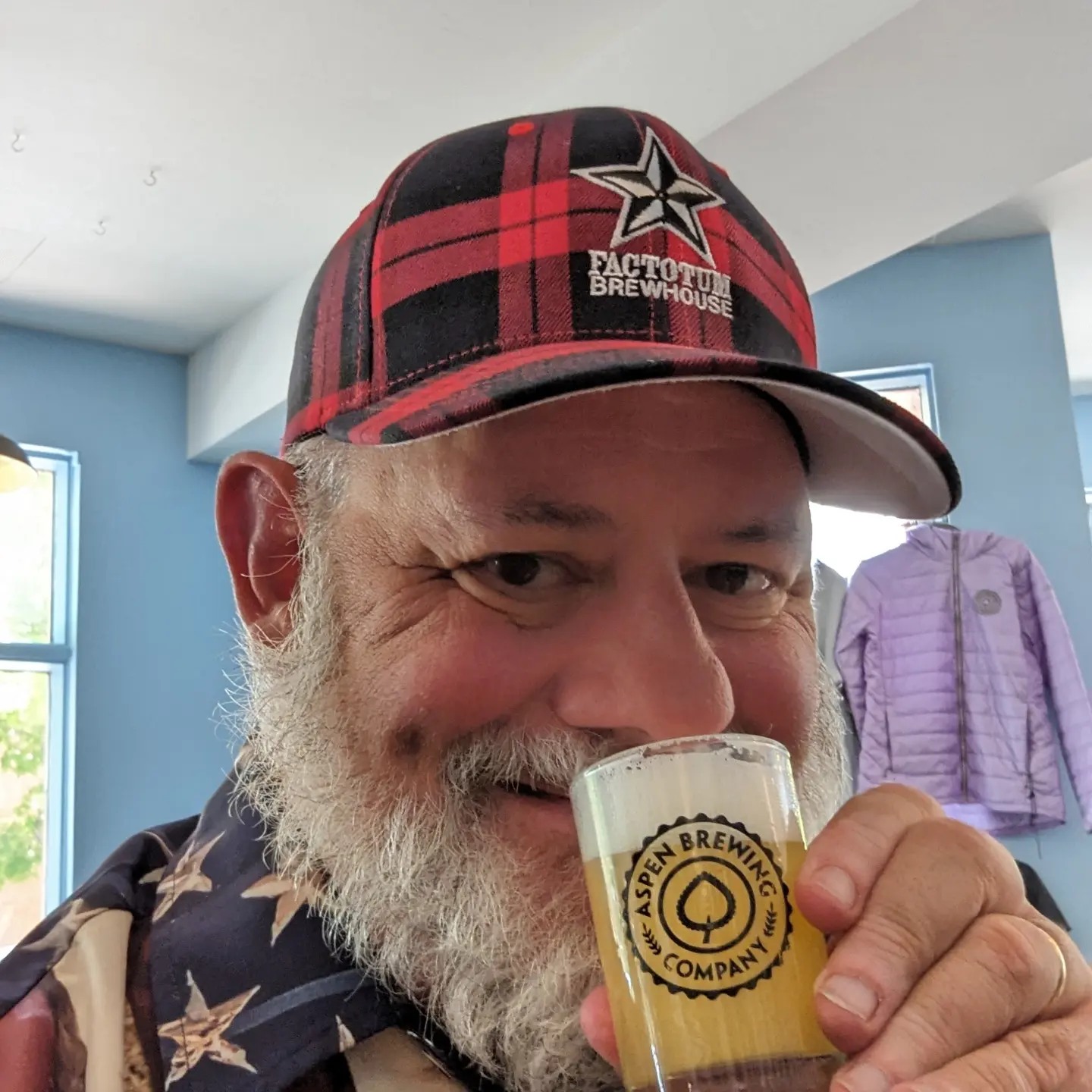 What is your favorite hang-out brewery?  (Where are folks most likely to run into you?)
Mondays – Strange Craft
Tucked away practically under the I-25 overpass, Strange Craft is one of the godfathers of Colorado Craft Beer. They practically invented the brewery tap room, being one of the first to start serving more than tasters and selling growler fills. The place is quirky in a good way, with a large Biergarten on the tracks of the light rail, a room in the back for game nights and a front room that opens into the parking lot on sunny days. I look forward to 'traffic' so I can pull off the highway and enjoy some beer and conversation on most Mondays. I have been a fan of the Le Bruit Du Diable Farmhouse Ale since Strange opened, it is my go-to. Tim makes excellent beer, but I really go for the locals. The mug club (I'm #80) is one of the oldest in Colorado and a lot of the members come in weekly or even daily to sit at the comfortable, welcoming bar and 'chew the fat.' Several other Colorado Brewery Masters are also members.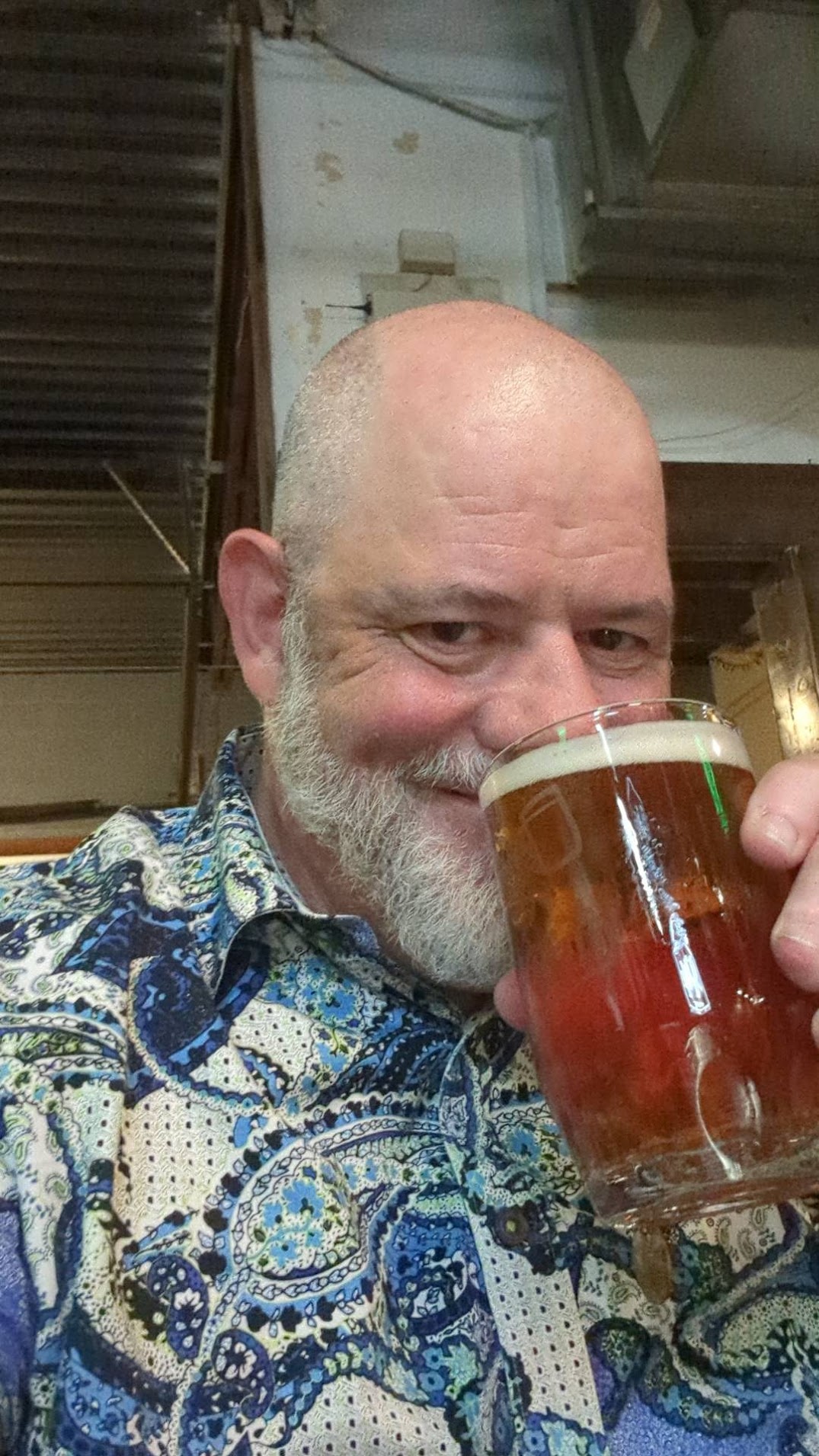 Fridays – Lariat Lodge
While I go to both, the original Lariat Lodge in Evergreen is the one you will see me at most frequently. I love the drive up the canyon or through Indian Hills to get there, particularly on sunny days with the convertible top down. Anders, the owner, is always friendly and has assembled a great team. While we love to see Courtney and Caitlyn for our late lunch on Friday afternoons, we are happy with any of the team. The food is wonderful, my favorites are the smoked wings, the green chili and a couple of the burgers. They do brunch on the weekends. The first year they did a run of 100 mugs for a lifetime club. I have mug 83, but it is rare for me to see any of the original mugs anymore. It's probably the best investment I have ever made, getting all that extra beer each week. Lots of outdoor space, with several patio areas and a Bark Garten. Watch out for the elk in the spring, one of the Mama elk likes the hill just north of the brewery and can get aggressive.
The second location, L2 as it is fondly called, is also great and five minutes from my house. They have a huge bar, large open restaurant, the production and canning facility and two patios. Same great food and beer. My go-to is the Hazy Boy IPA, but I love the spectrum of creative beers. There is always a good range; from approachable lagers to DIPAs, to sours, and ambers.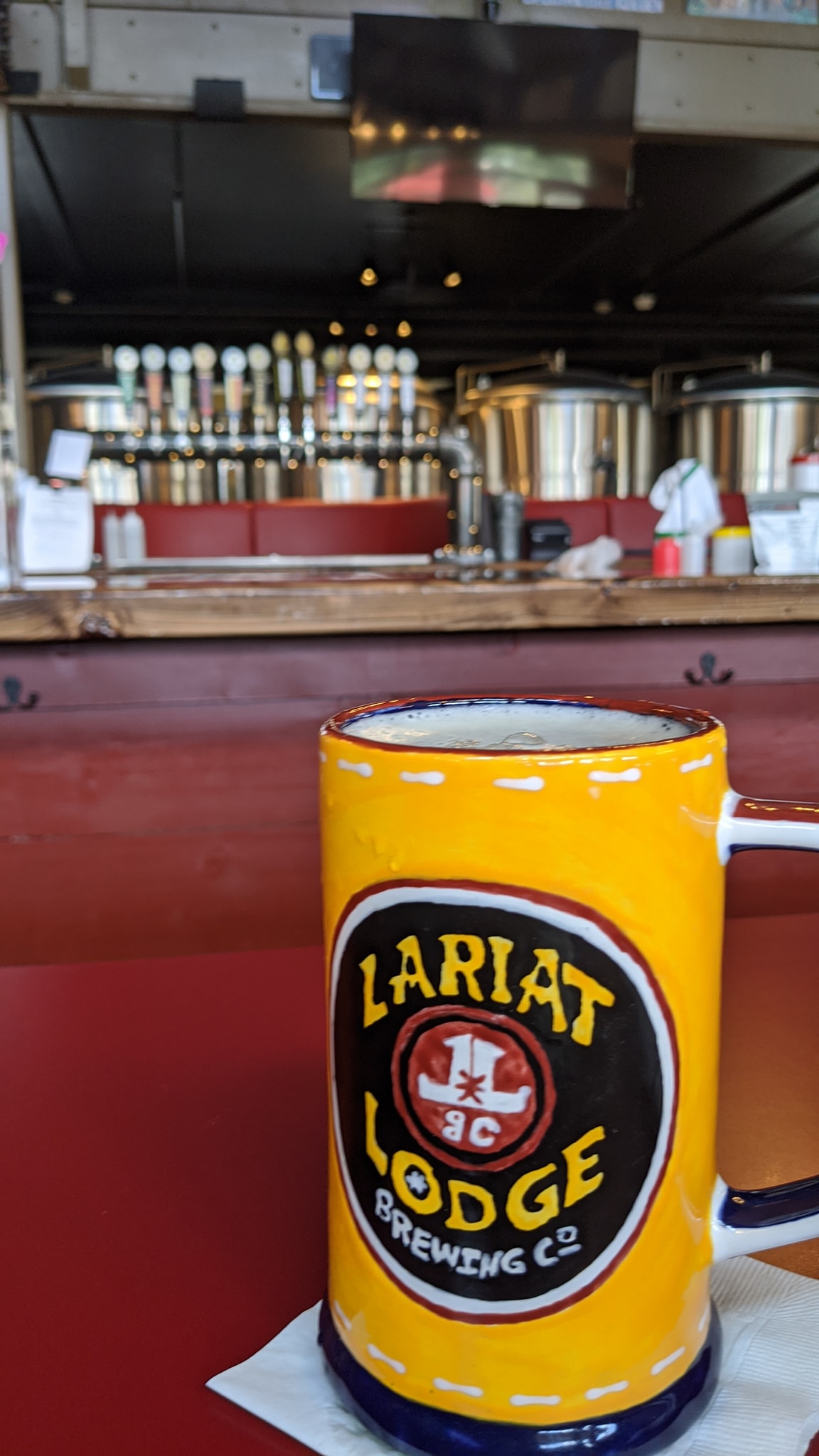 Most evenings – Touchdown Brewery, You Always Score with a Touchdown!
Touchdown is my home brewery. We have been brewing for 30 years now! We have ten taps on the deck (sometimes we get up to 14 with the Touchdown Instant Taproom, our tailgating rig). I lean towards IPAs, and right now we have a Belgo, NEIPA, and two double IPAs on, including one on Nitro. We are best known for Jeffness, our Irish-style stout and Double-Eagle Irish-Style Red, both also on nitro. We are able to lager year-round, so it is rare not to see a few German style lagers on tap. Right now, we have a Doppelbock and an Eisbock, but there is an Oktoberfest Marzen often and we do some lighter craft lagers and Schwarzbiers as well. We love to make Belgian styles including doubles and triples, and one of our favorites is an Orval homage.
In addition to tap beer, we have a bunch of commercial beers that we collect from all over the world. We are quite adept at packing and checking beer to bring back home. It's not unusual for us to have 100 or more different beers on the shelves. We also have some beers stored for special occasions, including 30 years of Anchor Holiday Ale, including the 2023 edition that was only made in a small pilot batch before the unfortunate closing of the brewery this summer. The Touchdown system is an all-grain half barrel system, but we typically only do ten-gallon batches. With the current setup we can do up to four batches in one day. Everything is kegged, all packaging is done from the kegs, and very slowly… only one can at a time.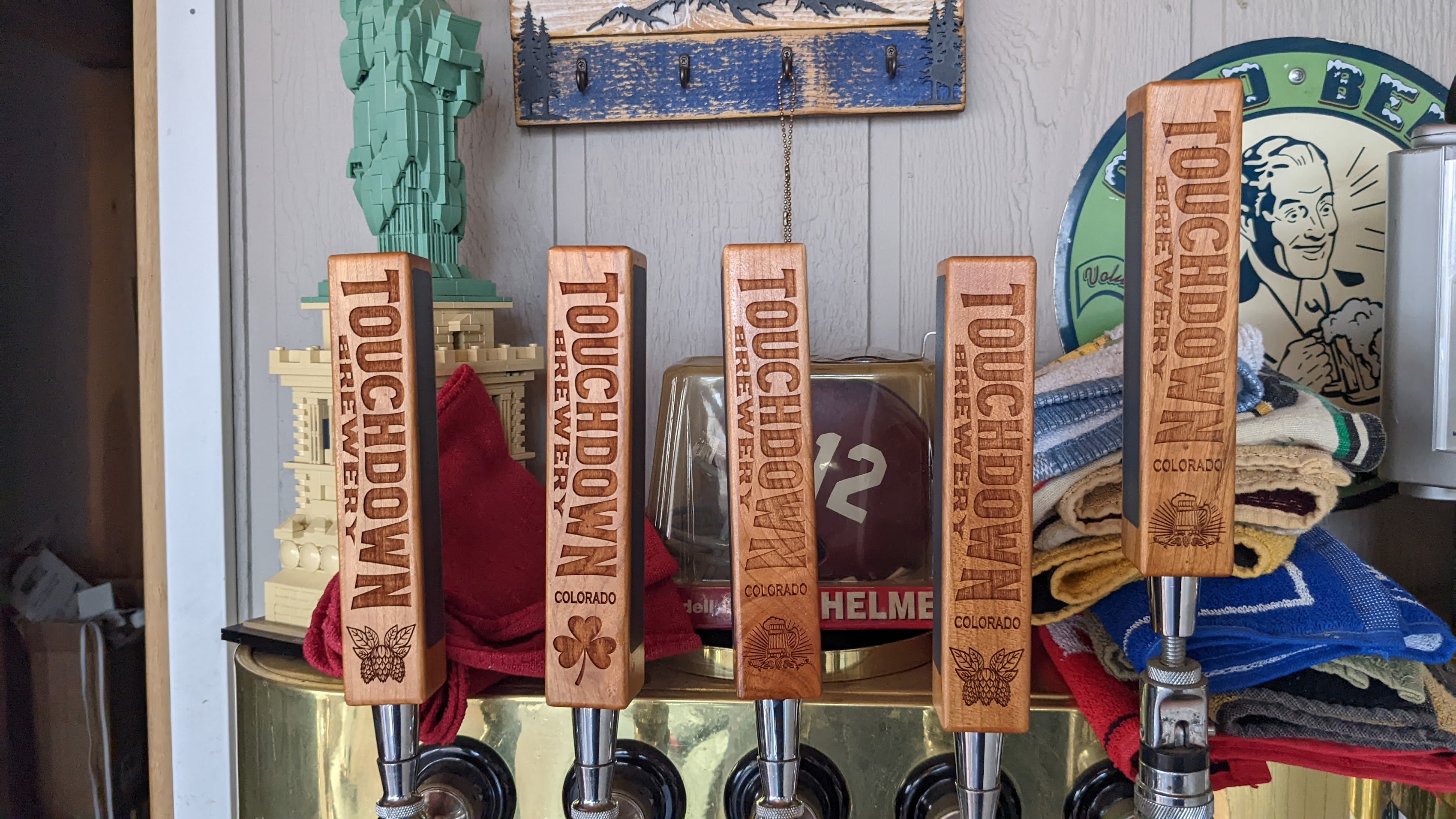 What advice would you offer others trying to become a Colorado Brewery Master?
Don't do it in eight months. As fun as this has been, having a single taster or half pint and moving on shortchanges the breweries. Enjoy all that Colorado has to offer; stay in the cities, shop in the local shops, enjoy the giant cheeseburgers and green chili.
Completing the goal at this pace means you are missing some wonderful experiences. But, if you love beer and love Colorado, bring your friends, family and drinking buddies along for a wonderful celebration of craft and being local.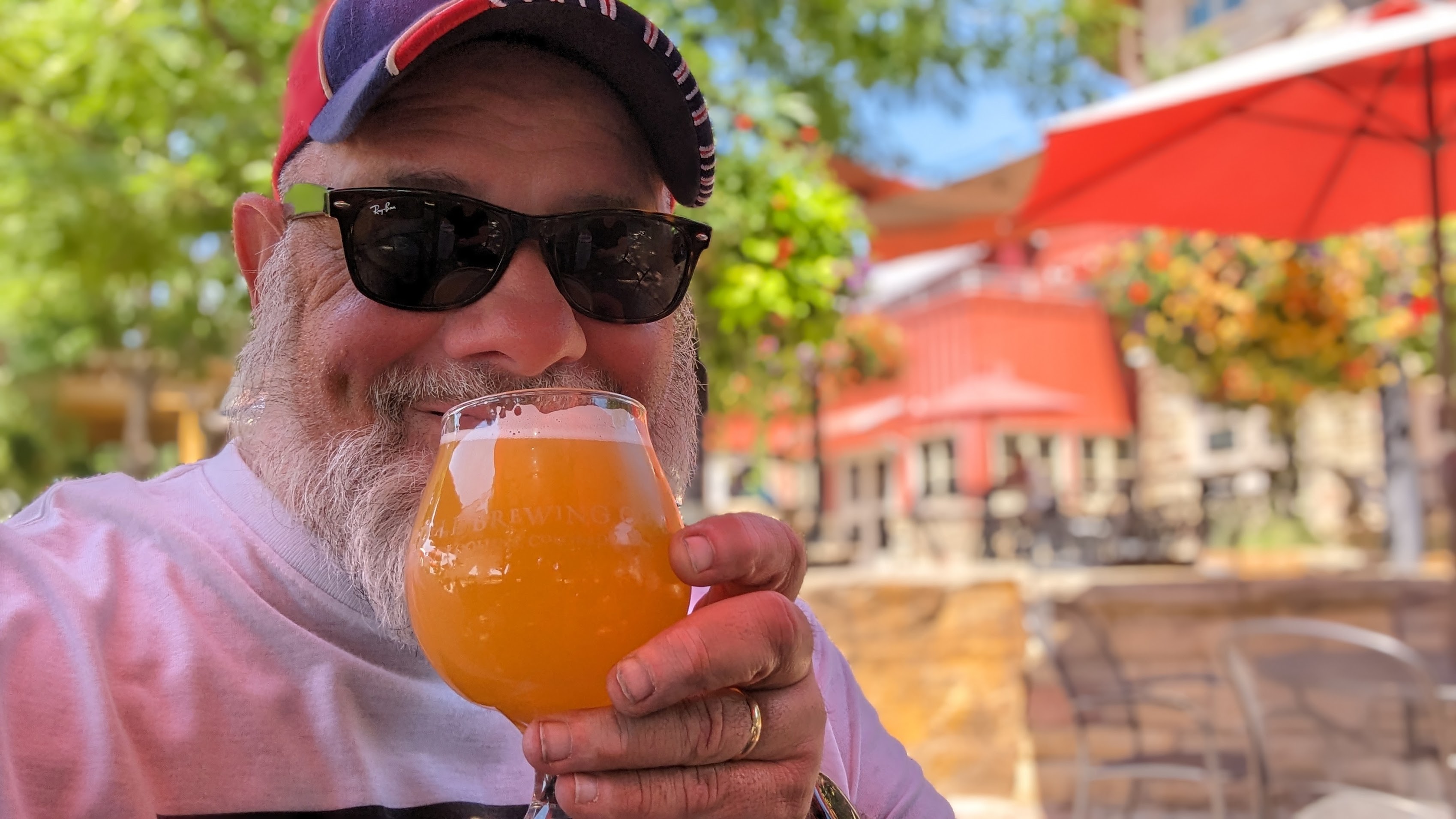 [Note:  Thank you to Jeff for providing all of the photos in this article.]
Congratulations again to Jeff for finishing "The Quest."
I'm also very happy to welcome Jeff as a member of the Colorado Brewery List team.  He has agreed to join us and help with our blog page along with keeping up with all of the brewery details.  I'm very much looking forward to working with him in our efforts to continually improve Colorado Brewery List.  Besides that, I'm happy for many opportunities to sit down with Jeff to share beers in friendship and talk about the fabulous Colorado brewery community.
********************
Are there any other Colorado Brewery Masters out there that I have missed?  If you have been to every Colorado brewery or are close to doing so, I would love to hear from you!
Do you want to learn more about the other Colorado Brewery Masters?  Check out this CBM blog page which has all of the articles about us, (except me but you can read a bit about my initial quest here).