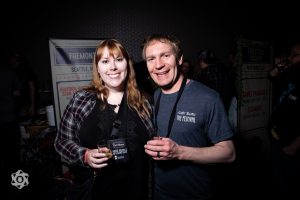 Congratulations to Ryan & Ashley Steadman on completing the quest to visit every currently open Colorado brewery!  They have both now earned the title of "Colorado Brewery Master," joining a small group of beer enthusiasts who have also accomplished this feat.
My first interactions with Ryan and Ashley were soon after both Colorado Brewery List (CBL) and Colorado Beer Geek (CBG) were created.  At that time, I had very briefly created a CBG website where I had a very simple list of Colorado breweries with just a location and a website link and not the detailed information found on CBL.  I also began my work in keeping close track of upcoming Colorado breweries and it was this information that they were most interested in collecting and they brought it over to CBL (with my full blessing).  After doing this for a while and talking to them more regularly, we decided to combine forces and formalized that bond with a party at my favorite brewery Beryl's Beer Co. (RIP) in 2016.
As partners on CBL, we became very good friends visiting many breweries together.  While they very much enjoyed going to all the breweries, I think they found the idea of visiting them all quite daunting with the large number of breweries always growing.  To this I said, "nonsense!"  With a good plan it is quite possible and set forth in designing this plan.  I made their Quest my Quest.  I put together a spreadsheet of all of the Colorado breweries that they had yet to visit and broke it down into "taster sized" chunks of 4-5 breweries in a small area on the Front Range that they could easily visit in a day trip, (with a designated driver – aka me).  For the breweries in western Colorado, I developed itineraries of mostly 3-day weekends similar to those found in my Colorado brewery tour articles.   We spent the last couple of years checking off the breweries on my spreadsheet and having a wonderful time doing it.  Besides their wonderful company this was a great opportunity for me to revisit many breweries that I otherwise would not have made it back to.
I am thrilled to welcome them to the Colorado Brewery Master family and, as I have done previously with the other Masters, I was happy to ask them some questions about their journey…
Who are Ryan & Ashley Steadman?  
[Ryan] I have a degree in Computer Information Systems from Metro State College of Denver, (before it became a university). I work in software leading an international team of developers on various projects. I've been fortunate that my work has allowed me to travel to some interesting places around the world, including Malaysia, Japan, and Turkey. I love seeing the world and experiencing different cultures, foods, languages, and of course beers, but it makes me appreciate everything we have here in Colorado, especially our diverse beer scene.
[Ashley] I'm a Colorado native who grew up in Brighton. I went to broadcasting college in Lakewood and interned at Clear Channel for the Uncle Nasty show. After that, I worked part time at a couple recording studios in Denver. I settled at Talking Books Publishers as an audio engineer and have been doing Post Production there for over 8 years. TBP records audio books and magazines for the Library of Congress' Blind and Print Disabled division. My editing skills and attention to detail translated perfectly into my role of data collection for Colorado Brewery List.
When and what was the first Colorado brewery that you remember visiting?

[Ryan] As many of us do, I started discovering beer by sampling a lot of different styles recommended by other friends that knew much more about beer than I did. As I began to appreciate and recognize various styles, I realized how expansive the beer world was. While probably not the first brewery I visited, the first one I recognized as a brewery was Dostal Alley Brewpub & Casino in Central City. I'm not a gambler, but I enjoy that it is more relaxed and historical than other casinos in the town, and they have tasty pizza. I remember the American City Pale Ale being enjoyable with my pizza and realized that it was made mere steps from where we were sitting.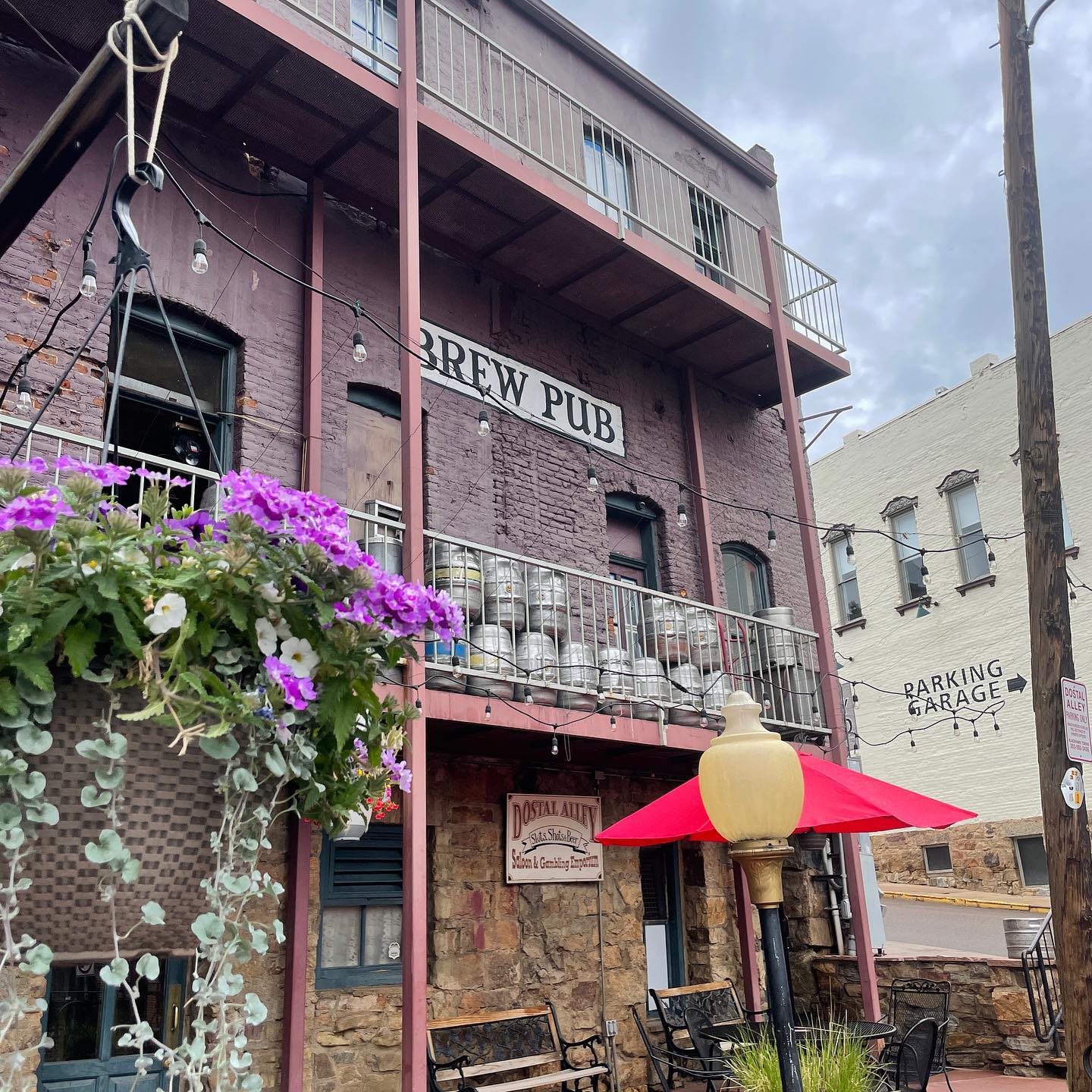 Shortly after that, my cousin, a friend, and I decided that we could visit every brewery in Colorado in a year if we visited one every other day; there were only about 180 open at the time anyways. January started out great where we easily visited several breweries. We based our checklist on the great (but now defunct) Fermentedly Challenged directory and added a few extra details for our own sake. Unfortunately, life happened and that project was put on hold. However, later that year I had some time to convert that list into to a dynamic website, and by April of 2014, Colorado Brewery List was born.
[Stephen] I also heavily relied on Fermentedly Challenged during my first year of my Quest especially for the upcoming breweries since Colorado was in the boom years of brewery growth.  When he retired the site, I decided to pick up where he left off with keeping track of new breweries and Colorado Beer Geek was born.
[Ashley] One of the first breweries I remember going to was the original Denver Beer Co. on Platte St. This was probably 2012, and I tried their Graham Cracker Porter and was amazed that beer could taste so sweet and good. Another gateway craft beer I remember vividly was Left Hand Milk Stout. After Ryan started Colorado Brewery List, we visited breweries more frequently for the dual purpose of fun and to update each brewery's page on the website.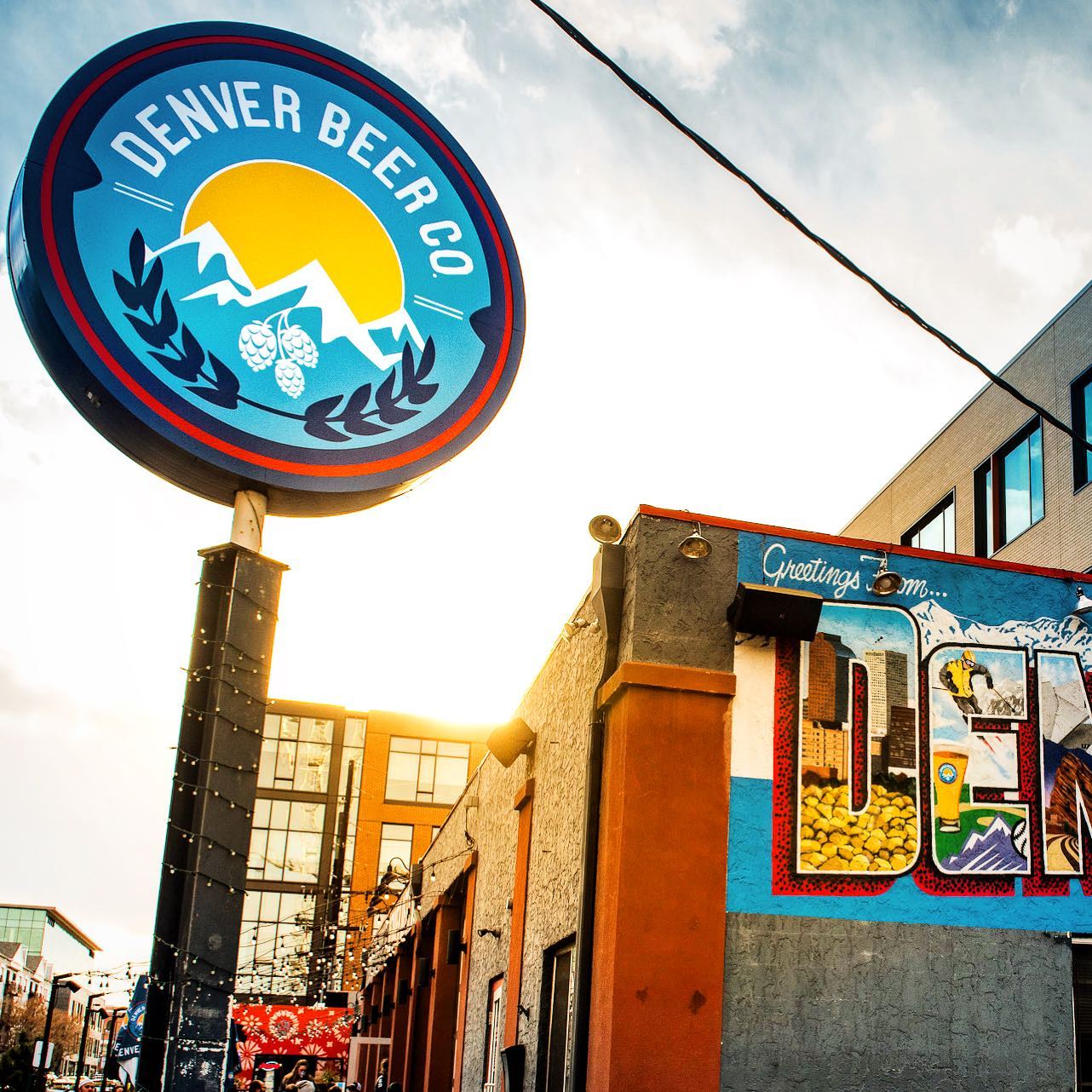 When and where did you accomplish the status of having visited every Colorado brewery?
Rocks and Hops on Friday July 28th. Stephen also organized a Masters meet-up at the same time, which made crossing the finish line that much sweeter. We had a whole group waiting for us, clapping when we arrived.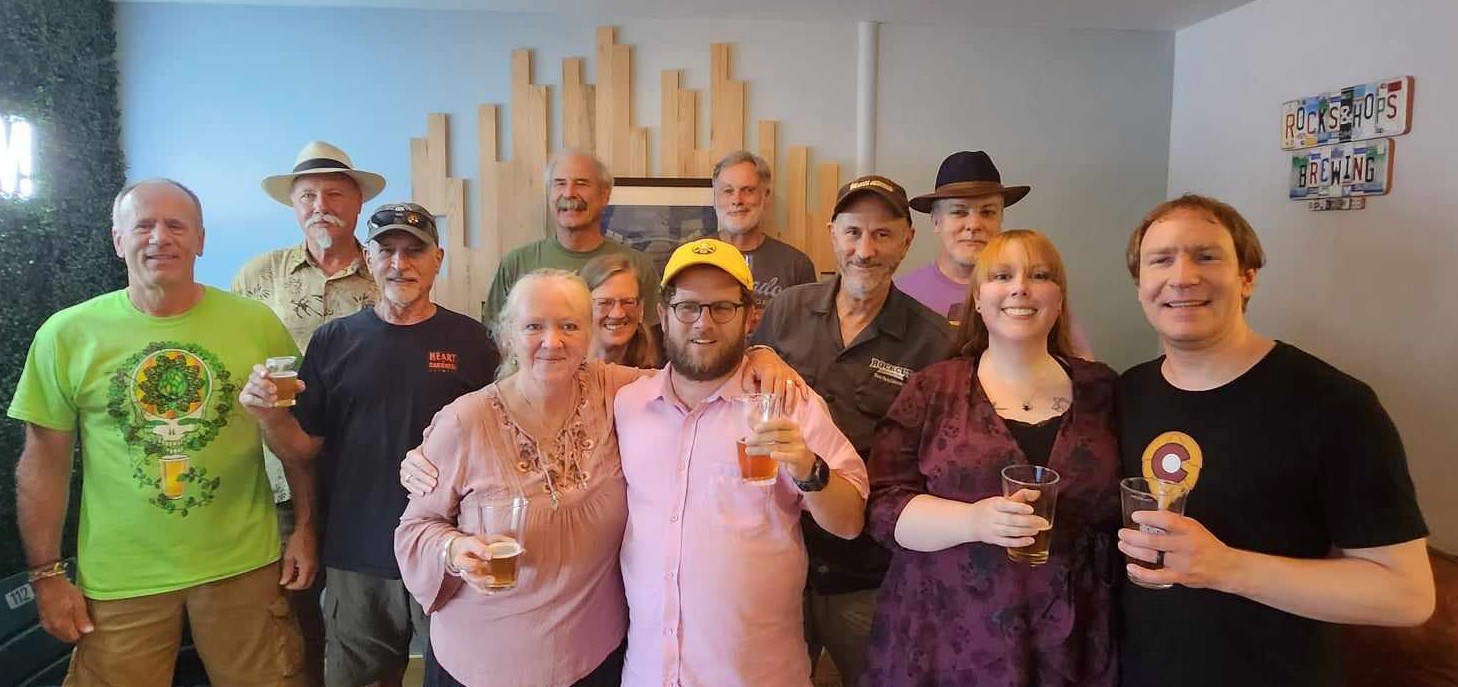 What are some of your favorite memories of your quest?
[Ryan] I love exploring our special state. There are so many great places to see, delicious foods to try, and of course amazing beer to sample. I think many of us take it all for granted, so visiting far-flung breweries is a great excuse to see different parts of the state.
Here are a few highlights:
WildEdge Brewing Collective in Cortez – After a long day touring breweries in Southern Colorado, one of our last stops was WildEdge in Cortez. This stop was quite a surprise for all of us, where even our fatigued taste buds were blown away. It is unfortunate that it is far from where I usually travel, but I highly recommend stopping there if you can.
Dolores River Brewery – Unfortunately our tight schedule didn't allow much time to enjoy this location, but it was another unexpected stop in a long southwest tour where I really enjoyed the atmosphere. It was packed with more people than I thought could live in that area, with a great indoor and outdoor space, and friendly staff.
Box Canyon Falls and Ourayle House (Mr Grumpy Pants Brewery)  – It is hard to not be wowed in Ouray by the amazing views. On one visit, we had a more flexible agenda that allowed us some time to relax. After breakfast we explored Box Canyon falls, (only costs a small entrance fee that supports the park) and then got to enjoy a beer at Ourayle House, the famous Mr. Grumpy Pants brewery. The man himself, Hutch, sat and chatted with us, telling us stories of his time in Ouray and the surrounding area, and a glimpse of why he is so grumpy.
[Ashley] The whole journey was so much fun. I'd say the best parts were our long weekend trips with Stephen. He made specialized itineraries, mapped out routes and drove us many hundreds of miles around the state. Stephen is the one who pushed us to finally finish and took it upon himself to make us our own brewery spreadsheet and break down the different areas that we needed to focus on. I remember the scenery being very pretty from the patio at Lake City Brewing Company and thoroughly enjoyed their deviled egg flight.
Another fond memory I can think of is one of the first times we ventured out on a brewery tour trip after lock-down. It felt so good to be out doing something we had missed so much. Ryan and I took the free gondola from downtown Telluride to Telluride Brewing Brewpub & Taqueria in Mountain Village, while Stephen drove and raced us to the top.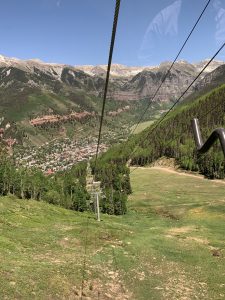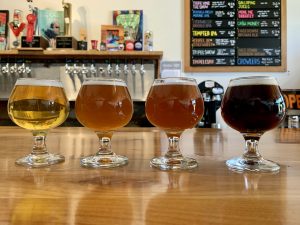 [Stephen] One of my favorite trips was earlier this year when we traveled to the Western Slope to visit many of the breweries that sprung up in that region since our previous trips.  This trip was especially wonderful to me since we were on equal footing for all of these breweries as they were all new to me as well.
What are your favorite styles of beer and your top breweries in the state of Colorado in terms of your beer taste?
[Ryan] I like more styles than I dislike, but my favorite style is IPA and has been since the beginning. I really appreciate the aromatics of hops, so I generally go towards IPAs with a little more malt that cuts the bitterness. When Hazy IPAs became popular, I first enjoyed exploring the different hops without fully killing my taste buds. However, I'm growing tired of all the haze, so I really enjoy a good west coast IPA when I find one. Additionally, I enjoy a good stout but admittedly not every day is a stout day for me. Since visiting Belgium with Bruz Beers last year, I've really started enjoying some Belgian styles and I'm working to expand my palate in that area.
River North is one of my favorites because they can make some amazing strong stouts and their IPA offerings are also really solid.
[Ashley] I have a sweet tooth, so I usually gravitate towards the pastry stouts and fruited sours. So of course, Weldwerks in Greeley can always be counted on to deliver on that front for me. Another one of my favorite styles is somewhat uncommon, the White Stout, so whenever I see it, I order it. The best one I've had was on tap at The Industrial Revolution Brewing in Erie. I also regularly seek out Coffee Stouts and will usually end up ordering beers with the highest ABV at breweries, not always on purpose. Really, I like trying the weird, experimental styles that keep things interesting. They might not all be winners, but I like it when somebody has the guts to try something unique. Spaghetti Gose anyone?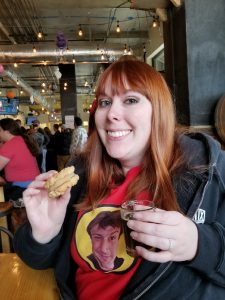 What are some of your favorite destination breweries?
[Ryan] As I mentioned earlier, traveling to visit a brewery is a great reason to see a part of the state that I might not otherwise go. When we get to travel out of the Front Range we always try to visit some different brewery for a change of scenery. But a couple distant places that come to mind:
Ska Brewing – It is easy to find a Ska beer almost anywhere in the state (and even our region of the country) but visiting the World Headquarters is a must at least once. Someday I hope to make it out there for one of their legendary anniversary parties.
Foam & Folly – This is a relatively new brewery in Grand Junction, and we love stopping here when in town. They have a large space that is expertly decorated with eclectic art curated by the co-owner.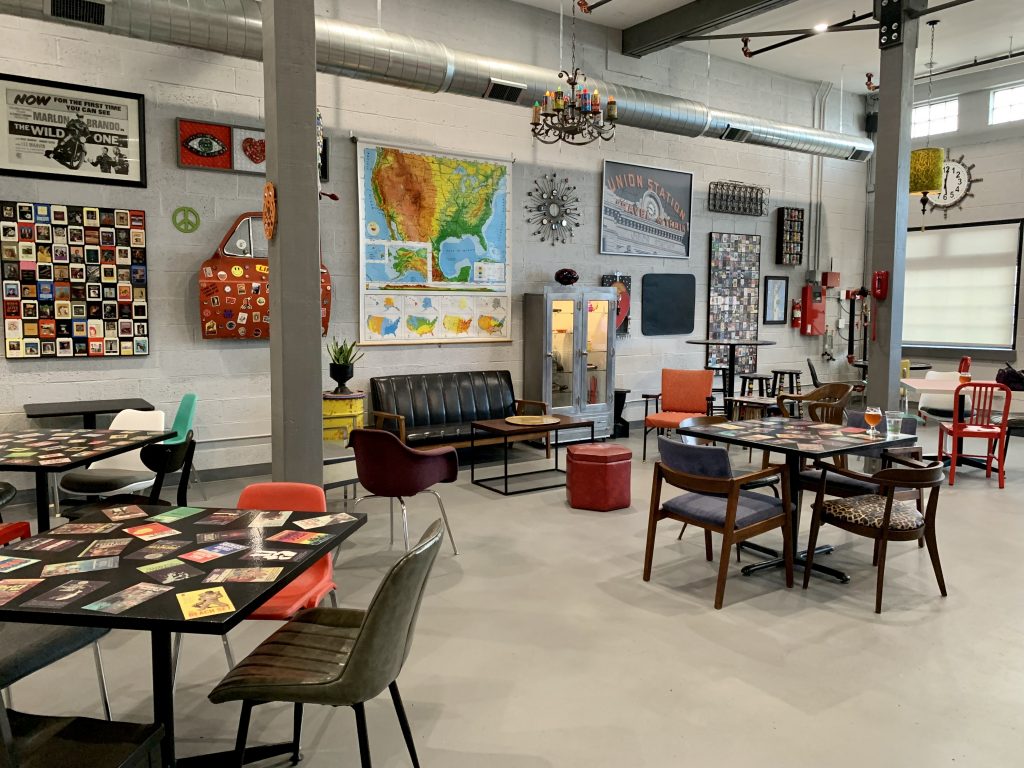 [Ashley] Chrysalis Barrel Aged Beer in Paonia blew me away with their quality and hospitality. They specialize in barrel aged beers that are influenced by Belgian and Farmhouse styles. I loved visiting with their resident brewery cat, Saison too.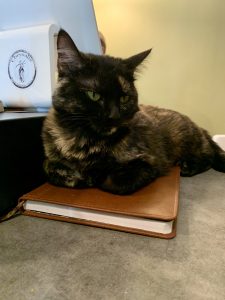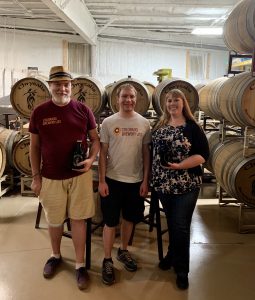 What is your favorite hang-out brewery?  (Where are folks most likely to run into you?)
The Washington St. River North Brewery is one of our favorite haunts, and we are proud members of their Norther Society.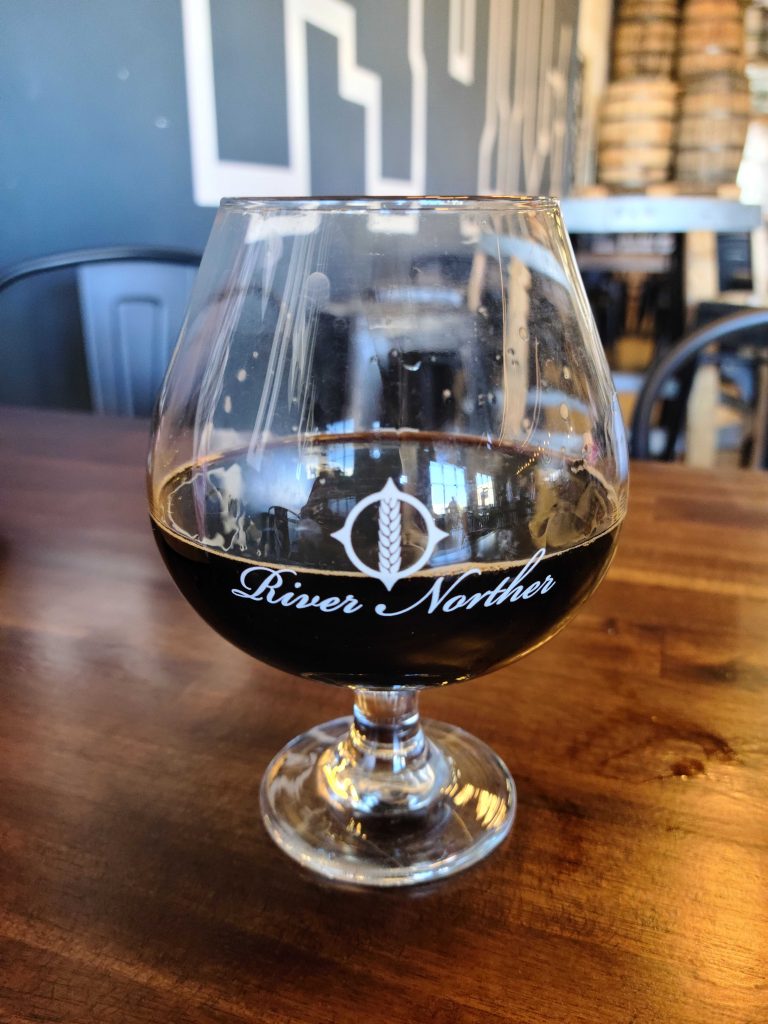 What advice would you offer others trying to become a Colorado Brewery Master?
[Ryan] Of course beer is the main reason anyone would want to take on this journey, but I highly recommend that you enjoy the sights, people, and overall experience. There are places in this state that you won't otherwise visit, so enjoy the time there and see how the community functions.
Otherwise, my first suggestion is to have a designated driver for those long legs of the journey with several stops. Stephen was an amazing driver of his "Beer Geek Bus," navigating us safely to many breweries but still took scenic routes when time allowed a detour. Without him, I know we wouldn't have accomplished this feat as quickly, and I wish I could volunteer his services to everyone ;). Also, I highly recommend having a very detailed plan and doing some research first. Don't be afraid to make phone calls, send emails, or messages on social media if you need confirmation of anything. It can be very frustrating to travel for hours only to find a place doesn't have their own beer on tap or changed their operating hours without notice. (Cue the shameless plug for Colorado Brewery List) While we do our best to collect every detail possible about breweries to help you plan your trip, things can still change quickly so a little bit of manual research can be necessary.
[Ashley] Enjoy every stop, even when the beer doesn't appeal to your tastes. Try to find another aspect about the brewery to appreciate, like the atmosphere, decor, patio, food, etc. Also, be prepared for the disappointment of showing up to a place just for it to be closed for no reason. You might not plan to start collecting brewery stickers, but it is inevitable, so you might as well start early because you don't want to be missing ones from the far flung locations.
But mostly, just enjoy every minute of the journey and the people who accompany you.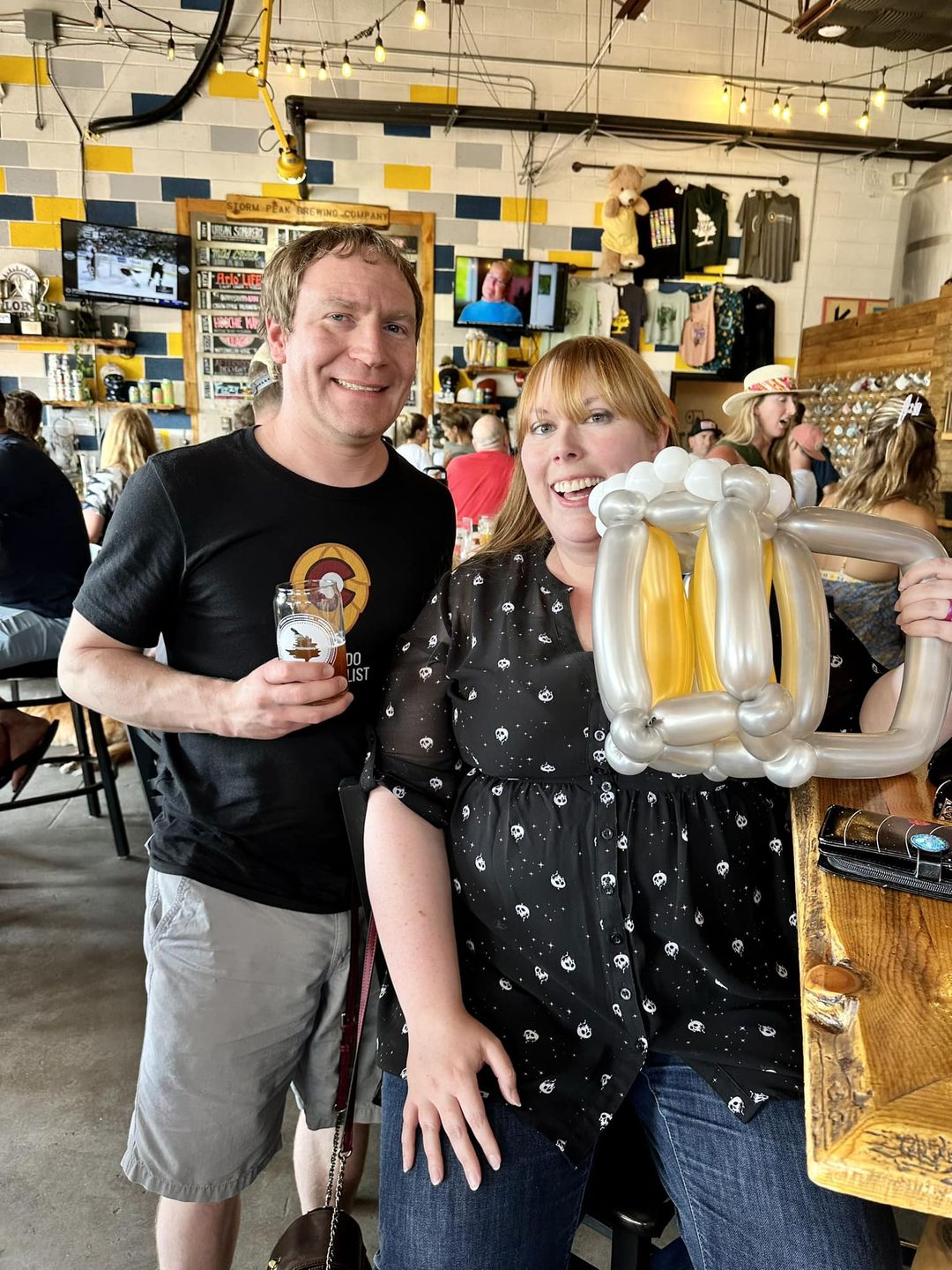 Congratulations again to Ryan & Ashley for finishing "The Quest."
It was a pleasure to be a part of your journey but even more so to call you my dear friends.  Big Hugs!
Are there any other Colorado Brewery Masters out there that I have missed?  If you have been to every Colorado brewery or are close to doing so, I would love to hear from you!
Do you want to learn more about the other Colorado Brewery Masters?  Check out this CBM blog page which has all of the articles about us, (except me but you can read a bit about my initial quest here).