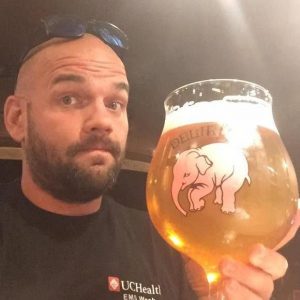 Congratulations to David Cooper on completing the quest to visit every currently open Colorado brewery!  He has now earned the title of "Colorado Brewery Master," joining a very small group of beer enthusiasts who have also accomplished this feat.
I had the pleasure of meeting David at the Media/VIP opening of Denver Beer Co. in Lowry which was his finish line and, as I have done previously with the other Masters, I was happy to ask him some questions about his journey…
Who is Dave Cooper?  (Tell us a little about yourself.)
I'm a 46-year-old husband and a father to a rampaging little agent of chaos (aka a two-year-old), a brown belt in Brazilian Jiu-Jitsu, and a current grad school student. I work at a fire department in the metro area and have been in fire/EMS for almost 25 years. I have 8-9 years left until I retire, and hope to use my time in grad school to become a licensed professional counselor and open a counseling practice for first responders. I've lived in Colorado since 1982, mostly in the North Denver/Wheat Ridge/Lakewood area. I've been very lucky to have been able to travel extensively before settling down to start a family. I've visited 53 foreign countries and have set foot on all seven continents. My brewery quest has been a convenient way to continue my aimless wandering.
When and what was the first Colorado brewery that you remember visiting?
The first craft brewery I remember visiting was Pug Ryan's in Dillon. I believe that was in 1998 or 1999. Since then, I have become much more interested in Colorado's craft beer scene. My quest to hit every brewery began when the Beer Drinker's Guide to Colorado books/maps started coming out. Now I use the Colorado Brewery List as my guide. I have now been to all 426 breweries and 35 taprooms listed on the site. Plus, I've been to around 137 breweries that have closed since. That puts me at 598 breweries/taprooms total, not a bad run!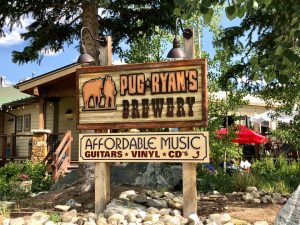 When and where did you accomplish the status of having visited every Colorado brewery?
I planned to complete my journey with a trip to the Western Slope earlier this month. Shawn Larsen at Chrysalis was kind enough to open the brewery for us, so I could complete my tour. I had planned on making Chrysalis my final brewery, but with the ever-growing list of breweries, Second Dawn opened while I was out on that trip, and Denver Beer Co Lowry opens this week. Luckily, they're in the metro area! Now, DBC Lowry was the final brewery in my quest. The new Lowry location is great!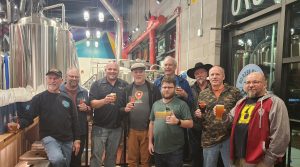 What are some of your favorite memories of your quest?
I miss the old DeSteeg days with Craig, Patrick and Travis. I used to live a few blocks away and was there at least once a week. This was before the Berkley area was so overbuilt. It was such a great place to spend time. The old days of Golden City Brewing (when it was folding chairs and card tables) were great. At closing time, the beertender would come out and sing a couple of traditional Irish, (if my memory serves me correctly) songs. My trip to the breweries in Cortez (such as WildEdge Brewing) let me find one of my favorite camping spots in Colorado (near McPhee Reservoir). I miss a handful of breweries that have closed over the years. Liberati made such unique beers. I would love to have them find their niche in the Colorado brewery landscape. I loved the Pizza at Dad & Dude's Breweria in Parker. Ironworks in Lakewood had a wonderfully divey feel, just my style. Intrepid Sojourner put out some great stuff also!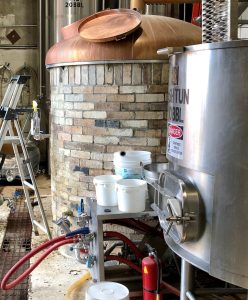 What are your favorite styles of beer and your top breweries in the state of Colorado in terms of your beer taste?
I enjoy Belgians, cask beers, and barrel-aged stouts. Burns Family, Avery, Hogshead, Bruz, and River North are all high on my list.
What are some of your favorite destination breweries?
In-state: I'm a big fan of Avery's barrel-aged beers. Some of their one-off brews have been amazing! I always have to stop at Outer Range when I'm heading out west and Elevation whenever I head down 285. The brisket grilled cheese at Cerberus is amazing. Funkwerks doesn't get enough love. Jessup Farm, Liquid Mechanics, Paradox, Parts and Labor (great tap room) all get an honorable mention.
Out of state: My wife and I make a pilgrimage to St. Louis every year for the Abraxas release at Perennial Artisan Ales. I always stop in at Cigar City in Tampa and Fremont in Seattle when I'm in the area. Firestone Walker in Pasa Robles and Prairie Artisan Ales in Oklahoma City are on my list but I haven't had a chance to visit them yet.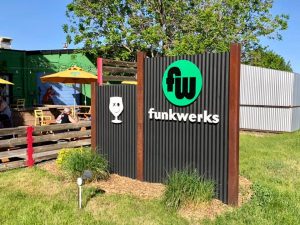 What is your favorite hang-out brewery?  (Where are folks most likely to run into you?)
Because I live out west, I'm most likely to be at Hogshead, New Image, Rickoli's, River North, Burns Family, or Hops & Pie. I also try to keep my beer fridge stocked with big beers from Avery, Oskar Blues, Copper Kettle, and Great Divide, though I don't get to visit them often.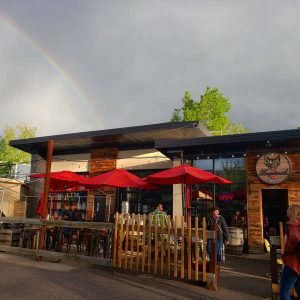 What advice would you offer others trying to become a Colorado Brewery Master?
If you're going to try to hit all the breweries, commit to getting it done early. I completed the quest over about 10+ years and had to take a lot of trips back to faraway locations after new places opened. I've driven to places like Durango and Trinidad multiple times as new places have opened over the years. Completing the quest in a shorter amount of time would have helped to avoid a lot of repetition. Make sure that you check the hours of the places you plan on visiting. I read the hours for Tumbleweed Brewing and Wine Co in Yuma wrong and drove 2.5 hours out there, just to find that they were closed. Find a way to document your visits. I started using the Beer Drinker's Guide to Colorado, but when they stopped making those, I started a spreadsheet. Untapped is a great resource that wasn't around for most of my quest.* Most of all, take time to talk to the brewers and the other patrons! I have met so many great people over the years!
[*Editor's note:  While not available for much of David's quest, Colorado Brewery List now offers a feature where you can check in to breweries and our map will show which ones you have been to and those not yet visited.]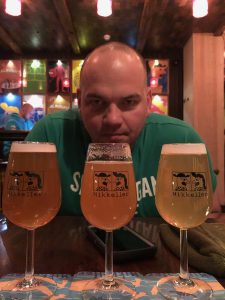 Welcome David to the ranks of the Colorado Brewery Masters!  
Are there any other Colorado Brewery Masters out there that I have missed?  If you have been to every Colorado brewery or are close to doing so, I would love to hear from you!  Do you want to learn more about the other Colorado Brewery Masters?  Check out this CBM blog page which has all of the articles about us, (except me but you can read a bit about my initial quest here).