Every year Colorado Brewery List sends out a survey to every Colorado brewery asking them questions about the brewing industry and who among the other breweries in Colorado are their personal favorites. This article is not about who we as Colorado Brewery List picked as our favorites but is about their fellow brewery owners and brewers honoring excellence among their peers.
This year, in order to help highlight breweries in many areas of Colorado we split the state into four regions (Denver Metro, North/East, West, and South/Central). The Western region includes the 89 breweries in the counties of Archuleta, Clear Creek, Delta, Eagle, Garfield, Gilpin, Grand, Gunnison, Hinsdale, La Plata, Mesa, Montezuma, Montrose, Ouray, Pitkin, Rio Blanco, Routt, San Juan, San Miguel, & Summit.
They were chosen by their peers as the favorite Western Colorado brewery!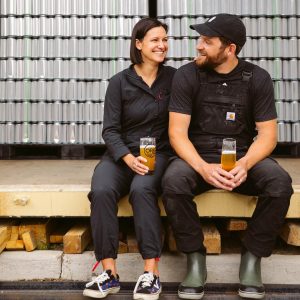 Since 2016, Outer Range Brewing Co. has focused on brewing the great styles of craft beer that inspire them—Belgians and IPAs. They have become one of the biggest names in hazy IPAs in Colorado, but also offer a large selection of lagers, clear IPAs, and, of course, Belgians. Their taproom has expanded substantially in recent years and has grown to include a coffee shop and a Thai-style chicken shack. With plenty of space both inside and out, upstairs and down, they allow visitors to take advantage of the mountain air and atmosphere.
Casey LeFever, a representative of 4 Noses Brewing, said "Outer Range has super consistent beers, and while they still crush hazies, they've done an excellent job of expanding into other styles. That, and what they've done with their expansion, makes it a can't miss spot when we're in town. When one of our brewers got married in Vail this summer, we stopped into Outer Range on the way, only to see everyone else at our brewery had the same idea."
Sean Guerrero, owner and brewer at Jade Mountain Brewery & Teahouse, simply said "Outer Range does some of the best haze in the state."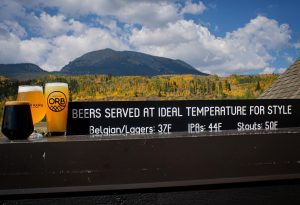 Katie Schroepfer, a representative of River North Brewery, said "I think Outer Ranger is one of the best breweries in the West region because every time I've had a chance to go there I have been incredibly impressed with all of the beers; they're consistent and always offering a great variety for someone like me who's constantly changing what they're drinking. It has been great to watch the space grow and everyone that works there has always been extremely friendly, welcoming and they treat you like you're friends from the get-go."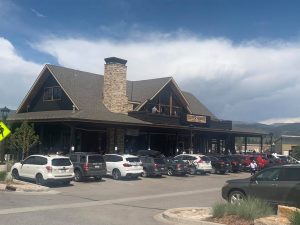 * * * * * * * * * * *
Coming in close behind Westbound & Down Brewing Company.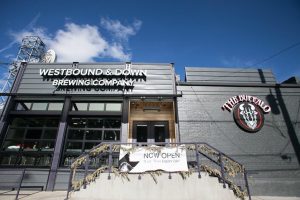 Westbound and Down Brewing Company is a community eatery and tavern located in Idaho Springs, just 40 minutes from Downtown Denver. Known for thier original craft beers, phenomenal food, and beautiful atmosphere, 'Westbound and Down' is the perfect stop off I-70 for your travels to and from the Colorado Rocky Mountains. They are about sharing good times with good friends through good beer.
Zach Nichols, owner and brewer of Cellar West Artisan Ales, said "My wife's parents live in Breckenridge, so on our way up to visit we usually make a pit stop at Westbound & Down. I've always been drawn to their relative simplicity in brewing approach – genuine expressions of a handful of premium imported malts, or a new hop they're playing with, or experimentation with a Belgian yeast strain or unique lager brewing practices. Nothing is overly complicated but it is all well made and spot-on for style.'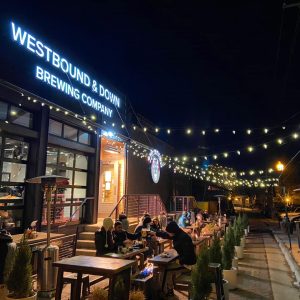 Anthony Martuscello, owner at Westfax Brewing, said "Westbound & Down – Super consistent and drinkable is how I would describe their beers.  I know exactly what to expect every time I have one of their beers.  One of my favorite beers from the past year was How the West was won, Strata.  I love strata hops and this beer showcased them perfectly.  Their Italian pilsner is also really nice."
Westbound & Down also recently opened Westbound & Down Mill in Lafayette. Lots of people in the Front Range including many in the industry have been looking forward to having a W&D spot closer to them as evidence by them being chosen as The Most Anticipated Brewery for 2021 (and in 2020 when they were looking at a different spot).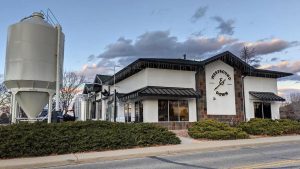 * * * * * * * * * * *
Coming in as the next choice for favorite brewery in the Western region is a tie between Colorado Boy & Casey Brewing & Blending.
Colorado Boy is a wee humble pub in a wonderful 1915 brick building in the old section of downtown Ridgway. Founded by legendary brewery owner Tom Hennessey, he grew the tiny brewery to a second location in Montrose (Colorado Boy Pizzeria and Brewery) before selling to Dennis and Daniel Richards, former owners of Echo Brewing, who have further carried on Tom's legacy opening two more locations: one more in Ridgway (Colorado Boy Depot) and the Southwest Pub in Ouray.
At the original Colorado Boy in Ridgway, the brewery is in full view from the antique oak bar, so that you can watch the brewing process while enjoying your pint. All the electricity is wind powered and hot water for brewing comes from solar collectors on the roof. All spent brewing grain and yeast is fed to local cattle. There are usually 5 or 6 ales on tap, as well as cask versions of real ale. They serve artisan pizzas and salads, plus wines by the glass and beer to go.
At the Colorado Boy Pizzeria and Brewery in Montrose, you'll find British and American style ales with two casks always on a beer engine. Colorado Boy also serves Neapolitan style pizza in a warm bistro atmosphere. In addition to Pizza & Beer, Colorado Boy is known for its Immersion course which has helped open over 80 breweries in the US, and around the world.
William Tedrow, owner and brewer at
Stoik Beer Company
, said "Originally opened by Tom Hennessy in 2008 and now owned and run by Daniel Richards, I feel the Colorado Boy Ridgway location is the best example of a Western Colorado brew pub. The atmosphere is inviting yet small and intimate and feels like a European pub. Their pizza is some of the best in the state and the beer is always spot on! Love their cask ales, Pale ale and Irish Red. Never a time that I have visited and not been impressed with any one of their classic style beers or slice of pie. Anyone that is looking to open a brewery needs to reach out to them and take their immersion course. You won't regret it."
Doug DeShazo, owner and brewer at Lake City Brewing, said "Colorado Boy Pub in Ridgway is a small, but inviting space with reliably good beer, food, and service." and Jason Maxwell, owner at Tres Litros Beer Co, said "Solid beer and great pizza at Colorado Boy Pizzeria"
* * * * * * * * * * *
Casey Brewing & Blending Taproom is located in the heart of downtown Glenwood Springs. Come enjoy their award-winning sours along with our IPAs, Lagers, and Stouts. They don't serve any food but you are welcome to bring in any food from the surrounding local restaurants. They have outdoor seating available and well-behaved leashed dogs are welcomed on our patio.
The brewery itself, located on east bank of the Roaring Fork River in Southern Glenwood Springs, is not open for drop in visits but starting in 2022 they are hosting several different Casey Brewing Experiences at the Casey Brewing & Blending Barrel Cellar. Each Experience at Casey Brewing is designed to educate consumers on their process and flavorful beers. They are excited to start the new year by sharing their cellared bottles with you. Owner and Blender Troy Casey will be hosting each Experience at the Barrel Cellar. He will explain why he chose each lineup and break down each beer as it ages over time.
Chris Marchio, owner and brewer at Knotted Root Brewing, said the folks at "Casey are entirely and unapologetically themselves, which makes their beer authentic to who they are. I can relate to that because I'm the same way. It is evident when you drink their beer, especially at their incredible location. They do barrel aged fruited sours as good as anyone else in the world and their hoppy beers are fantastic as well."
Laura Worley, owner and brewer at Burns Family Artisan Ales, said "Casey does excellent brewing and blending. It's always a positive learning experience to drink Troy's beers and share brewing experiences."
* * * * * * * * * * *
Congratulations to all of these breweries for being recognized by their peers as great examples of the fabulous Colorado brewery community!
If you would like to visit multiple breweries in the Western part of Colorado, please check out the Southwest Colorado Brewery Tour and San Juan Mountain Brewery Tour articles. Stay tuned for upcoming articles for Central Western Colorado and Grand Junction area tours.
Thank you to all of the breweries who answered our survey along with the follow up emails to spread their love for their fellow breweries.
A huge thank you to all my teammates on Colorado Brewery List especially Dev Adams along with Ashley & Ryan Steadman for their tremendous help in putting this article together!