In the Colorado brewery community there exists a small group of folks who have achieved the accomplishment of having visited every Colorado brewery earning the title of "Colorado Brewery Master".   I very much enjoyed my quest to do this by visiting many wonderful breweries across the state, drinking lots of outstanding beers, and most importantly meeting a lot of fabulous people along the way.  One such person, Ryan Sethre, recently introduced himself to me at the opening weekend of Comet Brews and I quickly discovered that Ryan had been a Master for many years unbeknownst to the rest of us.   I later discovered that Ryan and I had actually traded notes on our brewery lists back in 2014 before I had completed the quest and before I joined Colorado Brewery List.
As I have done with the other Masters, I was happy to ask him some questions about his quest…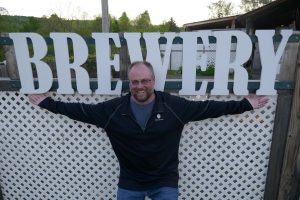 Who is Ryan?  (Tell us a bit about yourself.)
I am someone who likes getting out and experiencing whatever I can in life. My friends have coined my life the "Ryan Express" because I don't slow down. And at times my wife thinks I am trying to kill her by planning too many events. Instead of having a bucket list, I have bucket lists…meaning instead of having individual things on it, I have a collection of things that all need to get checked off for it to fully count. I love to travel and have been to 49 of 50 U.S. states (though I have only been to breweries in 35 of those states). I have traveled extensively throughout the world and have enjoyed being part of beer festivals in places like Xi'an, China and of course Oktoberfest in Munich, Germany.
In 2009, I drove around Colorado with the 2nd edition of the Beer Drinker's Guide to Colorado in hand, and hit up as many breweries as I had coupons for and that I could get to. I just kind of continued going to breweries all over the state after that, and before long I realized I had been to three-quarters of the breweries in Colorado, so I figured I might as well complete the task!
On top of travel, I attend all kinds of sporting events and concerts. Again, looking at the collection of lists, a couple that I currently have going is that I have attended a game in all but one Major League Baseball stadium and have visited 38 of 63 U.S. national parks. It's hard to say what will be added as my next complete list that needs to be finished, but I think I do like having them because then I don't really have that sense of "oh, I completed all I set out to do," and thus there is always something to look forward to!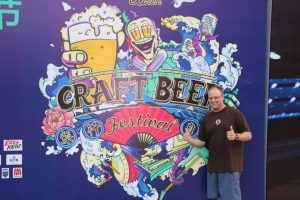 When and what was the first Colorado brewery that you remember visiting?
I grew up in Loveland, Colorado. As a kid, I went to CB Potts in Fort Collins on a regular basis with my dad because it was the only place we could watch NHL hockey games, as well as we would go to attend the CSU football coaches radio show. And Wynkoop in Denver was always a popular place to go before attending Broncos games. The further away brewery I distinctly remember first spending time at was Main Street Brewing in Cortez in January of 2000 when returning to Colorado from a week-and-a-half road trip all around New Mexico and Arizona. Back then, breweries were not as common as they are now, but I did spend some time at places like Boulder Beer, Oasis, and Mountain Sun while a student at CU.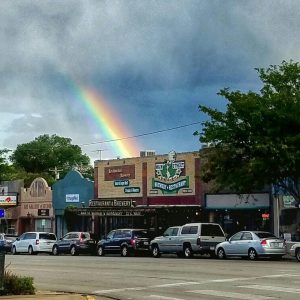 When and where did you accomplish the status of having visited every Colorado brewery?
The most memorable time I officially hit them all was on (and prior to) December 21, 2013, the night Station 26 opened in Denver. Later on, at a point in 2017, I was on a mission to get them all again. I got to within four before leaving to teach in China for two months. I came back and another 30 had opened while I was gone.
But, in looking more at the time when Station 26 first opened in late December of 2013, I had the status leading up to that point, but knew they would be opening and if I got to it then I should be able to enter into a new year having been to all of them. I only held my status for ten days though, as Broken Plow snuck in their opening on New Year's Eve, meaning I didn't end the year with the claim I thought I would. I was on a trip to Brazil by then too, so a quick trip up there wasn't an option.
The funky hours at Rifle Brewing in Rifle and Revolution in Paonia also caused me to pass through multiple times without being able to stop in either of those, so they were also ones that were my nemesis over the years in keeping the mission complete. However, I eventually got to them both before they each closed down.
I think it is always an accomplishment to finally get to them all, but sometimes the frustrations of being one short and standing outside of it, is even more memorable!
What are some of your favorite memories of your quest?
Some of the not-your-typical breweries have been fun to get to. The most-entertaining was probably when I entered into an insurance agency in Del Norte and had a woman lean out of a cubicle to ask if she could help me. I asked if this was also Three Barrel Brewing Co. and she said that it was in the garage attached to the building. I told her I needed to grab my wife who was waiting in the car (in case this wasn't in fact the brewery). I told her right away, "You've got to come in here!" Then we were given random tastes of whatever beers she found, directly from the barrels in the garage.
Another great memory was when I scheduled to have a group of six of us over at Tom Horst's house in Boulder before he opened Crystal Springs. I considered it to be one of my remaining ones to visit, even though it was by appointment only, so I made sure to do it! My wife and I had recently returned from a trip to Norway, which was where he took high school students every summer, so we had more to discuss that day than just beer. Also as a result of our visit, one of our friends we brought along ended up doing a project for her MBA in which she analyzed his business operations after he opened it up in Louisville.
Really though, I connect a lot of the breweries I have done with a greater overall experience, and those have been some of my favorite memories. For example, hitting up breweries in Colorado Springs, Woodland Park, and Divide with a friend while also visiting the wolf preserve, Florissant Fossil Beds National Monument, and attending an Air Force hockey game all in the same day. Or, seeing the U.S. Pro Cycling Challenge in various locations while incorporating nearby brewery visits. I have done countless Colorado road trips over the past twelve years, during all seasons, some of which were with friends, my wife, or solo. Each one has been therapeutic, and adding brewery stops to the itinerary has made each one of them even more enjoyable.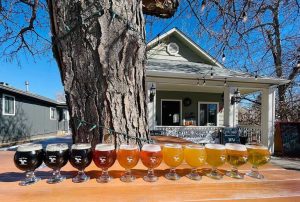 What are your favorite styles of beer and your top breweries in the state of Colorado in terms of your beer taste?
When I first started going to breweries over 20 years ago, I liked ambers, though I think that was mainly because that was what was out there back then. Fat Tire was everywhere! In reality, I am not as into malt as I am hops. IPAs are my thing….both east coast and west coast. The first time I really had beer like that was when Coors released the Championship Ale in honor of the Avalanche winning the Stanley Cup in 2001. It was a hoppy beer that you could only get at Pepsi Center. It was gone within two years, though by then pale ales were more getting to be more commonly found. IPAs are my go-to, but I'll drink lagers or wheats on a hot summer day, or if I simply want something lighter (they make for great tailgating/event beers), but will also drink stouts in the winter, though I am not into the really strong ones, or really the barrel-aged stuff (which is good…I don't need to make this hobby of mine any more expensive than it already is). I'll get more into specific breweries below.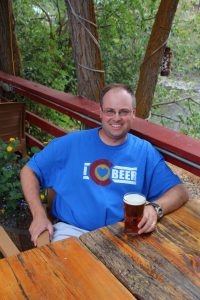 What are some of your favorite destination breweries?
Heading east does not get me to one of the better locales throughout the Rocky Mountains of Colorado, but I am a regular up at Weldwerks in Greeley (I was a student at UNC for a year and a half—25 years ago—but there was nothing like that up there then, so there really was not much of anything to be excited about in Greeley). I'm kind of known as the "Weldwerks dealer" of our neighborhood, routinely returning home with several cases ordered by various neighbors and friends.
We spend a lot of time in the mountains as I have an annual goal of skiing at least 30 days at 15 different mountains, so there are several Colorado mountain breweries we get to on a regular basis. Many people think of the San Juans region as being so far away from Denver, but I'm down there every year or two for something! Because I am constantly somewhere, moving about the state, I'll discuss my favorite destination breweries below in addressing "hang-out" breweries, as they really can be considered one-in-the-same in my life!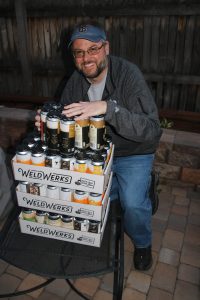 What is your favorite hang-out brewery?  (Where are folks most likely to run into you?)
Weldwerks is certainly one, as well as some of the Loveland ones, such as Loveland Ale, Crow Hop, and Verboten, or Windsor ones like Mash Lab and Peculiar, because my wife and I both still have both sets of parents living up there and are routinely visiting them. A little more locally, where I live in Denver, you'll find me over at Comrade, Cerebral, or any number of places in RiNo, along with places near venues like Raices before Broncos games or Alpine Dog before an Ogden Theater concert. Overall, I would not say I have a regular brewery I go to in Denver though. We venture out of the city all the time…to the point in fact that for the first five years we lived in our current house, there was a rumor in our neighborhood that we lived in New York City and only came to our house twice a year.
For some of our regulars up in the mountains, where we end up most weekends—and even more lately with work-remote schedules over the past year—Storm Peak in Steamboat, Camber in Fraser, Outer Range in Frisco, and Rock Cut in Estes are commonly frequented places. Salida is also a place we get to multiple times a year and I think all five of their breweries (grouping Elevation in Poncha Springs into the mix too) are excellent!
Overall, our house has become a gathering place for our friends to do local craft beer tastings. We have a double-tap kegerator system and a beer fridge that is always stocked with a huge selection of craft beer. I can definitely see why my friends consider it to be the best bar in town! So, if I'm not out of town, or at a local brewery or event, then that is where people know to find me!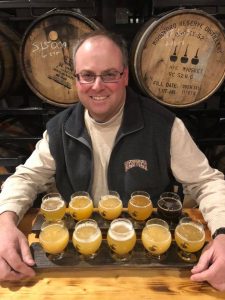 What advice would you offer others trying to become a Colorado Brewery Master?
Have fun with it and remember why you started the mission, which was probably to see the source of where different beers come from and learn about each place's unique operation firsthand. It's not a race to get them all done. I keep things in line by typically only doing 3-4 at the very most in a single day…even when I have traveled to the far reaches of the state. I have done this as a hobby for myself personally, not to impress anyone else. There were times when I would be the first to rush out to a place as soon as it opened, but now I just go in phases, and may not even get to a relatively local one for a couple of months after it first opened. Don't let the mission consume you; I have plenty of other interests too, so I don't allow going to breweries to be the biggest priority in my life (though I have been known to drive over an hour out of my way just to get to one, and then back again). Colorado is an amazing place to be, so make sure you do your brewery trips in conjunction with other activities. With that said, if there continues to be a trend of eastern plains breweries opening, then I may end up aborting this mission!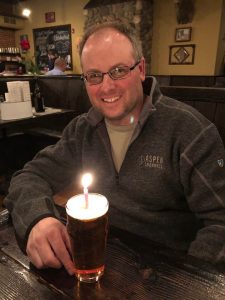 It was a pleasure to meet Ryan and I look forward to running into him again at another brewery soon.
Are there any other Colorado Brewery Masters out there that I have missed?  If you have been to every Colorado brewery or are close to doing so I would love hear from you!
The Colorado Brewery Masters
Meet Kevin Harris – "The Other Guy"
Meet Patrick Malone – The Godfather of Colorado Beer Geeks
Meet John Vandewater – A Man with a Passion for CO Beer
Meet Scott Young – The Buckeye Brewer
Meet Ruth Malone – First Lady of Colorado Breweries
Meet Miss Lupulin and the Beerd Wrangler