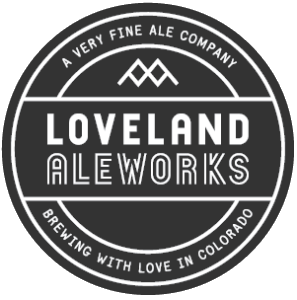 Description
Loveland Aleworks is an independent, family-owned brewery offering a selection of small batch handcrafted beers.
We are passionate about brewing ales that we, and our customers, believe in — quality ales, made well, using the best ingredients. A simple combination. We don't limit ourselves to brewing a certain style of ale. We brew what we like, but we're sure to share the rewards.
Beers Brewed by Loveland Aleworks
This list includes beers brewed currently, previously, or seasonally by Loveland Aleworks. Contact the brewery for current beer availability.
| Name | Style | ABV | Availability |
| --- | --- | --- | --- |
| Take A New Route Stout | American Stout | 7.2 | Rotating |
| Barrel Aged Grapefruit Gose | Gose, Wood / Barrel Aged Beer | 6.2 | Special Release |
| Cassidy's Caramel Porter | Brown Porter | 6.1 | Special Release |
| Oatmeal Chocolate Stout | Oatmeal Stout | 7.6 | Rotating |
| Cucumber Red Ale | Spice / Herb / Vegetable Beer | 4.8 | Rotating |
| Hops In Translation | American Pale Ale | 5.6 | Rotating |
| Bourbon Barrel-Aged Imperial Stout | American Double / Imperial Stout, Wood / Barrel Aged Beer | 12 | Rotating |
| Cherry Saison | Fruit Beer | 7.0 | Rotating |
| 5th Anniversary Tequila Sour | Sour Ale, Wood / Barrel Aged Beer | | Rotating |
| Barrel Aged Grand Cru | Grand Cru, Wood / Barrel Aged Beer | 10.5 | Special Release |
| Brendan's Strong Scotch Ale | Scotch Ale / Wee Heavy | 9.7 | Seasonal |
| Rye Extra Pale Ale | Rye Beer | 7.4 | Seasonal |
| English Brown Ale | English Brown Ale | 5.5 | Seasonal |
| Last Land Ale | American Pale Ale | 5 | Seasonal |
| Belgian Golden | Belgian Blonde Ale | 7.6 | Seasonal |
| Sorachi Ace IPA | American IPA | 7.4 | Rotating |
| American Sour Ale with Cranberries | Sour Ale | 6.9 | Seasonal |
| American Sour Ale with Blueberries | American Wild Ale | 6.4 | Seasonal |
| Brother Mark's Belgian Dubbel | Belgian Dubbel | 8 | Seasonal |
| Hefeweizen | Hefeweizen / Weiss bier | 5.4 | Seasonal |
| Belgian Strong Ale | Belgian Strong Ale | 9.1 | Seasonal |
| Darkest Day | Coconut Porter, Wood / Barrel Aged Beer | 7 | Seasonal |
| Double Birds Imperial IPA | American Double / Imperial IPA | 9 | Seasonal |
| American Sour With Raspberries | Sour Ale | 7.2 | Seasonal |
| Peach Saison | Saison / Farmhouse Ale | 6 | Seasonal |
| Elaine's Coconut Porter | Coconut Porter | 6.8 | Seasonal |
| Imperial Stout | American Double / Imperial Stout | 12.5 | Year-Round |
| Tripel | Belgian Tripel | 7.6 | Year-Round |
| IPA | American IPA | 7.8 | Year-Round |
| Saison | Saison / Farmhouse Ale | 5.4 | Year-Round |