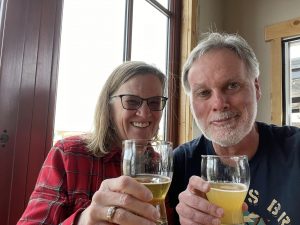 Congratulations to Darren & Robin Morrissey on completing the quest to visit every currently open Colorado brewery!  They have both now earned the title of "Colorado Brewery Master," joining a very small group of beer enthusiasts who have also accomplished this feat.  I am very happy to welcome them to the Colorado Brewery Master family and, as I have done previously with the other Masters, I was happy to ask them some questions about his journey…
Who are Darren & Robin Morrissey?  
[Darren] I grew up in Colorado on the west slope but lived away for a while for school and work.  Fortunately, my job brought me back in 2015 and I couldn't be happier.  I was an Environmental Health & Safety engineer for government and industry, but was able to retire in 2021.  I got into craft beer in the 90's when I started homebrewing and was fascinated with the different styles and history of beer as well as the process of making beer.  I even worked for a while as a beer journalist for a regional beer newspaper in the southeast.
[Robin] I was born and raised in Arkansas, started out in banking, then worked 28 years in accounting and management for the State of Arkansas. I got into craft beer a little later than Darren did, but after a few years of his homebrewing and him dragging me to breweries and brewpubs, I finally tried some good beer and never looked back. In 2015 when he asked if I wanted to move to Colorado, I retired from my job and started packing my bags. Living in Colorado has been a dream come true.
When and what was the first Colorado brewery that you remember visiting?
In 1997 we took a two-week driving trip of the southwest to see some sights, family, and friends.  While visiting Darren's mother in Grand Junction, we stopped in at Rockslide Brewery, (cringe moment from Robin: I wasn't even into craft beer then and probably drank whatever they said was closest to a Michelob Ultra). Just a few days later we also visited Breckenridge Brewing's original location in Breckenridge.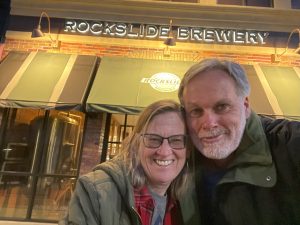 When and where did you accomplish the status of having visited every Colorado brewery?
Salt Road Brewing in Fort Collins on April 27, 2023. We did a big road trip the week before and thought we would finish the quest in Alamosa, but Salt Road opened while we were gone.  It worked out well because it was close and the beers were great.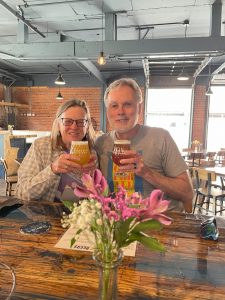 What are some of your favorite memories of your quest?
Besides the whole idea of driving around Colorado and drinking beer, there are a few that stand out.
– We struck up a conversation with a person at a meetup for the Colorado Let's Talk Craft Beer Facebook group and he told us he was going to open a brewery in Denver called Woods Boss.  At the time we thought he was an overeager homebrewer with unrealistic plans.  Not only were we surprised when we saw the brewery open, but it's one of our favorite breweries in Colorado.
– We took a trip to southwest Colorado to try to get caught up on the breweries in that area.  This was during COVID, so we made intricately complicated plans to meet the various schedules of the breweries.  The night before we were supposed to go to Colorado Boy in Ouray, we saw on Facebook they were closing for the next two weeks starting the next day.  After a call to the location and pleading our case, we convinced the brewery to let us show up the next day and drink a quick beer so we could check them off the list.  That was when we met the owner of Colorado Boy, Daniel Richards.  We talked with him for a long time about beer in Colorado and he was able to get us a private tour of the facility in Ridgway that makes the Grammy Awards.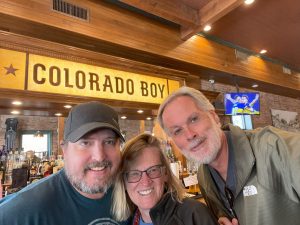 – In early-2020, we took a weekend trip to Greeley to see the breweries of Weld County.  We were amazed to find that two of the best breweries in the state, Weldwerks and Wiley Roots, were just a few blocks away.  We ended up at both breweries multiple times over the weekend and learned the secret, (and probably illegal) method of "walking the tracks" to get between the two.
– On our first trip to Coda Brewing in Golden shortly after they opened, we were busy working our way through the beers and checking them in on Untappd.  As we were checking them in, we noticed in the app that someone else was at Coda and checking in a taster flight of beer.  Not only were we able to enjoy the fantastic beers at Coda, but we also got to meet Dave Sorenson and talk beer for a long time.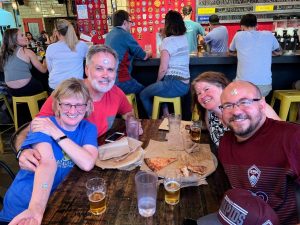 What are your favorite styles of beer and your top breweries in the state of Colorado in terms of your beer taste?
While IPAs are the beers that Darren drinks most, he also enjoys Belgian beers, German lagers, and English Milds and Bitters.  Robin's preferences change with the seasons – porters in the cold weather, more wits and hefeweizens when it's warm, but hazy IPAs are a favorite year-round. Some of our favorite breweries in the state include Woods Boss, Bruz, Westfax, Outer Range, and Oskar Blues.
What are some of your favorite destination breweries?
Inside Colorado there are some truly great destination breweries.  Besides the Weldwerks/Wiley Roots combination mentioned before, one of our earliest ones was the New Belgium Brewery in Fort Collins.  This was one of the first large craft breweries we had visited and we were blown away by how a brewery that size still felt small and personal.  Plus the Sour Room, slide, and taps of La Folie and Dubbel also helped.  Mountain Merman in La Veta and Peculier Ales in Windsor are small town gems. We also spent one evening at Outer Range Brewing in Frisco working our way through their extensive menu.
Outside of Colorado, one of our favorite destination breweries was our trip to Stone Brewing in Escondido.  We had been huge Stone fans for years and it was incredible to visit the "home office."  Not only did we drink some fresh Stone beers, but we also found ourselves seated next to Stone Founder Greg Koch and Adam Avery of Avery Brewing.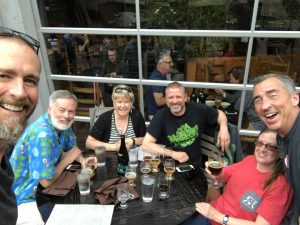 What is your favorite hang-out brewery?  (Where are folks most likely to run into you?)
One of our biggest factors in determining where to live after Darren retired was the proximity to good breweries.  We settled on Longmont, which provided us 11 breweries in the city, plus many more in the surrounding area.  It's an embarrassment of riches to live in a city with Oskar Blues, Left Hand, 300 Suns, and Wibby.  While we try to make the rounds to all the breweries, we most often will be hanging out at the Tasty Weasel taproom for Oskar Blues.  It's great to be able to try the experimental beers they make, plus the taproom is cozy and the bar staff are the best.

What advice would you offer others trying to become a Colorado Brewery Master?
First of all, you need to find a great resource like the Colorado Brewery List to be able to track your progress and have the maps for trip planning.  Being a spreadsheet nerd is helpful too. We also recommend the following:
Colorado is a huge state and it's a long way from Sterling to Durango. We planned trips to hit areas where we needed breweries/taprooms and then looked for nearby hiking trails or other things to do during the day.
If you are taking a beer trip to an area you might not make it back to in a while, be sure to confirm dates/times with the brewery or through social media. We had a few trips marred by a brewery closed for a private party, staff shortages, or it was just a pretty Thursday.
Venture outside your style comfort zone. You may love IPA's, but sometimes the best beer in a brewery may be the hidden gem like a kettle sour with local fruit or a traditional Czech dark lager.
Find a mate or good friend to accompany you on your quest. It's way more fun to go to 400+ breweries with good company.
Congratulations again to Darren & Robin for finishing "The Quest."  I hope to find some time to share a beer or three with you very soon!
Are there any other Colorado Brewery Masters out there that I have missed?  If you have been to every Colorado brewery or are close to doing so, I would love to hear from you!
Do you want to learn more about the other Colorado Brewery Masters?  Check out this CBM blog page which has all of the articles about us, (except me but you can read a bit about my initial quest here).