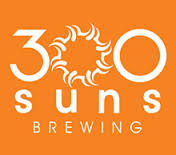 Brewery Details
Hours:
| | |
| --- | --- |
| Sunday | 11:00 AM - 8:00 PM |
| Monday | Closed |
| Tuesday | 11:00 AM - 9:00 PM |
| Wednesday | 11:00 AM - 9:00 PM |
| Thursday | 11:00 AM - 9:00 PM |
| Friday | 11:00 AM - 10:00 PM |
| Saturday | 11:00 AM - 10:00 PM |
Visitors:
Visitors Welcome
Tours:
On Request
Food:
Bring Your Own / Nearby Restaurants
,
Food Trucks
,
Sandwiches
,
Snacks
Other drinks:
Coffee
,
Craft Soda
,
Hard Cider
,
Non-alcoholic
,
Wine
Beer to go:
Bottles or cans
,
Growlers
Merchandise:
Beanies
,
Hats
,
Hoodies
,
Shirts
Parking:
Parking Lot
Dog Friendly?
Patio Only
Outdoor seating/Patio:
Yes
Shuttle Services:
Brewhop Trolley
Opening Date:
February 21, 2014
Description
300 Suns Brewing was really just an idea brought up years ago, that kept surfacing every time a brewery was toured, a GABF was attended, a new craft beer was tasted, a bottle of homebrew was shared on the back deck in the cool summer evening air. It was just a dream and one day (gulp), we worked up the nerve to make it a reality. We wanted to put our time and our work into something that brought joy to others the way those moments brought joy to us. And we wanted to give our community very meaningful ways that they could become part of the shaping of our brewery.
We are head over heels in love with Longmont, Colorado and the average of 300 days of sun we get to enjoy each year. Nothing pairs better with a beautiful sunny day than a fun, relaxing place to hang out and enjoy a craft beer.
We are adding a full kitchen, a banquet/event room and more outdoor seating the first quarter of 2019.
Beers Brewed by 300 Suns Brewing
This list includes beers brewed currently, previously, or seasonally by 300 Suns Brewing. Contact the brewery for current beer availability.
| Name | Style | ABV | Availability |
| --- | --- | --- | --- |
| Kumquat White IPA | Witbier | 6.2 | Rotating |
| Rattlesnake Mountain Whiskey Sour Red Ale | American Amber Ale / Red Ale, Wood / Barrel Aged Beer | 7.3 | Special Release |
| 300 Suns: Espresso Stout | Coffee Stout | 5.6 | Rotating |
| Smoke Box | Fruit Beer | 5.6 | Rotating |
| Accidental | American IPA | 6.1 | Rotating |
| Slow Order Barrel-Aged Stout | American Stout, Wood / Barrel Aged Beer | 7.0 | Rotating |
| Salted Toffee Imperial Brown Ale | American Brown Ale, Other Imperial Beer | 9 | Seasonal |
| Mexican Hot Chocolate | American Stout, Chili Beer | 6.0 | Special Release |
| Mill Fire | American Wheat Ale | 5.5 | Special Release |
| Old Burlington | American Stout | 5.3 | Rotating |
| Trail Marker | American Double / Imperial IPA | 8.5 | Rotating |
| Fat Ol' Sun | Belgian Pale Ale | 5.2 | Rotating |
| Blue Corn Maiden | Cream Ale | 5.8 | Rotating |
| Colorado Sunday SMaSH | American Pale Ale | 5.6 | Rotating |
| 300 Suns: English Barleywine | English Barley Wine | 10.13 | Special Release |
| Rabbit Mountain Red Ale | American Amber Ale / Red Ale | 5.7 | Year-Round |
| Sunscorched | American Porter, Smoked Beer | 5.3 | Rotating |
| Sun Wortshipper | American Brown Ale | 7.0 | Year-Round |
| Sunglasses at Night | Black IPA / American Black Ale | 6.2 | Rotating |
| The Luminous Monk | Belgian Strong Ale | 7.5 | Rotating |
| Hop & Sol IPA | American IPA | 5.7 | Year-Round |
| Cap'n Long ESB | Extra Special / Strong Bitter (ESB) | 5.5 | Rotating |
| 1st Avenue River Pale Ale | American Pale Ale | 5.4 | Year-Round |
| St. Vrain Chain Gang | Shandy | 6.4 | Seasonal |