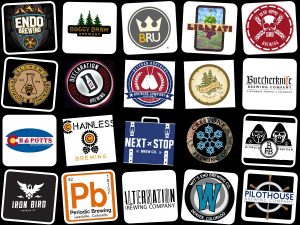 2020 was a particularly rough year for Colorado breweries for obvious reasons, in which we sadly saw the closure of 32 breweries.  Of the 32 total locations that closed, there were actually only 23 complete Colorado business closures. Two breweries, Boulder Beer & Good River Beer, are still in production and can be found on beer store shelves. The other seven of the closures were additional locations (of either still open breweries or completely closed breweries).  There were also two production only breweries that closed this year.
There were some major impacts to some particular Colorado cities and towns:
Fort Lupton lost their only brewery
Johnstown lost their only brewery (although it will soon be replaced with another)
Crestone may have* lost their only brewery.  They were the third smallest CO town with a brewery (with Florissant & Divide being smaller)  *See note below
Niwot lost their only brewery (but another is coming to the same spot in 2021)
Northglenn lost their only brewery and is now the largest Colorado city without a brewery
Sheridan lost both of their two breweries
Westminster lost three breweries (albeit all three were Rock Bottom and C.B. & Potts locations)
Boulder lost four breweries (but two locations already have new breweries in their place)
Denver lost six breweries
As far as reclaiming these brewing spaces, four locations have been replaced by other breweries, and another five locations have upcoming or potential new breweries in their place.
A big thank you to Dev Adams, (Miss Lupulin) who provided recollections of some of these breweries along with some fabulous editing (making me look like a much better writer than I am).  Also thank you to my friends, Jonathan ColoradoBeerMan Shikes of Westword and Tristan Chan of PorchDrinking.com, for unknowingly contributing to this article. Below you will find links to some of the articles that they have written regarding these closures.
Here are the Colorado breweries that are longer with us…
Wild Woods (Sep 2012 to 11 Jan 2020)
It was a sad start to 2020 when the first closure of the year was at one of my favorite Boulder breweries, Wild Woods Brewing. I very much enjoyed my visits there and especially enjoyed their Ponderosa Porter, a very tasty smoked porter. Thankfully, I was able to snag a few bottles before they closed. Taking over the location is Uhl's Brewing.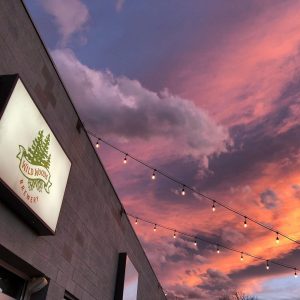 Jonathan ColoradoBeerMan Shikes:  Colorado Loses Its First Brewery of 2020 in Boulder
One of the greatest shocks of 2020 happened in January when the granddaddy of all Colorado craft breweries, Boulder Beer Company, announced that they would be closing their doors to the public after 40+ years. While their taproom is no more, Boulder Beer can still be found on beer store shelves thanks to a deal with Sleeping Giant.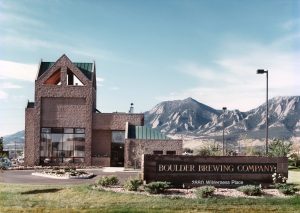 PorchDrinking:  Boulder Beer Company Announces Sale and Closure of Brewpub
Buckhorn Brewers (March 2014 to 26 Jan 2020)
While not known to many in the state, one could often find very friendly service at this little West Loveland brewery.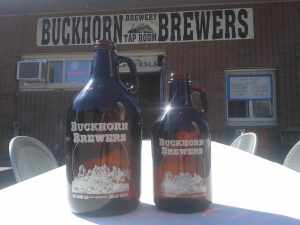 Blind Faith Brewing (1 Jun 2019 to 9 Feb 2020)
Blind Faith Brewing was committed to brewing Abbey, trappist and Monastic style ales. Starting as a partner alongside De Steeg Brewing in the Berkeley neighborhood of Denver, Blind Faith moved south to Littleton to take over the Saint Patrick's Brewing location which closed last year. Historically, this location has had high turnover for businesses, but I'm still hoping that a brewery will step up to take over this spot as it has an amazing outdoor space right by the Platte River.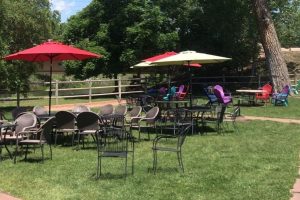 Jonathan ColoradoBeerMan Shikes:  Littleton's Blind Faith Brewing Will Close Next Month
Pilothouse Brewing (21 Jun 2018 to 22 Feb 2020)
Pilothouse was known to have a large number of taps with a huge variety, many of which were collaborations with local homebrewers. They closed suddenly in February without any announcement. I later discovered that they filed for bankruptcy. While I have not been able to confirm their status, I found a filing for a tradename for Jarini Brewing at this location. More information would be appreciated.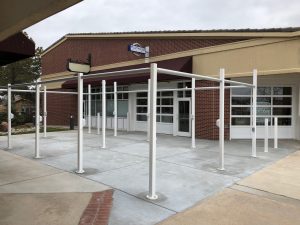 Peak to Peak Brewing expanded from their primary location in Aurora to another Aurora location on Colfax Avenue, taking over the old Mu Brewing spot. In 2020 they decided to re consolidate back to their original spot, but this location is now in great hands with the fabulous women of Lady Justice Brewing.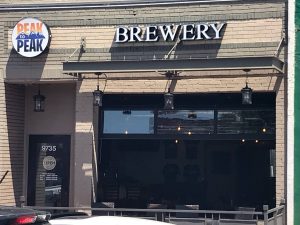 Rock Bottom Brewery (Orchard) (3 Apr 2008 to 1 Mar 2020)
Following a bankruptcy filing by their parent company, Rock Bottom closed their Orchard Westminster location.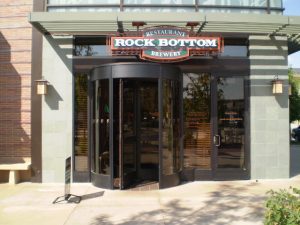 Jonathan ColoradoBeerMan Shikes:  Rock Bottom/Old Chicago Parent Files for Bankruptcy, Closes Locations
Liberati Oestria & Oenobeers (29 Oct 2018 to 2 Mar 2020)
Before COVID struck, I reported on the saddest brewery news for me in 2020 when my dear friend, Alex Liberati, announced that he was closing his Italian restaurant and brewery. Hopefully, his introduction of Oenobeers, (beers brewed with wine grapes) will remain.  I wrote more about this closure in the following article:  Liberati Restaurant Decides to Close Its Doors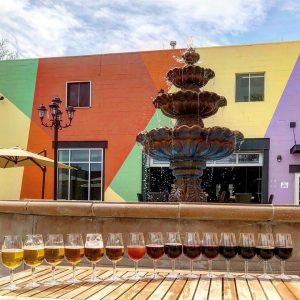 PorchDrinking:  Liberati Restaurant Announces It Will Be Closing March 1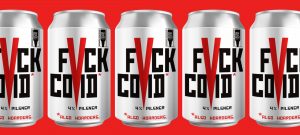 While the above pictured beer may not be a Colorado beer it succinctly captures our feelings on the subject.
Then COVID struck.
While the pandemic started earlier in the year, the mitigation efforts that impacted the Colorado brewery industry were not in force until mid March. On 16 March through the end of May, the entire state had a shutdown period were no on-premise serving of beer could take place. Thanks in part to the great efforts of the Colorado Brewers Guild, many breweries are not on this closure list due to the ability to sell to-go beers. Those on this list with a 16 March closure date were open before the shutdown but never reopened after the shutdown ended in late May. Not every brewery closure during this time period is completely due to COVID, but it was definitely a factor.
Gorilla Alchemy Brewery (Fort Lupton) (3 Aug 2018 to 6 Mar 2020)
While they actually closed prior to the shutdown for a planned move, this was only supposed to be temporary. COVID made it permanent. This is a sad loss as it was the only Fort Lupton brewery.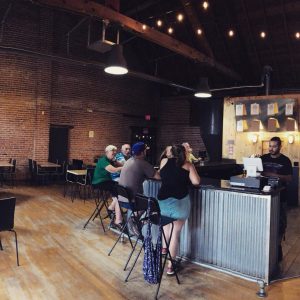 Bootstrap Brewing (Niwot) (20 June 2012 to 16 Mar 2020)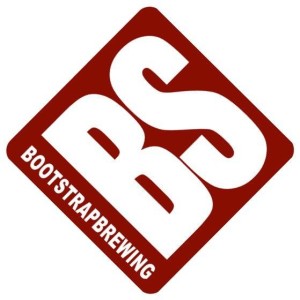 Bootstrap Brewing which now has a newer much larger location in Longmont had been looking for a buyer for their original Niwot location for the past year but the COVID shutdown ended the operations there.  In December, they announced that Fritz Family Brewers closed the deal on this spot.  (Note:  This was not included in initial publication of this article.)
Butcherknife Brewing (Steamboat Springs) (June 2014 to 16 Mar 2020)
Butcherknife is the only brewery on this list where I have not been able to receive confirmation that they are permanently closed. However, they have not reopened since the spring shutdown with their last social post being April 24th, around the time they lost their head brewer. They have not answered any requests for an update on their status so we at Colorado Brewery List have listed them as closed. If anyone has information regarding this, one way or the other, please contact me.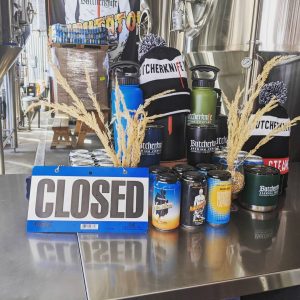 C.B. & Potts Brewery (FoCo) (26 Jul 2019 to 16 Mar 2020)
C.B. & Potts breweries and restaurants were well known and loved throughout Colorado since the 90's with six brewing locations across the front range along with additional non-brewing restaurants. While most had closed in the previous few years, the last two brewing locations closed in 2020 during the shutdown, including their newest Fort Collins taproom which took over the brewing operations from their original location near CSU.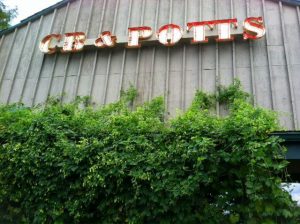 C.B. & Potts Brewery (Westminster) (Nov 1997 to 16 Mar 2020)
This Westminster location was one of C.B & Potts' oldest spots.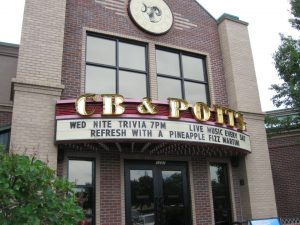 Jonathan ColoradoBeerMan Shikes:  C.B. & Potts Brewery Permanently Closes Four Locations, Sells the Fifth
Chainless Brewing (Durango) (18 Jun 2019 to 16 Mar 2020)
Open less than a year in the old Durango Brewing Company location, Chainless Brewing did not make it through the COVID shutdown. Following the shutdown, their landlords, Durango Beer & Ice Company, opened High Trestle Brewing in that location.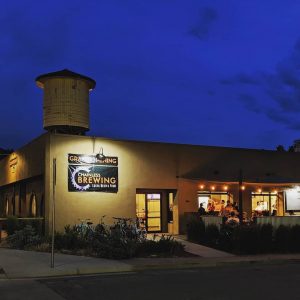 Endo Brewing (Lafayette) (26 Aug 2017 to 16 Mar 2020)
Endo Brewing brought their love of bicycling and beer together and they will be missed in Lafayette. However, the very popular Westbound & Down Brewing in Idaho Springs has acquired this spot for a new Westbound & Down (Lafayette) additional location.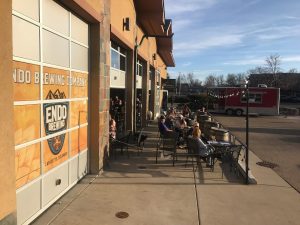 PorchDrinking:  Westbound Acquires Former Endo Brewing Facility & Adds Dream Team of Brewers
Rock Bottom Brewery (Westminster) (13 May 2000 to 16 Mar 2020)
While not in the initial list of closures due to the bankruptcy filing, the other Westminster location did not reopen post COVID.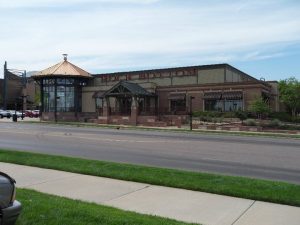 Thirsty Monk Brewery & Pub (Denver) (26 Mar 2018 to 16 Mar 2020)
Thirsty Monk based in Charlottesville, NC added additional brewery locations in both Denver and Portland, Oregon not long ago. Sadly this Belgian beer focused brewery did not make it through COVID. For those in this neighborhood, I only recently discovered the filing of an LLC for another potential brewery at this location called Reverence Brewing. Any information about this would be appreciated.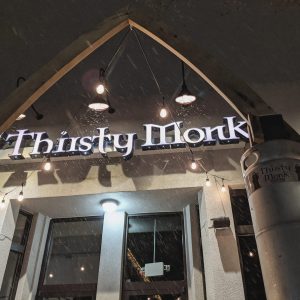 Jonathan ColoradoBeerMan Shikes:  The Thirsty Monk Brewery, Closed Since March, Goes Up for Sale
Declaration Brewing (Denver) (14 Feb 2015 to 25 Mar 2020)
While COVID may not have been the only factor in the closure of Declaration Brewing, it sure didn't help their situation. Their beers, awesome taproom, and great patio will be missed by many.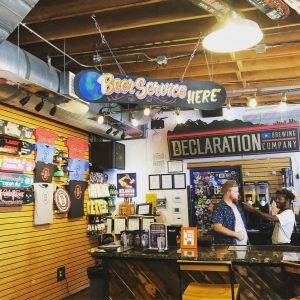 Jonathan ColoradoBeerMan Shikes:  Declaration Brewing Files for Bankruptcy After Landlord Lawsuit
FH Beerworks (Downtown) (Colorado Springs) (23 June 2014 to 28 Mar 2020)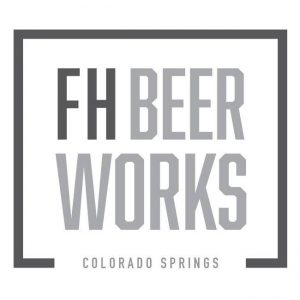 FH Beerworks had already planned on shutting down their original downtown location in favor of their new much larger spot on the East side of Colorado Springs.  Red Swing Brewhouse will open soon at this location.  (Note:  This was not included in initial publication of this article.)
Iron Bird Brewing (Colorado Springs) (Aug 2014 to 1 Apr 2020)
Thankfully Colorado Springs breweries have not seen the same rate of closures as other areas. Before COVID struck, Iron Bird Brewing was sadly having some financial issues and COVID was the straw that broke the camel's back.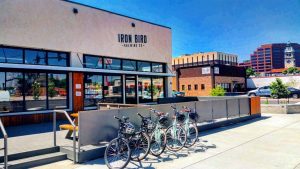 Veteran Brothers Brewing (Johnstown) (26 May 2017 to 1 May 2020)
Johnstown's first and only brewery, Veteran Brothers, strongly supported military veterans and was a popular local watering hole. One of the many breweries on this list that prove that being well-loved isn't enough to save a business. In its place 21 North Brewery and Tavern has opened. They are currently a taproom serving many Colorado craft beers but hope to have their own beer on tap very soon.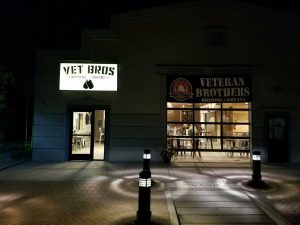 Good River Beer (Denver) (8 Nov 2019 to 26 May 2020)
Good River Beer, which gives a percentage of all profits to the cause of preserving rivers, was briefly housed in the Renegade Brewing production space as their own brewery and taproom. They have since dissolved that relationship and are once again looking for another taproom possibility, (although it isn't a priority). You can still find their delicious libations on beer store shelves. This location has been taken over by So Many Roads Museum & Brewery. The Grateful Dead museum and music venue has already opened. They are waiting on licensing to begin brewing operations.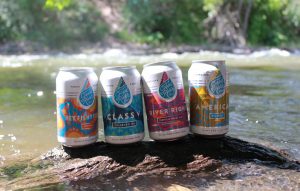 Jonathan ColoradoBeerMan Shikes:  Good River Beer Pulls Out of Joint Renegade and Little Pub Taproom
The Intrepid Sojourner Beer Project / Next Stop Brewing (Denver) (20 May 2017 to 30 May 2020)
The Intrepid Sojourner Beer Project which later rebranded to Next Stop Brewing was known for incorporating international ingredients and the theme of travel into their beers. Located in the heart of the Santa Fe Art District it was a great stop before going on an art walk.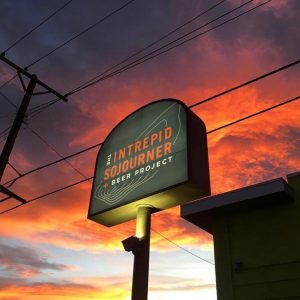 Jonathan ColoradoBeerMan Shikes:  Next Stop Will Close Brewery on May 30, Citing Competition and COVID
Adamant Brewing and Blending (Boulder) (21 Mar 2019 to 1 Jul 2020)
Located in the original Cellar West Artisan Ales location, Adamant Brewing & Blending was the passion project of Adam Kandle who remains part of Vision Quest Brewing. The location has now been turned over to the fantasy themed brewery, Mossdeep Brewing.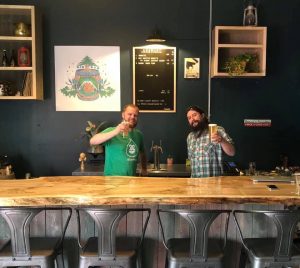 BRU Handbuilt Ales (Boulder) (Feb 2012 to 1 Aug 2020)
This was a bad year for the Boulder brewery scene and BRU Handbuilt Ales marked the fourth Boulder brewery to close in 2020. BRU focused on pairing their beers with their excellent food. With so few brewpubs able to match the quality of their beer with their food, their attention to this aspect of the beer world will be missed.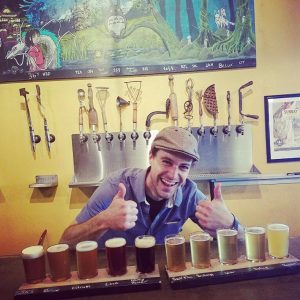 Periodic Brewing (Leadville) (14 Nov 2015 to 7 Sep 2020)
The highest brewery in the United States with an altitude of 10,152 feet shut their doors in 2020. (Now the newer brewery in town with a slightly lower altitude, Two Mile Brewing, can claim this accolade). Along with their beer I loved their clever science branding, including the use of their initials (Pb) which is element lead on the periodic table, and the "atomic number" of 42 (the Answer to the Ultimate Question of Life, the Universe, and Everything). Chris Labbe, their founder/brewer, was regularly seen at beer fests (remember those?) in his lab coat.

Periodic Brewing (Northglenn) (9 Mar 2018 to 7 Sep 2020)
Following their success in Leadville, Periodic greatly expanded their brewing capacity and added a second location by acquiring the former Beer By Design location in Northglenn.
Jonathan ColoradoBeerMan Shikes:  Periodic Brewing Closes for Good in Leadville and Northglenn
Boggy Draw Brewery (Sheridan) (11 Jul 2015 to 3 Oct 2020)
Boggy Draw Brewery brought their southwestern Colorado roots to Sheridan with tasty beers and a hunting theme, but sadly COVID was a major blow. However, keep your eyes out for the possibility of them doing some "light distribution".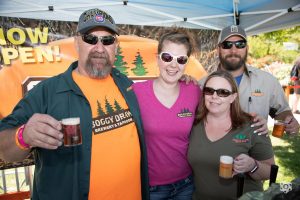 Alternation Brewing (Denver) (9 Dec 2017 to 4 Oct 2020)
Alternation got their name through their constantly alternating taps. Determined to always brew unique beers and never allowing things to get boring, they were well known for super friendly service and their vegan food trucks.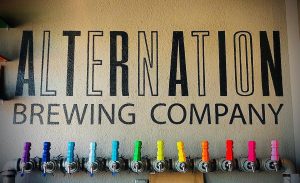 Jonathan ColoradoBeerMan Shikes:  Alternation Brewing Makes the Sixth Denver Taproom to Close in 2020
Dead Hippie Brewing (Sheridan) (22 Oct 2015 to 25 Nov 2020)
Dead Hippie was a popular hangout in Sheridan with some outstanding beers and their Grateful Dead theme. In addition to their passionate regulars, they were a well-known hangout of fellow local brewers. Their pinball machines (and the very popular tournaments) were a huge draw. They were able to keep going through the shutdown with a private pinball room available by reservation only. Their sudden closure took their loyal following by surprise and has left a void in the south Denver Metro beer scene as the town of Sheridan lost both of their breweries in 2020.
Dev Adams recalls her memories of this brewery where she was a dedicated regular – driving 35 minutes from her house several times a week to enjoy their beers. "Dead Hippie was a place that always felt like home to us. We watched the 2016 and 2020 election results there. When our friend had to say goodbye to his dog in the summer, we went to Dead Hippie to drink in Big Wiggles' memory. We made so many friends there between the owners, the staff, the regulars – and we were always proud to bring our friends and family there. I am still very much in mourning over this loss and thank Dean and Cheryl for giving us five years of amazing beer and memories."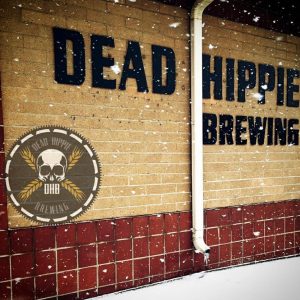 Jonathan ColoradoBeerMan Shikes:  Breweries Give Dire Warnings of More Closings; A Few Rebel Against Restrictions
Wit's End Brewing (Denver) (26 Sep 2011 to 5 Dec 2020)
Back in January of 2013, a group of my friends had a gathering at a home in Denver. Our host suggested that we all walk a few blocks to a nearby brewery called Wit's End. I appreciated good beer but had never actually been to brewery before. While we were there a very good friend suggested that we start visiting breweries together. Thus began my quest to visit every single Colorado brewery, which I completed a few years later. Ultimately that led to the formation of Colorado Beer Geek along with my partnership with Colorado Brewery List. Wit's End will always have a special place in my heart since I began my journey at my Wit's End.
A few years later, Wit's End moved out of their original location, (which is now the home of Burns Family Artisan Ales) to move in with Strange Craft Beer Company. Wit's End and Strange recently uncoupled that partnership.
Dev Adams recalls: "I remember my first visit to Wit's – they had been open for maybe two days. I walked into this tiny tasting room in a warehouse and was immediately greeted by the owner, Scott, who reached across the bar, introduced himself with a handshake and asked my name. It was such a personal connection and one that has defined so much of my perception of other breweries and their hospitality. Green Man and Wilford were some of my favorite beers they made and I always loved trying whatever new concoction they had on tap."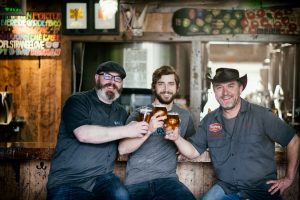 Crestone Brewing (Crestone) (13 Sep 2016 to 15 Dec 2020)
For those unfamiliar, Crestone is a small village at the foot of the western slope of the Sangre de Cristo Range, in the northern part of the San Luis Valley.  A beautiful spot for a fabulous brew pub, Crestone provided some delicious food along with outstanding beers.  While the restaurant remains serving Colorado craft beers, in mid December they announced on their Facebook page that they were down to their final two kegs of house brewed beer and, "once it's gone, it's gone!"
Note:  After publication of this article, I was informed that this may only be a temporary closure.  For now, CBL will move Crestone into our "Planning" section until we discover that they are brewing again.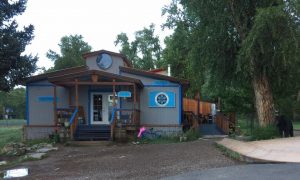 Production Only Closures
There were also two production only (no taproom) breweries that closed in Colorado during 2020:  Atom Brewing (which is now in NY State) & Barrel Dog Brewing.
We at Colorado Brewery List wish the owners, brewers, and staff of these breweries the best of luck in future endeavors.  Your brewery may be gone but your contribution to the Colorado brewing industry is not forgotten.
Here is the list of the Colorado breweries that closed in 2020:
| | | | |
| --- | --- | --- | --- |
| OPEN | Brewery | Location | CLOSED |
| Sep 2012 | Wild Woods Brewing | Boulder | 11-Jan-20 |
| 25-Sep-79 | Boulder Beer Company (brew pub) (now production only) | Boulder | 18-Jan-20 |
| Mar 2014 | Buckhorn Brewers | Loveland | 26-Jan-20 |
| 1-Jun-19 | Blind Faith Brewing | Littleton | 9-Feb-20 |
| 21-Jun-18 | Pilothouse Brewing | Aurora | 22-Feb-20 |
| 8-Aug-18 | Peak to Peak Tap & Brew (Colfax Taproom) | Aurora | 1-Mar-20 |
| 3-Apr-08 | Rock Bottom Brewery (Westminster Orchard location) | Westminster | 1-Mar-20 |
| 29-Oct-18 | Liberati Oestria & Oenobeers | Denver | 2-Mar-20 |
| 3-Aug-18 | Gorilla Alchemy Brewery | Fort Lupton | 6-Mar-20 |
| 20-Jun-12 | Bootstrap Brewing | Niwot | 16-Mar-20 |
| Jun 2014 | Butcherknife Brewing | Steamboat Springs | 16-Mar-20 |
| 26-Jul-19 | C.B. & Potts Brewery (FoCo taproom) | Fort Collins | 16-Mar-20 |
| Nov 1997 | C.B. & Potts Brewery (Westminster) | Westminster | 16-Mar-20 |
| 18-Jun-19 | Chainless Brewing | Durango | 16-Mar-20 |
| 26-Aug-17 | Endo Brewing | Lafayette | 16-Mar-20 |
| 13-Nov-00 | Rock Bottom Brewery (Westminster location) | Westminster | 16-Mar-20 |
| 26-Mar-18 | Thirsty Monk Brewery & Pub | Denver | 16-Mar-20 |
| 14-Feb-15 | Declaration Brewing | Denver | 25-Mar-20 |
| 23-Jun-14 | FH Beerworks (Downtown location) | Colorado Springs | 28-Mar-20 |
| Aug 2014 | Iron Bird Brewing | Colorado Springs | 1-Apr-20 |
| 26-May-17 | Veteran Brothers Brewing | Johnstown | 1-May-20 |
| 8-Nov-19 | Good River Beer (taproom) (now production only) | Denver | 26-May-20 |
| 20-May-17 | The Intrepid Sojourner Beer Project / Next Stop Brewing | Denver | 30-May-20 |
| 21-Mar-19 | Adamant Brewing and Blending | Boulder | 1-Jul-20 |
| Feb 2012 | BRU Handbuilt Ales | Boulder | 1-Aug-20 |
| 14-Nov-15 | Period Brewing | Leadville | 7-Sep-20 |
| 9-Mar-18 | Periodic Brewing | Northglenn | 7-Sep-20 |
| 11-Jul-15 | Boggy Draw Brewing | Sheridan | 11-Sep-20 |
| 9-Dec-17 | Alternation Brewing | Denver | 4-Oct-20 |
| 22-Oct-15 | Dead Hippie Brewing | Sheridan | 25-Nov-20 |
| 26-Sep-11 | Wit's End Brewing | Denver | 5-Dec-20 |
| 13-Sep-16 | Crestone Brewing | Crestone | 15-Dec-20 |