March 16th 2020, brought a total shutdown of the Colorado brewery, bar, entertainment, and dining industry. The shutdown lasted 72 painful days in many counties and added a level of insecurity that the entire industry felt to their core. We saw 32 breweries close in 2020; nine of which closed on March 16th and never reopened their doors.

Recently Colorado Brewery List reached out to local breweries and asked about their experiences surrounding the COVID-19 Shutdown. "We could sort of sense a shakeup coming for a while, following the news and what was happening in some other countries. I had a feeling business was going to be impacted by COVID hitting the US, but obviously never to the extent that played out," said Zach Nichols, Owner and Brewer at Cellar West Artisan Ales. "The main things we remember is that CBC (Craft Brewers Conference) got cancelled and the next thing we hear is that the whole industry was getting shut down," Mark Job, Owner and Brewer at Bent Barley Brewing Company, recalls.
On March 17th, many breweries opened their doors for to-go only sales and the community rallied their support in big and small ways. "Demand for beer during the to-go only period was better than expected. It wasn't a surprise, but it was great to see the support from our local community and guests coming down to buy cases of beers to support Lone Tree through the to-go only period of the shutdown," Michael Webster, Tasting Room Manager from Lone Tree Brewing Company, told Colorado Brewery List. "For a brand-new brewery with no notoriety or following yet, we were pleasantly surprised at the support we received. People filled growlers and bought 16 ounce cans when we were finally able to snag some pallets in late March," said Kyle Knudson, Co-Owner and Brewer at Barquentine Brewing Company.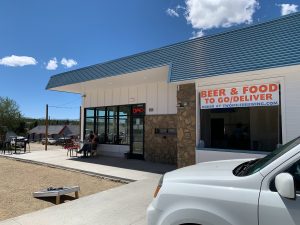 Over the summer, breweries slowly opened and started adjusting to the New Normal. "On Saturday, May 23rd I was at home drinking coffee around 9am in the morning and got a call from one of my owners saying that we were given the go ahead to open back up that day as Douglas county posted the orders at 10:30pm the previous night. The opening went well as we had been discussing the opening process the days prior as there was a set of guidelines that came out that week that gave us a baseline of what to do when reopening was allowed," said Webster of Lone Tree Brewing Company.
Even as life starts to get back to "normal," challenges are still plentiful for our local breweries. "Everyone's safety is definitely the thing we will continue to be most cognizant of. Since COVID started, the safety of our patrons and employees has been paramount, so any adaptation and change will be with that in the center of our mind," Jessica Hummel, Marketing Manager for Station 26 Brewing Co, remarked.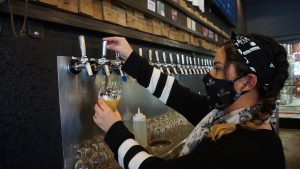 While it's undeniable the impact the pandemic has had on all of our lives, the brewing industry and its employees are still recovering. "I would hope people understand and have seen the toll the pandemic has taken on the service industry. Not only has it been rough financially, but servers and bartenders have had to adhere and adapt to ever-changing rules and restrictions. Our servers have gone from sitting out on our patio for to-go only, to serving indoors at reduced capacity, to serving only outdoors during brutally cold winter months, to back indoors at reduced capacity. They continue to show up, be awesome to customers and serve, in a mask for hours. Our advice for the world: Be nice and tip well!" says Knudson.
"One thing the public may not have known about the shutdown's impact on the whole brewing industry is the mental stress that is caused on everyone some way or another. From being able to only serve out in the cold, worrying about bills/reduced pay, sourcing of brewing products, wearing a mask 24/7 at work, having to make difficult decisions about staff's employment and having to explain to guests why they need to have their masks on and follow the social distancing guidelines were all extra stress factors," Webster reflects.
One year out, breweries are open again, (still with restrictions) but the end of this pandemic is finally in sight. The Colorado Craft Beer industry has made it through an extraordinary year and that may just deserve a very large "Cheers" on this odd anniversary.