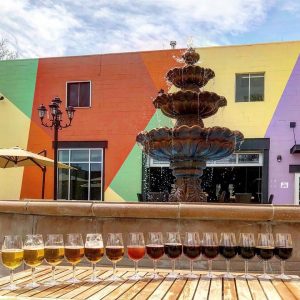 Official Press Release:
DENVER
, Feb. 27, 2020 –
Liberati Restaurant
, located at 2403 Champa Street in the Curtis Park neighborhood of Denver, has decided to close its doors on Monday, March 2.
"We greatly enjoyed working on this project, and are very grateful for all the brilliant people we met and the accolades we received", said owner Alex Liberati. "I'd like to especially thank my staff, and all of our many loyal supporters! Moving forward we'll be putting all of our energy and efforts behind exploring the uncharted territory of oenobeers, furthering innovation and sharing our knowledge to educate others on this unique category."
Liberati added, "Please come and enjoy our space and offerings through Denver restaurant week on Sunday, March 1".
Italian brewer and restaurateur Alex Liberati opened Liberati's in October 2018 and introduced Denver and the world to a new way of perceiving grape ales or beer-wine hybrids, a beverage that he coined "oenobeers".
*******************************************************************
It is no secret to my followers at Colorado Beer Geek that Liberati is, personally, my favorite brewery. While I admit there is some bias due to the close friendship that I have developed with owner Alex Liberati, I can safely say that he built a fabulous brewpub unlike any other in Colorado. It all started with four Italians who were convinced to set up their business in Denver by local artist and author of Italy Beer Country, Paul Vismara. Alex and his business partner, Francesco Iacovino, created a stunning high-end Italian restaurant where Head Chef Marta Biasotti and Head Baker Federica Ansani worked their magic in the kitchen making delicious and authentic Italian cuisine. To highlight the outstanding food, most of the taps at Liberati flowed with house-brewed oenobeers. The oenobeers spanned the spectrum of styles from a Kolsch with 7% Chardonnay grapes to a Dubbel with 49% Malbec grapes, and even a couple big beer offerings that taste much like a port such as a crowd favorite, Oximonstrum.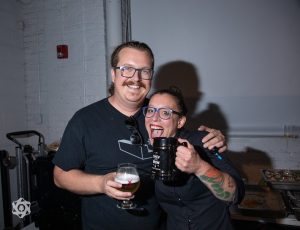 While trying to glean more information about Liberati's opening, I saw Alex make a comment on Facebook which prompted me to ask him about the status of the brewpub. As an answer, he invited me over to check out the location still under construction and share some beer. I figured that I'd be there about an hour, have a beer with him, and get some answers to about the brewery. Five HOURS and many beers later we had the beginnings of what has become a truly wonderful friendship. I now hang out with him regularly enjoying his company over many beers and games of backgammon (where I am good and he is lucky) along with Scopa, a traditional Italian card game (where I am okay and he cheats).
With the closing of Liberati I asked Alex some questions about this decision along with his future and the future of oenobeers. A big thank you to my dear friends, Meghan Howes and Dev Adams, who helped draft these questions along with editing (as I am much more of a data geek than a journalist/author).
Let's start with talking about the goals of Liberati initially. Did those shift over time? What surprises did the Denver market bring that were unexpected?
We started out with a very unique, radical and awesome concept, and of course it shifted over time. Adapting to new situations is always the key to success in any industry these days, and we're pretty proud for how we navigated in order to get us to where we are today. Coming from another country, there has been a lot to discover and this has empowered us with a new set of tools to use in our future endeavors.
The best thing in Denver has really been seeing how the brewing community works: a brilliant, honest and cohesive community made by spectacular people and such a pleasure to be a part of!
What are some of your favorite memories at Liberati? They are all your children but do you have a favorite oenobeer to brew and/or drink?
Oh man, we have had quite the list of fun and great moments at Liberati, it would be hard to chose a few! Although there have been a good number of breakthrough moments in the pursuit of exploring oenobeers (for example understanding the surprisingly amazing role that oxygen can play in unconsidered stages of fermentation), I do think that there has been a revelation that I'm most intrigued by that has happened with brewing Eroica, a beautifully small and mineral farmhouse ale co-fermented with a generous amount of Viognier grapes. That to me still remains one of the top beers I've ever tasted in my life.
Author's Note: I will always remember the warm welcoming atmosphere of Liberati which was only made better with the fantastic food by Marta & Federica and the awesome oenobeers by Alex. One of these times was for a Denver Beer Queers Friendsgiving meet up…
Regarding oenobeers – we know they're not going anywhere, and that you have worked hard to perfect that style (and have done a fabulous job of it) – is there a next chapter for this approach?

Oh yes. I will be able to focus on oenobeer much more. After mapping out the basics of "clean" fermentation, in the recent months I've been working on mixed fermentation cultures, wild yeasts and I've also been including more and more wine making techniques to shape these oenobeers. But while I feel this really is a good path to follow and I look forward to further my research on these topics, I'd also like to concentrate my efforts on sharing the knowledge that I'm gathering, and educating others in this category of brewing.
This was obviously an excruciatingly difficult decision to make. Can you talk a little bit about what led up to this decision to close Liberati?
Although one might think that, this actually was quite a natural decision to make. I think that any sound person in my position would have chosen this opportunity. Don't get me wrong, Liberati has been a spectacular vessel to set sail out to explore this thrilling uncharted territory (of oenobeers I mean), and we have all absolutely grown fond of Liberati and loved it of course, like you would with a excellent ship that safely sailed you on your adventures, but sometimes you have to change in order to take the journey to new heights and discover new treasures. Coping with change is inherently difficult for the human race, but in today's world it's often the path that leads to the best results.
How do you feel about the Denver beer industry now vs when Liberati first opened? What did you not anticipate?
This industry has greatly changed since I landed in Denver four years ago, and it's still mutating at a lightning fast rate. At this pace it's truly hard to anticipate anything that's going to happen, but there are new trends that have to be accounted for if one wants to open a business in beer now, and not just in Denver. Breweries are more and more becoming beverage companies and the consumers are being brought to appreciate things that are not just solid great classic beer. I'm not saying that it's a bad thing, but entrepreneurs should be ready to pivot very quickly.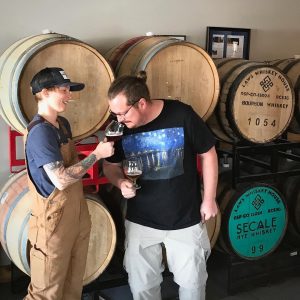 Let's talk about the future of Alex Liberati. You're staying in Denver, yes? What does the future hold for the genius behind bringing (true) oenobeers to Colorado?
Although I'd love to, at the moment I can't really speak about the plans to come, but I can say that the future is looking brighter than ever. My team and I are definitely not going anywhere, we have quite a lot of stuff to work on, and we're truly looking forward to it!
What plans does Alex have for the future?  Stay tuned to Colorado Brewery List and Colorado Beer Geek as we learn more!