125 Beers, 19 Breweries, 48 hours – A Fort Collins Bike Brewery Tour
Nearly five years ago, I started visiting Colorado breweries my friend, Soren Nicholson. Soren had already been to a bunch of breweries himself through his traveling the state for work. We had a great time visiting breweries here and there along the Front Range and this grew into an obsession for me to visit EVERY Colorado brewery and led to the creation of Colorado Beer Geek. Soren was my inspiration to do what I do and every year we do some brewery hopping in Fort Collins where he lives to celebrate his birthday. This year we decided to accomplish a special feat – visiting every Fort Collins brewery by bicycle in 48 hours!
We were lucky enough that Soren lives in the center of Fort Collins (between Black Bottle and Rally King) and made it easy to break the trip into three loops – Friday eve, Saturday, and Sunday. We planned on five breweries on Friday evening, nine on Saturday, and five again on Sunday.
Off we went…
               Actual Route                              Recommended Route
Friday Evening
Map Notes:  The map on the left is the actual route that we took.  However, the map on the right is the one that I would recommend to those planning a similar quest. We planned our route to finish at Rally King since it is stumbling distance away from Soren's place. We adjusted our plan since we found out that Purpose closes at 7pm (keep that in mind if you plan this route).  A better biking route would put Gilded Goat first, then Purpose, Zwei, Maxline, and finishing at Rally King. This route is almost completely bike trails.  The shown route is 6 miles; our route was 8.8 miles due to starting and stopping at Soren's place.
A: Maxline Brewing Company: I've enjoyed my previous visits to Maxline and was happy to start our quest here. Maxline is a dog friendly brewery with a welcoming staff and a great patio.  I'm disappointed that we didn't get to talk to the owner, Kevin, as we had a late start and were in a hurry to get to our second location before they closed.  We made the plan to stick to sharing taster flights between Soren, my brother, Chuck, and myself at each location. Our favorite beers were the Pat's Porter infused with Woodchip Coffee and the Fritzler's Farmyard Funk.
B: Purpose Brewing & Cellars: Purpose Brewing, Fort Collins newest brewery, is extremely lucky to have Peter Bouckaert as their head brewer. Peter is a world-renowned Belgian brewer who worked for New Belgium Brewing for over 20 years creating many famous beers such La Folie. With such a talented brewer making fabulous styles to my exact tastes, I'm happy to say that Purpose Brewing is my new favorite Colorado brewery for beer. Beryl's Beer Co remains my favorite go-to local brewery for both beer and atmosphere. We were blown away by all four beers that we tried but my favorite was Nacht Up, a black ale matured on top of coconut, orange peel, vanilla beans, grains of paradise, and Brazilian Amburana wood, laid to rest, or should we say "woken up" on locally fire roasted Madagascar coffee.
PorchDrinking.com article on Peter Boukaert joining Purpose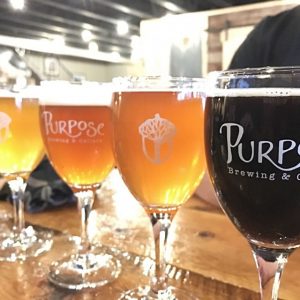 Purpose Brewing flight
C: Zwei Brewing Company: If you are a fan of German style beers (as I am) then Zwei is your Fort Collins brewery. We settled in with a flight on their beautiful courtyard patio. While they are known for good German beers, they also do a great job with other styles and our favorite beer there was Drachenfutter, a Rum barrel aged apricot peach strong blonde ale. I also really enjoyed Saluu, a Chocolate Coffee Belgian Strong Dark.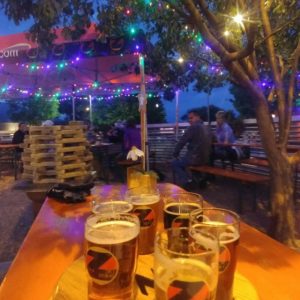 Zwei Brewing Courtyard
D: Gilded Goat Brewing Company: Another new Fort Collins brewery that opened early in 2017, Gilded Goat is a family-owned and run brewery that has the goal of making beer that will be bold, balanced, and adventurous – like the Mountain Goat.  Charlie, their head brewer, has a Ph.D. in Microbiology, so expect high-quality beers.  Our favorite beer there was Purple Dreams, a troubadour marionberry (blackberry) sour.
Our longest leg of the night, and the whole weekend, was from Gilded Goat to Rally King at 3 miles long. The longest leg of the recommended map would cut the longest leg to 2 miles for Rally King to Maxline.
E: Rally King Brewing Company:  Rally King has a very friendly staff, a comfortable taproom, and a large dog-friendly patio. Located right off the Spring Creek trail they are easy to get to by bike. Rally King regularly has up to 18 beers on tap with styles ranging from sour to stout.  It is easy to find a beer here that will suite your palate. This brewery was started in 2015 by Matt & Michelle, a husband and wife team who can regularly be seen in the brewhouse and behind the bar slinging beers. Rally King has grown to become a central Fort Collins meeting place. Our favorite beer there was Wapiti, a whiskey barrel aged dark ale.
It was in our original plan to finish the night with drinks at Dungeons & Drafts, the geek-themed bar next door to Rally King. Unfortunately for us, at 10pm on a Friday night, the Fort Collins geeks beat us to it and there was a 1.5 hour wait to get in!  We decided to head home instead where we enjoyed an Odell Brewing 10-year-old Imperial Stout from Soren's stash.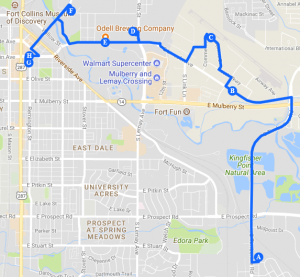 Saturday
Map Notes:  I've left off DC Oakes from this map, but included them in the overall map below, in order to zoom into the remaining breweries on Saturday's map.  Given the timing, distance, and weather we decided to drive to DC Oakes before returning to Soren's to bike to the rest of the big day. The total distance on this map is 6 miles and, if you included DC Oakes, it is an additional 4 miles. Including to and from our home base, our biking distance traveled on Saturday was 10.4 miles.
X: DC Oakes Brewhouse & Eatery: Situated just off of I-25 on Harmony Road going into Fort Collins, DC Oakes just opened this summer as the second newest Fort Collins brewery. In case you're wondering about the name, Daniel Chessman Oakes was one of Colorado's earliest settlers, opening the State's first sawmill and lumber yard.  DC Oakes may have the feel of a big national restaurant to some, but I've really enjoyed my meals there and they make some good beer as well.  I recommend them as a place to stop if you're traveling I-25.  Our favorite beers here were their Belgian Strong and the Coconut Almond Porter.
A: Jessup Farm Barrel House: Jessup Farm was my favorite new brewery in all of Colorado for 2015 and continues to impress remaining in my overall top ten Colorado breweries. While they brew their wort over at Funkwerks, they barrel ferment and age their beers on the ground floor of an old farmhouse with a really beautiful taproom upstairs. Our party grew with an addition of five more friends joining us, so we sampled and greatly enjoyed a bunch of their offerings. Our favorites were Java Knot, a whiskey barrel-aged coffee infused stout, and Hurry Up And Wait, an oak aged quick sour with fresh peaches.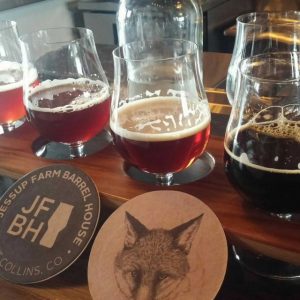 Jessup Farm flight
From Jessup Farm to Funkwerks was the longest leg between breweries on Saturday at just over 2 miles. However, Fort Collins is amazing for bicyclists with bike lanes on practically every major street.
B: Funkwerks: Funkwerks is an amazing saison-focused brewery and I fell in love with them early on in my quest to visit every Colorado brewery – they remain in my top 20 out of over 300. They have a very friendly staff with a cozy taproom up front and a larger barrel room in the back and a nice patio also.  With a large crew to help us we sampled lots of their yummy beers. Our favorites here were their Raspberry Provincial (real men drink pink beer) and their delicious Oud Bruin.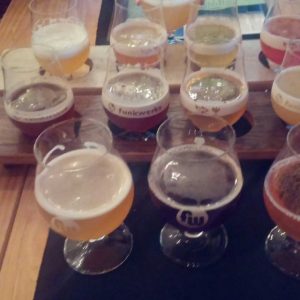 Lots of beer at Funkwerks
C: Horse & Dragon Brewing Company: Horse and Dragon was started in 2014  by husband and wife, Tim and Carol, who met in Northern California and have lived around the world.  They chose Fort Collins to settle down and open their brewery.  Horse & Dragon remains a popular place and is very active in supporting the community.  Thankfully for us, they offer easy bike parking right out front!  Everyone enjoyed the H&D Dark Chocolate Stout but really fell in love with their flagship Sad Panda coffee stout.
D: Snowbank Brewing Company: Snowbank is one of Soren's favorite Fort Collins breweries for very good reason. They are very friendly and make outstanding beers, also putting them in my Colorado top 20. Their flagship beers will satisfy almost any beer taste, and every Friday at 5PM they tap a specialty chocolate beer, usually made with cacao husks from Nuance Chocolate makers in Fort Collins. Head over on a Friday to try a unique chocolate beer! Our favorites on this trip were their Pallisade Pucker, Chocolate Mushroom Porter, and the super delicious Totality Bourbon Aged Stout. Another of the crowd favorites was their Cucumber Saurado much to the objection of Soren (who simply hates cucumbers).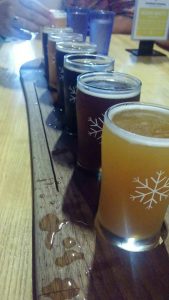 Snowbank flight
E: Odell Brewing Company: Only a short distance from Snowbank is Odell's beautiful – and huge – taproom.  They also have an enormous and beautiful outdoor lawn where they put on events and concerts.  One of the things that I really appreciate about them is that, even though they were insanely busy, their bar is extremely efficient and you can get a flight of beer much quicker than you'd expect.  While we had a flight of their great classics like Cutthroat Porter and 90 Schilling, our favorite beer was Ten Paces, a super tasty huckleberry American wild ale. Also, even as a non-hop head, I recommend trying their new Rupture Fresh Grind Ale which is made by grinding the whole hop, which ruptures the lupulin inside – releasing the oil that gives the beer its flavor.
F: New Belgium Brewing Company: New Belgium, is one of the biggest production craft breweries in the country and the biggest in Colorado.  They are well-known for their high quality tour of their facility which includes samples and a slide!  They were holding a block party when we arrived but it being a rainy day most people where crammed inside.  Regardless, we found a spot to hang out for a moment to sample a flight.  I'm a huge fan of 1554, a dark lager, and think it should be on tap at more locations.  I also really enjoy their classic Belgian styles such as their tripel. The favorite among the group was Oscar (Love), a blackberry sour aged in Leopold Bros. Whiskey Barrels.
G: Equinox Brewing Company: Located in downtown Fort Collins and only a block south of CooperSmith's, Equinox is a cozy and friendly brewery that makes you feel like you're in a cabin in the woods that also happens to have a lot of good beer options. At seven years old, Equinox is perhaps an older sibling to some of Fort Collins' other breweries. If you ever want to brew one of their beers, you can easily find the recipe because their homebrew shop – Hops & Berries – started in the same space. As Hops & Berries and Equinox grew, more space was needed.  Hops & Berries moved into a bigger and better space while Equinox opened up the wall for more seating in the tap room.  Our favorite beer here was their Details Belgian Golden Strong.
F: CooperSmith's Pub & Brewing: CooperSmith's, Fort Collins oldest brewery (opening only a couple weeks before Odell Brewing), is a favorite downtown hangout and brewpub for Fort Collins beer lovers – Soren is practically "Norm" here. We finished up our long day of biking and beers with a celebration dinner and beers. Soren had his favorite, a Belgian Style Kriek Ale, which he drinks any chance he gets, while I had their delicious Gravity Well Imperial Stout.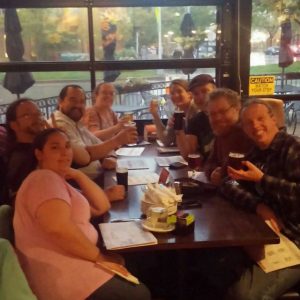 Friends gathered for Soren's BDay dinner at CooperSmith's
Going around the table: Christen Fox, Ian Hawkins, Andrew Gilbert, Leslie Gilbert, Teri Linenberger, Stephen Adams, Chuck Adams, and Soren Nicholson
Future addition to the tour: Coming later this fall and only a block south of Equinox will be Freedonia Brewing, a lager-focused brewery.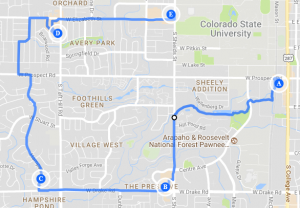 Sunday
Map Notes:  The shown route with a great bike path to start is 7 miles total. (Our bike route to/from home base was 10.7 miles)
A: Black Bottle Brewery: Back down to the original three on bikes, we started our Sunday journey with lunch at Black Bottle Brewery. Sean Nook Started Black Bottle in 2012  and remains a solid (badass in their own words) place to try their beer or a selection of other good beers from around the US.  This time we were pleasantly surprised to see that there were over 20 Black Bottle beers to choose from.  If you like Growlers, then head over on a Sunday for half priced growler fills. The favorite beer from our flight was Grave Danger, a delicious and seasonal pumpkin beer.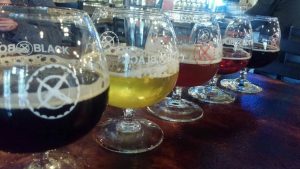 Black Bottle flight
B: Pitchers Brewery: Pitchers is first and foremost a sports bar with a dozen TVs which, being a Sunday morning, they were playing all of the NFL games. However, they are also part of the Fort Collins brewery scene with some decent beers. Pitchers really isn't a taster flight kind of place, but if you want to catch the game and have a craft beer with some grub then head on over.  We each ordered a pint and settled in to watch the Broncos game for a while. I ordered their scotch ale, Chuck had their amber, and Soren had a surprisingly good blood orange IPA.
C: Intersect Brewing Company: Intersect is a fun new spacious neighborhood brewery serving the western side of Fort Collins. They have fun with their music theme with song-based beer names, and their taster tray is an actual spinning turntable. They are obviously a very family-friendly place as there was a baby shower happening for a young couple while we were there, and a kids play area with toys is provided. For the older kids they have a couple of pin ball machines to enjoy. Our favorite beers were the Hollywood Bungalow, a mango & passion fruit gose, and the Out of Reach Imperial Stout.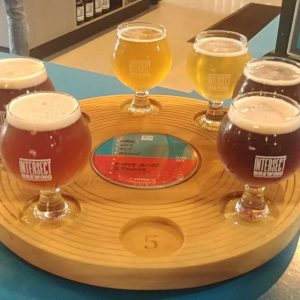 Intersect Beer Turntable
The trip to our next brewery was the longest leg of the day (just a bit longer than the first section) but was only 2 miles of quiet residential roads.
D: McClellan's Brewing Company: As we arrived to McClellan's, a follower of Colorado Beer Geek, Mike Dwyer, biked in to join our team for the final two breweries. I'm always happy to meet like-minded craft beer fans and enjoyed our chat with Mike. Speaking of friendly folk, McClellan's is one of my favorite Fort Collins breweries since Joe McClellan is one of the most welcoming and friendly owners you'll meet anywhere. Also, if you love cask beers, this is your place as most of their beers are hand draught! Our favorites were their Sassenach Burton Ale and Tom Hennessey's Oatmeal Stout.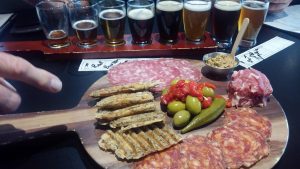 McClellan's Charcuterie and Flight
E: Three Four Beer Co: Finish Line! We made it to Three Four Beer with a couple hours to spare in our 48 hour deadline. Situated next to CSU, Three Four initially opened as a tap room serving some excellent choice beers from around the country and then later expanded into serving their own brews. Recently, they had a huge achievement in hiring Linsey Cornish, who was the head brewer of Horse & Dragon, to join their team. We were lucky enough to try some of her first Three Four beers – a nicely tart berliner weisse and a tasty Helping Hands American Brown.
Coloradoan article about Linsey joining Three Four
Future addition to the tour: By the end of the fall 2017 semester, Ramskeller Brewery hopes to start serving to the general public from their own student-run brewing system in the heart of CSU.
Note:  I did not include the Fort Collins Anheuser-Busch brewery in my tour both for distance and, frankly, for it being Budweiser.  I've placed it in the overall map for reference in case you care to include it in your plans, as it is bikeable thanks to the great bike lanes in Fort Collins.
19 Fort Collins Breweries in 48 hours by bike! (OK. 18 by bike) In total we biked for 30 miles and sampled 125 different beers!
Full route map also with DC Oakes (bottom right) and Budweiser (top right)
Photo credits go to Soren Nicholson, Chuck Adams, and Stephen Adams (Untappd checkins)
A big thank you to Soren and Blayre Stevens for their help with fleshing out some more words for this non-writer.