The Great American Beer Festival (GABF) is the Super Bowl of craft beer. It is an overwhelming experience with about 800 breweries pouring nearly 4,000 beers to 60,000 beer geeks this year.  Even though the focus of Colorado Beer Geek is to keep track of Colorado breweries that are yet to open – including around 70 actually under construction right now throughout the state – I was fortunate to have media credentials alongside my good friends and partners of Colorado Brewery List.  Here is a breakdown of my experience at the 2017 GABF.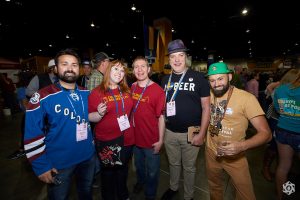 The Colorado Brewery List team (photo by The Brewtography Project)
(Joseph Garcia, Ashley Steadman, Ryan Steadman, Stephen Adams, and Michael Pare (not CBL))
Thursday
Even though the standard advice GABF pros give is to visit breweries that you haven't been to, I actually spent my entire Thursday session with a focus on visiting Colorado breweries – particularly the newer ones that I witnessed opening in the past few years. I had a fabulous time doing this!
While there were so many great Colorado breweries at GABF, I was overjoyed to finally meet one of the ladies of Lady Justice Brewing. While I have been to every Colorado brewery, I had not yet sampled any of the beers from them since they are a community-supported brewery with memberships but without an actual taproom. I really enjoyed both their All Right, All Right Pale Ale and their Sageson Sage Saison.  Most of all, I was thrilled to discover that they have definite plans to build a taproom in 2018!  Stay tuned for further updates!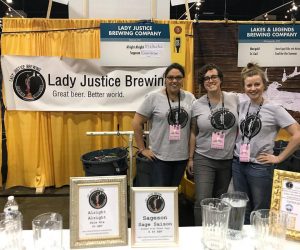 The Ladies of Lady Justice Brewing (FB picture)
I was also very happy to try beer from Irwin Brewing Company which opened earlier this year as a production brewery for the first time.  You can stop by Irwin in Crested Butte and they will happily fill your growlers to go but they aren't licensed for a tasting room there. On the other hand, you can find their beers on tap at many locations around town including Crested Butte Public House. However, I was delighted to find a representative of Irwin to talk to at the fest and discovered that  they are working hard to find a space in Crested Butte to build a brew pub of their own. I have moved them into my planning list and will definitely keep an eye out for when this happens!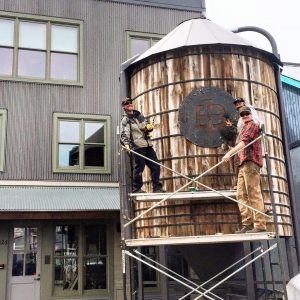 The tank outside of Irwin Brewing in Crested Butte (FB picture)
Besides these two completely new and unique taprooms in the works, I was excited to learn about a bunch of other expansion projects that are underway:
Resolute Brewing Company is actively searching for a good location for a second taproom!
Broken Compass Brewery will be expanding their current location in order to grow their barrel-aging and sour production and also have a large event space.
Halfpenny Brewing Company has recently expanded their current location to include a beer garden out back.
Maxline Brewing will soon be expanding their taproom space also
The Post Brewing Company is still on track for a Halloween weekend opening for their new Boulder location.
Even before opening their own taproom or even finding a location for it, I was able to meet folks from upcoming Colorado breweries such as Burly Brewing currently building out in Castle Rock, Unify Brewing looking for a festival-sized event space near Glenwood Springs, and Welcome Home Brewery, who is looking for space in southeast Aurora. I was even able to sample a beer by Welcome Home, as Factotum Brewhouse was pouring the tasty Aaron Murphey's Red IPA.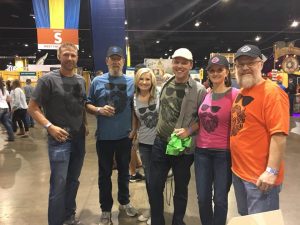 The Burly Team (FB picture)
There is too little time to visit with all of the amazing Colorado breweries that I have grown to love!  I had wonderful time visiting with many of my new friends particularly…
Brewability Lab whose mission of employing developmentally disabled adults is inspiring
The Intrepid Sojourner Beer Project who has a great variety of international flavors
Holidaily Brewing Company in Golden who makes 100% gluten free beer that everyone can enjoy
Crestone Brewing Company who is one of Colorado's best destination breweries
Friday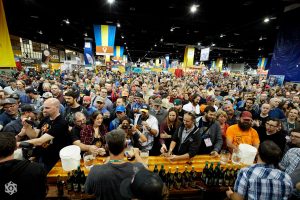 The masses awaiting the Avery/Odell collaboration (picture by The Brewtography Project)
Friday was my play day where I explored breweries outside of Colorado…
While I enjoyed beers from every region, I think a hidden gem of GABF is the brewer's guild island where the state guilds helped out a great variety of breweries from their states – some of which weren't able to get a booth at the fest. While they did have a booth elsewhere, I have to say that my favorite discovery was Confluence Brewing out of Des Moines, Iowa as I got to try their amazing Virtuous Endeavor Series – Belgian-Style Quad.
I also had a fabulous beer geek moment when I got to chat to Randy Mosher (author of Tasting Beer) where he was pouring for one of his breweries, Forbidden Root out of Chicago, and tell him of my favorite Colorado breweries – namely Beryl's Beer Co & Purpose Brewing & Cellars. 
Randy Mosher (FB picture)
My outside of Colorado brewery discovery for 2017 GABF is Sun King Brewing out of Indiana. I was blown away by everything they had, including their Silver medal winner Magpie Muckle (Scottish Wee Heavy) and bronze medal winner Cherry Busey –  a Flanders-style Oud Bruin which was a three-peat for the Belgian-Style Fruit Beer category.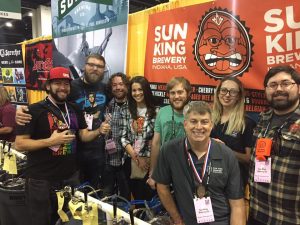 Sun King (FB picture)
Other favorite out-of-state beers included Evasion 2017 Imperial Belgian Stout by Taxman Brewing (IN)  (my 2016 favorite out of state brewery – who also won a silver medal for their Deduction Dubbel), Dragon Mask Imperial Stout by Modern Times Beer (CA), and a bunch of different chocolate beers from Barrage Brewing (NY)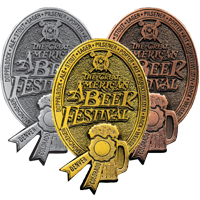 GABF Medals (image by GABF)
Saturday was the GABF medal ceremony. While I was late to arrive and was not able to get a seat in the awards hall, I was happy to hear about the 39 medal winners from 38 Colorado breweries!
I was especially thrilled to hear that three Colorado breweries that only opened in the past year were medal winners…
Square Peg Brewerks was the not only the newest Colorado brewery present at GABF, having only opened on June 2nd, they won a GOLD medal in the historic beer category!  They entered a Kuyt, a historic Dutch beer, named Waverly Tulip.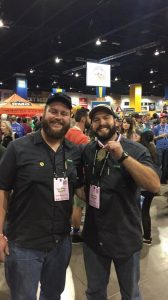 Square Peg Owner & Brewer (FB picture)
Cellar West Artisan Ales opened in December of 2016 and took away a silver medal in the Specialty Saison category for Make Hay, an oak-fermented strong saison.
New Terrain Brewing Company – which just celebrated their one year anniversary – brought home a silver medal in the Belgian Wit category for Suntrip.
Special shout-outs to my good friends at Launch Pad Brewery for their silver medal in the Session Beer category for their Peacekeeper Porter and CO-Brew for their bronze medal in the Specialty Saison category for their Farmhouse Saison.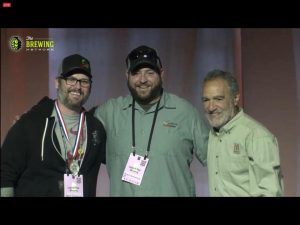 Launch Pad Brewer & Owner with Charlie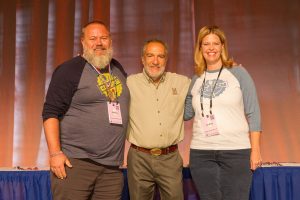 CO-Brew Owners/Brewers with Charlie 
Overall, I had a great time at GABF this year!  I learned to moderate more this year mainly by slowing down and enjoying conversations with brewery folks instead of running off to attempt to try every beer in the place. I only wish that I had the ability to slow down time so that I could experience more of what both Colorado breweries and those outside of Colorado had to offer.
So Much Beer, So Many Fabulous People, So Little Time!