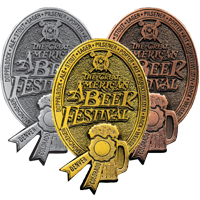 Congratulations to the 2017 Great American Beer festival medal winners from Colorado!
39 medals were awarded to 38 Colorado* Breweries!
Lone Tree Brewing won two medals –  a Gold and a Silver!
There were 14 Colorado Gold Medal winners!
There were 13 Colorado Silver Medal winners!
There were 9 Colorado Bronze medal winners!
Colorado SWEPT the Pro-Am competition!
Just Another Pretty Face
Brewing Company: Denver Beer Company
Brewmaster: Jason Buehler and Denver Beer Company Brewing Team
AHA Member: Doug Thiel
Lichtenhainer
Brewing Company: Black Bottle Brewery
Brewmaster: Black Bottle Scuba Squad
AHA Member: Daniel Tomkins
Eluxansis
Brewing Company: Odell Brewing Co.
Brewmaster: Odell Brew Team
AHA Member: Mark Boelman
*Update:  While RAM Restaurant & Brewery in Lakewood, WA officially won the Gold for the Hefeweizen, it was actually done by their C.B. & Potts location here in Highlands so we have updated our list to reflect this.  See their press release here recognizing the local credit.
See the full list of Great American Beer Festival winners here