The Great American Beer Festival of 2018 has left town, diets and moderation have resumed, and day drinking has been pushed aside for our adult responsibilities. As we move through the desolation of the party being over, we at Colorado Brewery List have collaborated to reminisce and share our experiences and opinions.
What was your favorite beer or brewery and why?
It can be hard to choose a favorite when there are more than 4,000 different beers – but we did find some favorites among the offerings from over 800 breweries.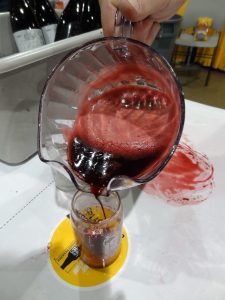 "My favorite beer this year was from Une Année Brewery, a Chicago-area brewery with a focus on Belgian and French styles. The beer, Le Grand Monde 2018-1, is a barrel aged American Wild Ale with black currants and vanilla beans. The color was what first drew me in; it had a bright pinkish head, but a deep crimson body. While the head reminded me of a berry smoothie, it smelled and tasted like a fine wine. It started out very tart, but quickly faded into a pleasant, warming sweetness from the vanilla. Very complex. Let's just say that I went back for a second ounce." ~Ashley Steadman, Data Management/Social Media, Colorado Brewery List
"It's a toss up between three: Blackberry Cobbler Berliner Weisse from WeldWerks, which I specifically sought out, and it did not disappoint. Tart, not too sweet, perfect acidity. Just a delicious beer. I also loved Fremont Brewing's Head Full o Dynomite, a hazy IPA that was dank as hell without getting cat pissy. Fremont's website lists the IBUs as "ACT (A crap ton)." That's about right. It was laden with hops, but really well balanced. I went back four times for this beer, and took others to try it, too. Turns out it's available in Colorado, but you have to know where to look for it. A friend snagged me a couple cans at a small liquor store in Lyons. Yes, I am a hophead, so my other favorite was Hop Butcher for the Word's Galaxy Bowl. It's a DIPA made with all Galaxy hops and it showcased those hops beautifully. I tend to seek out beers with Southern Hemisphere hops, and this one proved to be one of the best examples of that profile that I've ever tasted. It was a peach explosion in my mouth." ~Meghan Howes, Staff Writer, Colorado Brewery List
"My favorite new brewery find for this year was More Brewing Company out of Villa Park Illinois (near Chicago). They specialize in BA Stouts (which is one of my favorite styles) and I especially liked their BA Henna – Karma which had Coconut, Cinnamon, Chocolate. My favorite out of state brewery, Taxman Brewing, I discovered a few years ago at GABF. They returned this year with another selection of wonderful beers my favorite being their Cocoa Vanilla Evasion BA Belgian Stout. They also impressed the judges by bringing home two GABF medals in Belgian categories. If you are ever in Bargersville IL be sure to stop by and then bring me home some of their beer (as sadly they don't distribute here)." ~Stephen Adams, Colorado Beer Geek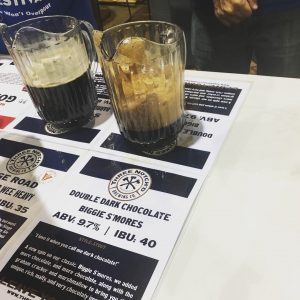 "Favorite Beer was a toss up between three notch 'd Brewing co's "double dark chocolate biggie s'mores" and Forbidden Root's "King Hell King Cherry Ale." ~Blayre Stevens, Social Media, Colorado Brewery List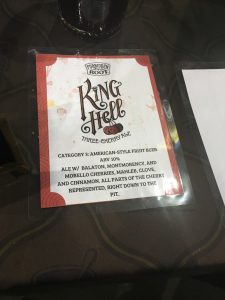 "In recent years I've felt like I was on a hop head high, always gravitating towards IPAs and pales, but this year I was intrigued by the number of darker beers, especially imperial stouts and porters. Some standouts for me were Black Ops by Brooklyn Brewery, Russian Imperial Stout aged on bourbon barrels, and re-fermented with champagne yeast. Pudding Goggles, an American Imperial Porter by Forager Brewery, and one of the Green Flash offerings on the Jameson section – Fluthered Irish Red." ~Zenia Brink, Staff Writer, Colorado Brewery List
"It was a great year for fans of hazy IPAs, since the Brewer's Association added these categories to the competition, and the new Juicy/Hazy IPA category was the largest category ever entered with 391 entries. While there were many great examples of these styles on the floor, my favorite was the Double Grid from Hop Butcher for the World – a Citra & Mosaic hazy Double IPA." ~Ryan Steadman, Founder and CEO, Colorado Brewery List
Favorite booth?
With the absence of giant beer conglomerates monopolizing the coveted end-caps this year, many smaller breweries had a chance to pull out all the stops and present fun and eye-catching spaces.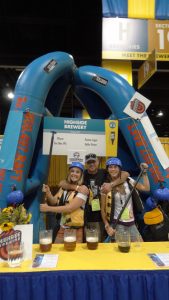 "I really enjoyed the booth from HighSide Brewing out of Frisco, CO. They had two full sized whitewater rafts, and the pouring staff were equiped with helmets, PFDs (life jackets), and paddles. It reminded me of my days working in a rafting company. There simple decorations made a very cohesive theme to match their brand." ~Ryan Steadman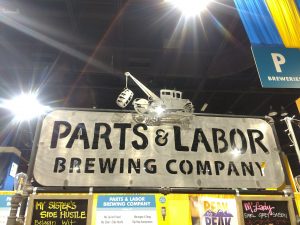 "Parts and Labor. I need to get my ass to Sterling. I love their whole sheet-metal/rusty car aesthetic, and the tow truck/winch topper loading barrels that sat on their booth was so cool. Big props to Two Roads as well, for bringing a vintage late 50's era VW bus to the convention floor. What an incredible restoration job. I spent a good deal of time walking around the vehicle, marveling at the craftsmanship." ~Meghan Howes
"Favorite Booth was Wibby Brewing who won with the inflatable flamingos… felt like a pool party." ~Blayre Stevens
"Maybe I've been watching too many reruns of X-Files, but loved the Rhinegeist Brewery booth as their logo and the simple wood structure had it looking like an alien rebel group ready to take over the world with practical yet stylish Ikea furniture and tasty beers." ~Zenia Brink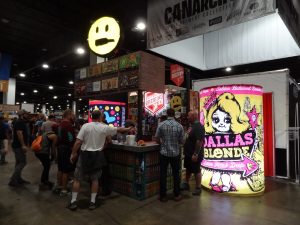 "Deep Ellum Brewing Company from Dallas Texas. Their logo, a smiley face with a bottle for a mouth is very simple, yet recognizable from afar. Their booth had a lot of loud colors and interesting artwork, almost a graffiti style. The giant illuminated beer cans next to the booth especially showcased this neon splashed brand. I always appreciate large clear signage of the beer options, as well as clever beer names. Easy Peasy, Freak Flag, Barrel Crusher and Play Date were some examples." ~Ashley Steadman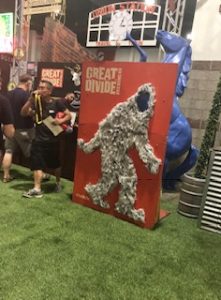 "Definitely the Great Divide booth within the Caskmates area. It was just so very "Colorado." I took a picture of it to send to my daughters who are away at college – I knew they would love the representation of the Blucifer, Red Rocks, and Union Station, Colorado icons, to be sure." ~Donna Smerker, Staff Writer, Colorado Brewery List
What did you think of the new alphabetical listing?
GABF changed it up this year and have breweries listed alphabetically instead. It was an interesting change – and some of is liked it while others really hated it. One thing is for sure – it kept attendees on their toes in order to figure out a new festival game plan.
"I did not mind the alphabetical grouping. I was using the My GABF app to navigate to the breweries that I had earmarked as ones I would want to visit. Had I not been using the app I could certainly see how it may be a bit more confusing, or difficult to locate your favorites from years past. Although, for me, I remember breweries by name rather than by region." ~Zenia Brink
"I thought that the alphabetical listing was awful, honestly. I usually skip most Colorado breweries because I can get to them fairly easily. I like to visit breweries by region so I can seek out places across the country that I might want to plan a vacation. Trying to seek out Illinois and Michigan breweries, two places I plan to travel to next year, became difficult. The alphabetical listing would be helpful in finding a specific brewery, for sure, but if you are trying to seek out obscure breweries – and perhaps ones you have never even heard of – the alphabetical listing is a disservice." ~Donna Smerker
"The alphabetical sorting was a bit of a hindrance to me personally. In the past, I would usually try to stay out of the Colorado/Mountain region and explore other parts of the country. I felt that I did a lot less exploring, and mostly just went down aisles looking at only the beer options compared to where the brewery was from. If I wanted to find a specific brewery, I consulted the GABF app, since you never knew if they would be in the Meet the Brewer's section or not. I will say that the app worked quickly and easily this year, compared to how sluggish phone service in the convention center has been in the past." ~Ashley Steadman
"It took me some time to get oriented with the new layout, but after that I found it much easier to find breweries by name. However, while the purpose of this change is to help people explore more and not crowd certain regions, I found that it forced me to explore less. Usually I seek out a few breweries in a region, but then enjoy sampling nearby booths to see what similarities there may be in a region. This year I skipped many of these quieter booths because most times there was no similarity between neighboring breweries other than name." ~Ryan Steadman
"I actually liked it. I found it easier to locate breweries that I'd marked in my app. The only thing that screwed me up was thinking I was in the right place when I was really in the Meet the Brewer section. I learned quickly how to read those lettered flags hanging from the ceiling." ~Meghan Howes
"Did NOT like the alphabetical grouping… would have much rather kept the regions because it helped to steer me clear of Colorado breweries unless it was a meet the brewer booth or a unicorn beer." ~Blayre Stevens
Best memory?
As soon as one GABF is over, we start counting down the the next one; the excitement is palpable. But what is the best part of this ginormous beer event?
"Once again a highlight of GABF is the chance to meet with one of the beer greats, Randy Mosher, who wrote the great book Tasting Beer. He is one of the brewers of Forbidden Root in Chicago. I was thrilled that he remembered me from last year and asked my advice for new breweries in town to which I let him know that he should check out my favorite new brewery of 2018 (so far), Burns Family Artisan Ales." ~Stephen Adams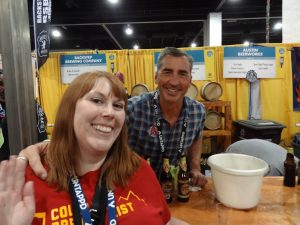 "Having Adam Avery himself, (from Avery Brewing) pour my beer then agree to a quick photo. They may not have had a giant end cap this year, but they still brought a doozy of a selection. Almost all of the beer was over 16% ABV! Also, this was my first time trying Sam Adam's Utopias, their notably expensive barrel aged beer that came in at 22% ABV this year. The gathered crowd for this timed release was pretty impressive. Luckily I was able to snag my ounce within the first minute. " ~Ashley Steadman
"Wandering into Jameson Caskmates after losing my friends and spending the next 90 minutes enjoying an eye-opening barrel-aged experience." ~Meghan Howes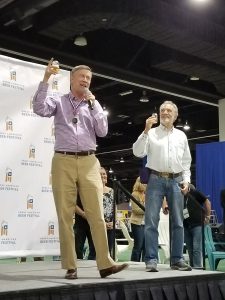 "A few of our team members were in attendance on Saturday night when Colorado Governor Hickenlooper was given the Friend in Beer award by Charlie Papazian. Due to the convention hall size, it is easy to forget that there are over 15,000 people in each session. But when the governor made the announcement and the gates were opened, thousands of people rushed by us while the sound of the bagpipes were playing nearby. It was overwhelming but an exciting reminder of how popular and important GABF is for the community." ~Ryan Steadman
"For me, the best part of GABF is seeing my friends – it's like a reunion with so many of my favorite people." ~Donna Smerker
Favorite beer name?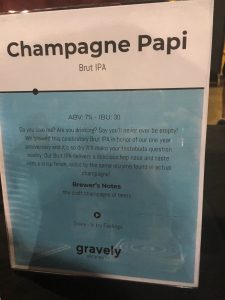 Although unique beer names can be ambiguous – making it difficult to know the beer style or flavor notes – they are always intriguing and often good fun. Some of our favorites are listed below.
"Netflix and Pils – Colorado's own Cannonball Creek Brewing Company, which won the gold in the German Pilsner category this year." ~Ashley Steadman
"Champagne Papi  (named after Drake) – from Gravely Brewing Company." ~Blayre Stevens
"For me, it is a tossup between Chris Farley-Wine from Lone Pine Brewing Company and The Sellick Stache – a pale ale from Redwood Curtain. We even joked that the Lone Pine barley wine resulted in us making the face of Chris Farley's famous SNL character." ~Donna Smerker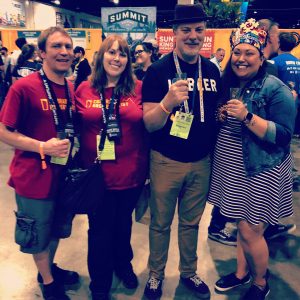 And, finally, favorite Colorado brewery or beer?
Though there are many out of state breweries to try out, it's always nice to pay a visit to our local friends.
"I work for Black Shirt Brewing Co and I'm quite partial to their beers, (have been since long before I worked there) but lately I've really enjoyed the beer coming out of Fiction Beer Company. (See my piece on Fiction from last April ). The fact that they won a bronze for their Madame Psychosis Hazy IPA, (though it was entered in the pale ale category) is no surprise to me: Brittany Portman, Fiction's head brewer, can brew some seriously delicious beer, and Madame has been my favorite of theirs for a long time. It's not super hazy, (read: opaque) and its smooth, pineapple-forward character makes it such an easy drinker. I know, from speaking with Portman, that Fiction isn't looking to create zero IBU hazy beer – some discernible bitterness is intended, and that's the way I like my IPAs. HAL, their Makin' Noise beer (made with all Calypso hops), and Never Tell Me The Hops also stand out as stellar hazy beers from Fiction, but I also love their Falconer dry-hopped Saison, (Montueka) and their medal-winning Schwarzbier." ~Meghan Howes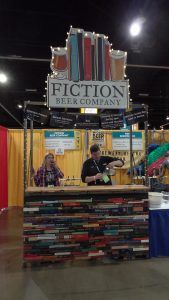 "As Colorado Beer Geek my focus is upcoming breweries, so for GABF I like to visit the recently opened Colorado breweries. The newest Colorado brewery at GABF this year, Dos Luces, only opened in July. At Dos Luces they serve traditional South American, Chicha and Pulque, and I really enjoyed their Pulque Metztli – Corn-based with Maguey Sap/Aguamiel and cinnamon.  My favorite Colorado beer that I tried this year was Drunkard's Cloak and excellent Old Ale that won Banded Oak Brewing one of Colorado's 16 Gold medals." ~Stephen Adams
"Dos Luces from Denver Colorado. Here's a brewery that's doing something different. They brew chicha and pulque, ancient styles of fermented beverages from Peru and Mexico. Chicha is made with corn, pulque with agave. At first glance, these beers looked very different from the surrounding beers. Murky, dingy… the ugly stepchild of beer if you will. Both flavors were mildly sweet, with spices that I couldn't quite identify. The Coffee Chocolate Pulque reminded me vaguely of horchata." ~Ashley Steadman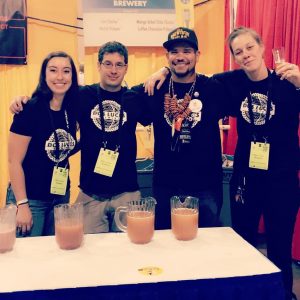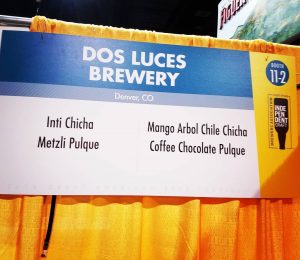 And… that's last call! Until next year – CHEERS!