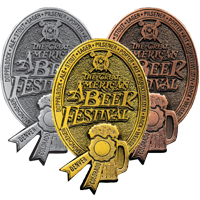 Congratulations to the 28 Colorado Breweries that brought home 30 medals from the Great American Beer Festival!
Denver Beer Company won two Gold medals!
New Belgium Brewing won a Gold and a Silver medal
16 out of the 30 medals were Gold!
Colorado took the Gold in the Collaboration competition…
TransAtlantique Kriek
Brewery Name: New Belgium Brewing Co.
Collaborating Brewery Name: Oud Beersel
Beer Style: Golden Sour Ale with Cherries
Colorado won 4 Silver Medals…
Colorado won 10 Bronze Medals…
Colorado took the Bronze medal in the Pro-Am competition…
La Bomba
Brewing Company: Cheluna Brewing Co.
Brewmaster: Jennifer Perez
AHA Member: Chris Cardillo
Congratulations to all of the winners!
See the full list of Great American Beer Festival winners here.