Liquid Mechanics is the Winner of the 2019 Colorado Brewery List Madness and the can claim the title of The Colorado Brewery List People's Favorite of 2019!
How did Liquid Mechanics win this title?
At the end of the year of 2018 Colorado Brewery List sent a survey to every Colorado Brewery asking them about their favorite breweries.  With this survey we created our end of the year article – 2018 Colorado Brewers'  Favorite Breweries
We took the survey results and bracketed the top 16 Colorado small breweries chosen by their fellow breweries to create our annual Colorado Brewery List Brewery Madness.
We created polls to let the people decide their favorite Colorado Brewery and here are the results…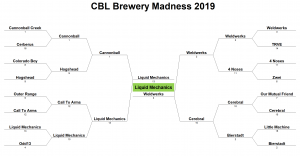 Championship:  24-31 March

Final Four:  17-23 March

Week 2:  10-16 March

Week 1:  3-9 March