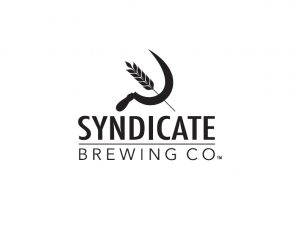 Description
Syndicate was formed from the need to have beer on-tap at all times. We started home-brewing in "The Hut", in Breckenridge, CO. Sanitizing the kitchen counter, boiling wort on a leaking gas stove, and cooling the wort in the snow outside.
It would take all-day to brew 5 gallons. We would head downtown for a few drinks (beer, whiskey, or otherwise) during slow brew steps. Many breaks were taken before the brew day was complete.
We decided after some time that buying a commercial system was the obvious next step… scribbling logo designs on bar napkins, not knowing a thing about business, we wrote a check and ordered a 3 BBL mashtun, and one 3 BBL fermenter.
We stored the equipment in a shed until we found our first commercial space where we brewed and sold wholesale for 3 years and through a global pandemic before opening our taproom her in Silverthorne.
We still brew on our original mashtun, but now have three 6 BBL fermenters, two 3 BBL fermenters, cellar control, and MORE to help create some of the best beers in Summit County.
Beers Brewed by Syndicate Brewing
This list includes beers brewed currently, previously, or seasonally by Syndicate Brewing. Contact the brewery for current beer availability.
| Name | Style | ABV | Availability |
| --- | --- | --- | --- |
| No beer information | | | |