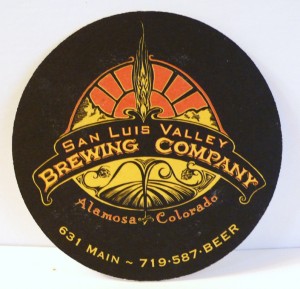 Brewery Details
631 Main St.
Alamosa, CO 81101
719-587-2337
www.slvbrewco.com/
Hours:
Sun-Thurs: 11:00am-9:00pm :: Fri-Sat: 11:00am-9:30pm
Visitors:
Visitors Welcome
Tours:
Food:
Brewpub Fare
,
Full Service Restaurant
Other drinks:
Full bar
,
Non-alcoholic
Beer to go:
Bottles or cans
,
Growlers
,
Kegs
Merchandise:
Beanies
,
Gift Cards
,
Glassware
,
Hats
,
Hoodies
,
Shirts
Parking:
Parking Lot
,
Street Parking
Dog Friendly?
Outdoor seating/Patio:
Opening Date:
March 1, 2006
Description
The San Luis Valley Brewing Company began with a desire to offer the finest in craft brews and fine food in an inviting atmosphere — a place where community thrives. Scott and Angie Graber create the brews on the premise, our culinary staff prepares wonderful food, and local designer Kris Gosar has created a setting where it is easy to savor both. The Brewery opened in March, 2006.
Beers Brewed by San Luis Valley Brewing Company
This list includes beers brewed currently, previously, or seasonally by San Luis Valley Brewing Company. Contact the brewery for current beer availability.
| Name | Style | ABV | Availability |
| --- | --- | --- | --- |
| Wolf Creek Winter | Christmas / Winter / Specialty Spiced Beer | | Seasonal |
| Spring Saison | Saison / Farmhouse Ale | | Seasonal |
| Big 9 Barley Wine | American Barley Wine | | Seasonal |
| Rudy's Imperial Red | American Imperial Red Ale | | Seasonal |
| Royal Gorge Route Rogue | English IPA | | Year-Round |
| San Luis: Espresso Milk Stout | Coffee Stout, Milk Stout | | Seasonal |
| Gray Ghost | American Amber Ale / Red Ale | | Seasonal |
| El Ocho | Fruit Beer, Other Imperial Beer | | Seasonal |
| San Luis: Espresso Stout | Coffee Stout | | Seasonal |
| Western Wit | Witbier | | Seasonal |
| Downtown Honey Brown | American Brown Ale | | Seasonal |
| Settin Sail Kiwi Ale | Fruit Beer | | Seasonal |
| Scenic Rail Pale Ale | American Pale Ale | | Seasonal |
| Wildfire Red | American Amber Ale / Red Ale | | Seasonal |
| San Luis: Vanilla Porter | Vanilla Porter | | Seasonal |
| San Luis: Raspberry Wheat | Fruit Beer | | Seasonal |
| Cowbell Common | California Common / Steam Beer | | Seasonal |
| Saddle Up Strong Scotch | Scotch Ale / Wee Heavy | | Seasonal |
| Java Chocolate Stout | Coffee Stout | | Seasonal |
| Valle Caliente | Chili Beer, Mexican Lager | | Year-Round |
| Ol' 169 Oatmeal Stout | Oatmeal Stout | 5.3 | Year-Round |
| Valle Especial | Mexican Lager | 4.2 | Year-Round |
| Alamosa Amber | American Amber Ale / Red Ale | 5.0 | Year-Round |
| Hefe Suave | Hefeweizen / Weiss bier | 4.5 | Year-Round |
| Grande River IPA | American IPA | 6.6 | Year-Round |