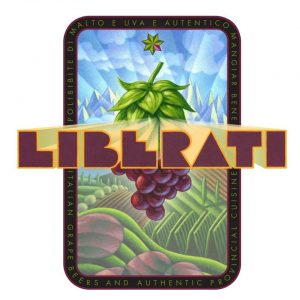 Description
Serving up craft Italian grape ales + authentic provincial Italian cuisine in the Curtis Neighborhood of Denver, CO.
In 2014, Alex Liberati decided to search for a new place to explore his vision. Born and raised in Rome, Italy, Alex wanted to bring the best of his homeland with him. After a lengthy search process he decided to plant his roots in Denver. But he didn't come alone. Joining him in Colorado are his executive chef, Marta Biasotti, his bread specialist, Federica Ansani and his right-hand man, Francesco Iacovino. Together they have embarked on creating a true taste of Italy right here in Denver.
In 2007 Alex founded one of the first great craft beer multi-taps in Italy, Brasserie 4:20. With beer sourced from around Italy and beyond Brasserie 4:20, to this day, stands out as one of Italy's best pubs. His brewery, Revelation Cat, challenged Italian palates with bold, powerful beers unheard of in Italy at the time.
Liberati Blends Innovative Beer-Wine Hybrid with Elevated Italian Cuisine by Tristan Chan of PorchDrinking.com – 29 Oct 2018
Beers Brewed by Liberati Restaurant & Brewery
This list includes beers brewed currently, previously, or seasonally by Liberati Restaurant & Brewery. Contact the brewery for current beer availability.
| Name | Style | ABV | Availability |
| --- | --- | --- | --- |
| Parvus Titan | Oenobeer | 3.7 | Year-Round |
| Facta Non Verba | Oenobeer | 3.8 | Year-Round |
| Gino Docet | Oenobeer | 6.9 | Year-Round |
| Lupulus Vinifera | Oenobeer | 6.7 | Year-Round |
| Sogni D'Oro | Oenobeer | 11.6 | Year-Round |
| Repetita Iuvant | Oenobeer | 7.2 | Year-Round |
| Rosé Plus | Oenobeer | 7.0 | Year-Round |
| Dura Lex Sed Lex | Oenobeer | 10.6 | Year-Round |
| Dictum Factum | Oenobeer | 6.9 | Year-Round |
| Recioto Denveris | Oenobeer | 12.8 | Year-Round |
| I-3PO | Oenobeer | 13.8 | Year-Round |
| Oximonstrum | Oenobeer | 17.25 | Year-Round |
| Vino Veritas | Oenobeer | 16 | Year-Round |