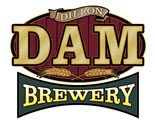 Brewery Details
100 Little Dam St.
Dillon, CO 80435
970-262-7777
www.dambrewery.com/
Hours:
Mon-Thurs: 11:30am-11:30pm :: Fri: 11:30am-12:00am :: Sat: 11:00am-12:00am :: Sun: 11:00am-11:30pm
Visitors:
Visitors Welcome
Tours:
On Request
,
Self Guided
Food:
Breakfast / Brunch
,
Brewpub Fare
,
Full Service Restaurant
Other drinks:
Full bar
,
Non-alcoholic
,
Wine
Beer to go:
Bottles or cans
,
Growlers
,
Kegs
Merchandise:
Baby Wear
,
Gift Cards
,
Glassware
,
Hats
,
Hoodies
,
Koozies
,
Mugs
,
Other
,
Shirts
,
Stickers
Parking:
Parking Lot
,
Street Parking
Dog Friendly?
No Dogs Allowed
Outdoor seating/Patio:
Opening Date:
February 1, 1997
Description
The award-winning Dillon Dam Brewery is one of the largest Brew-Pubs in the nation and one of the best family restaurants in Summit County, Colorado. We serve craft beer — hand-crafted ales and lagers — and we brew about 2,000 barrels per year. This makes us the 69th largest Brew-Pub in the nation (out of nearly 1,000). That's a lot of Dam Beer™.
We are an American-style restaurant serving lunch, dinner, and a kids menu. We serve the families of and visitors to Dillon, Silverthorne, Frisco, Keystone, Breckenridge and Copper Mountain. We are also an easy stop-off for those traveling west to Vail, Steamboat Springs and Aspen or east to Denver. In fact we are a great stop for anyone traveling I-70.
The Dam Brewery has a passion for good food, craft beer and good service. This fuels our need for Dam Good Fun, and allows us to provide our customers a Dam great experience. Whether you stop in for a pint at the bar, food in the restaurant or take-out bottled beer and kegs, we hope you enjoy our Dam fun attitude.
Beers Brewed by Dillon DAM Brewery
This list includes beers brewed currently, previously, or seasonally by Dillon DAM Brewery. Contact the brewery for current beer availability.
| Name | Style | ABV | Availability |
| --- | --- | --- | --- |
| Grapefruit DIPA | American Double / Imperial IPA | 9.6 | Rotating |
| High Speed Quad Ale | Belgian Quadrupel Ale | 9.6 | Seasonal |
| Dillon Double IPA | American Double / Imperial IPA | 8.0 | Seasonal |
| Go Devil G.S.A. | Belgian Golden Strong Ale | 9.0 | Seasonal |
| Dillon DAM: Winter Warmer | Christmas / Winter / Specialty Spiced Beer | 7.8 | Seasonal |
| C.O.V.E. Imperial Stout | American Double / Imperial Stout, Coffee Stout | 10 | Seasonal |
| Sesh-o-Rado | American IPA | 5 | Special Release |
| Hot Laps | American Pale Ale | 4.5 | Seasonal |
| Dillon DAM: Chocolate Milk Stout | Milk Stout | 5 | Special Release |
| Hopweizen | Hefeweizen / Weiss bier | 7 | Seasonal |
| Dillon DAM: Chili Lager | Chili Beer, Mexican Lager | 5.0 | Seasonal |
| Dillon DAM: Oktoberfest | Oktoberfest / Märzen | | Seasonal |
| East Wall ESB | Extra Special / Strong Bitter (ESB) | 5.7 | Seasonal |
| DAM Gogh | Biere de Garde | | Seasonal |
| The Continental Fresh Hop | American Double / Imperial IPA, Wet Hop Beer | 8.9 | Seasonal |
| McLuhr's Irish Stout | Irish Dry Stout, Nitro | 5.0 | Year-Round |
| Sweet George's Brown | English Brown Ale | 5.4 | Year-Round |
| Dillon DAM: Extra Pale Ale | American Pale Ale | 6.1 | Year-Round |
| DAM Straight Lager | Vienna Lager | 5.0 | Year-Round |
| Paradise Pilsner | German Pilsener (Pils) | 5.0 | Year-Round |
| Wilderness Wheat | American Wheat Ale | 5.25 | Year-Round |
| DAM Lyte | Lite American Lager | 4.0 | Year-Round |
| Here's Your Dam IPA | American IPA | 7.0 | Year-Round |
| La Seine Shine | California Common / Steam Beer | | Special Release |
| Dillon DAM: Imperial Brown Ale | American Brown Ale, Other Imperial Beer | 8.5 | Seasonal |
| Hoporter | Baltic Porter | 8 | Seasonal |
| Exit 205 Ale | Golden or Blonde Ale | 5.8 | Year-Round |
| Dark & Stormy Summit Saison | Saison / Farmhouse Ale, Wood / Barrel Aged Beer | 6.7 | Special Release |