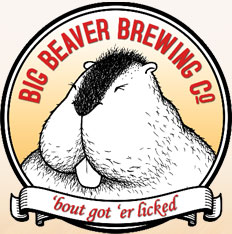 Brewery Details
2707 W Eisenhower Blvd Unit 9
Loveland, CO 80537
970-818-6064
bigbeaverbrew.com
Hours:
Sun-Thurs: 2:00pm-9:00pm :: Fri: 2:00pm-10:00pm :: Sat: 12:00pm-10:00pm
Visitors:
Visitors Welcome
Tours:
Self Guided
Food:
Bratwurst
,
Gluten Free Food
,
Snacks
Other drinks:
Craft Root Beer
,
Craft Soda
Beer to go:
Growlers
Merchandise:
Beanies
,
Coasters
,
Gift Cards
,
Glassware
,
Hats
,
Hoodies
,
Shirts
,
Stickers
Parking:
Parking Lot
Dog Friendly?
No Dogs Allowed
Outdoor seating/Patio:
Opening Date:
October 1, 2010
Description
We are a local, community supported brewery that is committed to brewing the best beer possible with the lowest environmental impact. We pride ourselves on brewing without adjuncts, such as corn and rice, and our beers are never filtered or pasteurized. We use local brewing ingredients when possible and take great pride in purchasing electricity from local wind farms. So come on down to quaff our great brews and have some fun; life is too short to drink mass produced beer!
Beers Brewed by Big Beaver Brewing Company
This list includes beers brewed currently, previously, or seasonally by Big Beaver Brewing Company. Contact the brewery for current beer availability.
| Name | Style | ABV | Availability |
| --- | --- | --- | --- |
| Curvy Copper Top Altbier | Altbier | | Rotating |
| Big Beaver: Sour Brown Ale | American Wild Ale | | Rotating |
| Milk Porter | American Porter | | Rotating |
| Fruity Booty | Fruit Beer | | Rotating |
| Big Beaver: Maple Brown Ale | American Brown Ale | | Rotating |
| Smooth Cougar Saison | Saison / Farmhouse Ale | | Year-Round |
| Juicy Peach Ale | Belgian / French Ale, Fruit Beer | | Year-Round |
| Burning Bush | Chili Beer | | Year-Round |
| Red Arse Ale | American Amber Ale / Red Ale | | Year-Round |
| Big Woody IPA | American Double / Imperial IPA | | Year-Round |
| Black Curly's IPA | American IPA | | Year-Round |
| Breezy Bean Bag Scottish Ale | Scottish / Irish Ale | | Year-Round |
| Rub-A-Chub Kolsch | Kölsch | | Year-Round |
| Potent Peter IPA | American IPA | | Year-Round |
| Screw the Pooch Pale Ale | American IPA | | Year-Round |
| Whiskey Dick Stout | American Stout | | Year-Round |
| Stubble Stout | American Stout | | Year-Round |
| Hoppy Ending Pale Ale | American Pale Ale | | Year-Round |
| Bust-A-Nut Brown Ale | English Brown Ale | | Year-Round |
| Wonder Weiner Wheat | Hefeweizen / Weiss bier | | Year-Round |
| Shaved Tail Ale | Belgian Pale Ale | | Year-Round |