The Paired event allowed attendees to experience a combination of unique foods matched with carefully chosen beers.  Professional chefs from across the country teamed up with craft breweries to create unique bite-sized pairings. At least two different combinations were offered at each of 22 tables, for a total of almost 50 options. This made for an entertaining culinary adventure.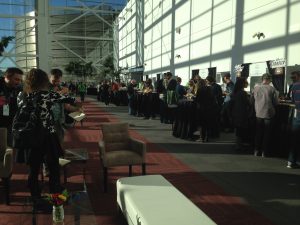 This event was hosted in an area just off the main hall, which allowed Paired ticket holders freedom to roam between the main festival and this special event; however we noticed many people spent the majority of their session in the Paired hall.  There was good reason for that – the number of interesting options were enough to occupy us for the entire session.  Our team made it through every table, but not necessarily every pairing; one's stomach can fit only so many small bites (with beer taking up the prime real estate) in the matter of four hours.
The ingredients, presentation, and quality were all upscale. Some pairing examples include:
Duck liver mousse, pickled peach macaroon paired with Ecliptic Carina peach sour ale
Lava lake lamb empanada, Anson Mills antebellum corn flour, coffee, guajillo, chipotle paired with Dry Dock Barrel Aged Double Coffee Porter
Or our favorite: butterscotch pudding, milk chocolate ganache, caramel & whipped cream paired with Tenaya Creek Old Jackalope Barleywine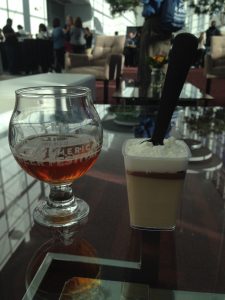 Many of the ingredients were uncommon, and we weren't the only people who had to consult Google and fellow attendees to determine what we were eating. However, that mystery was part of the fun.
The Paired event far exceeded our expectations. The food menu was intimidating at first, but we jumped into it without hesitation and sampled almost every pairing available. The sheer quality of the food and blending of the flavors with the matched beer was far beyond what can be explained in words. To top it all off, the evening was complete with a sighting of Charlie Papazian sampling the offerings himself.