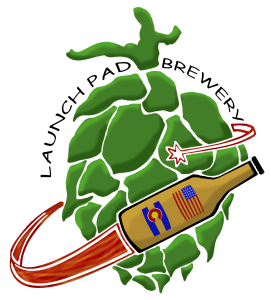 When I sat down with David Levesque from Launch Pad Brewery, he said the two things that he wanted people to know about the brewery were that it is veteran-owned and that they want patrons to feel like family. You cannot walk into this brewery without getting a feeling for both of these virtues, and the beer-drinking community in the metro area is certainly taking notice.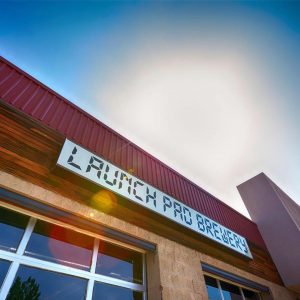 David opened Launch Pad, located at 884 South Buckley Road in Aurora, along with his veteran friend, Henry Rusch, after a successful run at home brewing. Before craft beer, David enjoyed PBR while stationed in the Air Force in South Dakota. Once transferred to Colorado, he experienced beers from Dry Dock and was hooked into the craft beer culture and wanted to try his hand at making his own brews. He made a pumpkin beer for his friends as part of a fall festival he hosted at his house with his wife, Erin. The beer was a huge success, and his friends encouraged him to open his own brewery – words all home brewers want to hear from their friends! David took the leap and opened Launch Pad in 2015, taking on the job of brewer, while Henry took care of many of the business aspects for the brewery.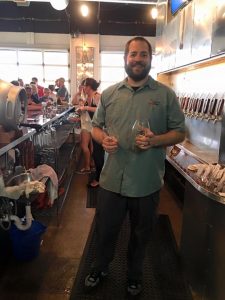 Once you walk in the door at Launch Pad – past the beautiful new, freshly-poured patio, you get a sense that this brewery is heavily committed to honoring military vets. The Gadsden flag – the first American flag – hangs front and center, and there is an entire wall dedicated to displaying patches donated by members of the military. I have sat at the bar many times, looking at those patches and thinking about the women and men who brought them here and how proud they must be to have them on display. On a recent trip to Launch Pad, Brian Levesque, David's brother and beertender extraordinaire, stated that they had given away more than $400 in beer on Veteran's Day this year when they offered their Patriot Pale Ale to veterans for free.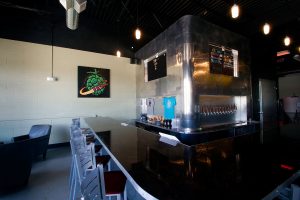 Playing on the brewery's name, the beer names at Launch Pad pay homage to air and space, and you can often sit and watch clips of rocket and missile launches on the screen above the bar while you enjoy your air-and-space-themed brew. Their lineup includes the Interstellar IPA, Trinity Belgian Tripel, Peacekeeper Porter, and my favorite – the Soyuz Stout, which is full of rich, chocolate and roasty notes and is perfect for an autumn evening. Cape Canaveral Key Lime Saison, made with key lime juice and fresh vanilla beans, has become one of Launch Pad's most sought-after beers, the recipe and creation courtesy of Launch Pad's head brewer, Paul Mahony. Paul came to Launch Pad from Copper Kettle, another prominent brewery in Aurora, where he spent much of his time behind the bar. Erin, David's wife, spoke with Paul one evening and learned of his desire to focus on the brewing side of the business, and the rest is history. His creativity has become a welcome addition to the Launch Pad lineup, and his Wednesday firkins – brews such as Maple Bacon Brown and Sour Cherry – have become favorites of Launch Pad regulars. The weekly offerings always tap out quickly, making room for the next week's work of genius.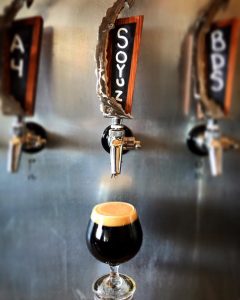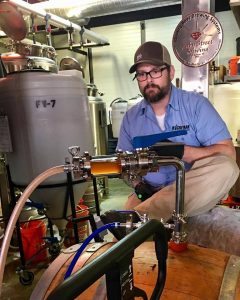 Launch Pad participated in this year's A Night to Remember, an annual event held in July that benefits the ACT Foundation which was founded in memory of Alex Teves, a man who was killed in the Aurora theater shooting and who was an avid craft beer drinker. The ACT Foundation helps students with differing behavioral and emotional needs by providing educational opportunities. The brewery also participated, along with other breweries in Aurora, in releasing their edition of the Aurora Strong Ale which was served at A Night to Remember in honor of those killed in the Aurora theater shooting in July 2012. Launch Pad has been at many beer festivals around the state showing support for the community and routinely has events at the brewery to bring people together.
They even give their spent grains to farmers in the rural areas of Aurora. They are proud to be in the city they call home, and strive to make Aurora a better place.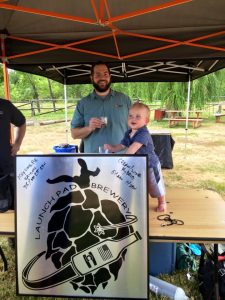 Launch Pad's website states that "they believe that good beer should be shared amongst good friends" and you will get both at Launch Pad – good beer and good friends. From a Bon Jovi "Livin' on a Prayer" sing along with people who, moments before were random strangers, to Brian regaling us with sayings his grandmother used, there's never been a time I have visited Launch Pad and not felt the good friends vibe. The craft aesthetic is in everything about Launch Pad – the community involvement, the friendly atmosphere, and the exceptional beer. Visiting Launch Pad is always good beer with good friends.