Autumn in Colorado inevitably brings pumpkin spiced everything, the quest to peep the changing leaves, and a renewed football frenzy. But the most exciting indicator of fall – to us beer connoisseurs at least – is the Great American Beer Festival. And while most beer nerds agree that GABF is the festival of the year, we all have different opinions on what makes the festival special, what was the best of the best, and what we would like to see at future fests. Staff at Colorado Brewery List collaborated to share our own unique takes on the festival we all love so much.
Favorite Colorado Brewery at the Fest
We all agree that this is a very difficult category to quantify. Many Colorado beer enthusiasts will say that choosing a favorite brewery is like choosing a favorite child or distinguishing the best dog breed. Nevertheless, with much deliberation, we were able to pinpoint the Colorado breweries that stood out to us at GABF 2017.
"Although Colorado dominated the Mountain Region, I was excited to see Brewability Lab at GABF this year. They are approaching their one year anniversary and it warmed my heart to see that Tiffany Fixter (owner) had brought her beertenders Devon and Patrick along for the experience. Their faces were lit up with joy despite the overstimulation in which they were immersed." ~ Blayre Stevens, Social Media Communication, CBL.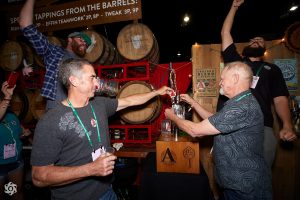 "What kind of question is this?! Ha, well if I HAVE to pick one, I would say Avery Brewing Company. Everything they make is basically nectar from the Gods, and they were pouring some of their best during GABF. Avery even brewed a collaboration stout with their floor-neighbors – Odell Brewing. They both brewed whiskey barrel-aged beers and blended them right at GABF via a custom dual-tap line. Effin' Teamwork Stout was tapped by none other than founders, Adam Avery and Doug Odell on Thursday and Friday nights. It was a privilege to be present during this unique tapping." ~Ashley Steadman, Data Management, CBL.
"While there were so many great Colorado breweries at GABF, I was overjoyed to finally meet one of the ladies of Lady Justice Brewing. While I have been to every Colorado brewery, I had not yet sampled any of their beers since they are a community-supported brewery with membership but without an actual taproom. I really enjoyed both their All Right, All Right Pale Ale and their Sageson Sage Saison.  Most of all, I was thrilled to discover that they have definite plans to build a taproom in 2018!  Stay tuned for further updates!" ~ Stephen Adams, Upcoming Breweries Expert, CBL and Colorado Beer Geek.
"I think the Colorado brewery at GABF that brought the strongest game in terms of both beers and booth decoration would have to be Verboten Brewing out of Loveland. It was so rad to roll up to their booth and see a line almost to the wall. Their beers are consistent, delicious, and they pride themselves on service. I also appreciated that they had reps there throughout the entire session, despite not being in the Meet the Brewer section." ~ Dev Adams, Senior Writer and Advanced Cicerone, CBL.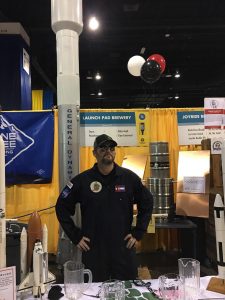 "Definitely hard to choose just one – because I feel like we are all a family. But, Launch Pad Brewery was my Colorado favorite at this year's GABF. Why? Anyone familiar with Launch Pad's beers and taproom know that they are an aerospace-themed brewery. They aptly carried this theme over to their GABF booth with a Hubble replica made from kegs and head brewer Paul Mahoney donning a flight suit. Their taproom staple – the ginormous fifteen-foot rocket that watches over beer lovers – was brought to the fest as well. I thought it was a great representation of their brewery, and it was fun to visit." ~ Donna Smerker, Senior Writer, CBL.
We'd like to note that our favorite dog breeds were also discussed, with Dev singing praise for the Siberian husky while I proclaimed my love of the ever-snorting French bulldog. We all have our opinions, I suppose…
Favorite Non-Colorado Brewery
While maybe only slightly easier to narrow down than the Colorado category, our picks for favorite brewery outside of Colorado was difficult in part due to the great quantity of choices.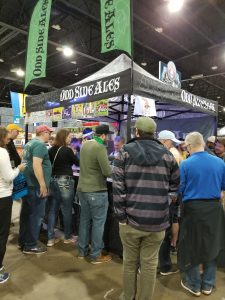 "I was thoroughly impressed with Odd Side Ales. I have been to many a GABF in the past where the person pouring the beer really didn't have much to offer by way of taste or style. While waiting in line at Odd Side, a brewery rep approached to talk about the different styles and what made them special. I appreciated this effort, and ended up trying each of their beers." ~ DS
"The one I will remember years down the line not just for the beer, but also for the stories behind it, would have to be Scratch Brewing out of Ava, Illinois. The brewery is built on the owner and brewer's ancestral land and he takes more than just inspiration – but actual ingredients – from that land. Last year they brought mushroom beers, and this year it was a line-up of five: Bark, Flowers, Leaves, Roots, and Seeds and Nuts. All were unique and the adjuncts added such fascinating complexity to the base beers. I also have to throw a shout out for the more traditional styles, which Farnam House in Omaha, Nebraska knocked out of the Convention Center with their Biere de Garde and Doppelbock." ~ DA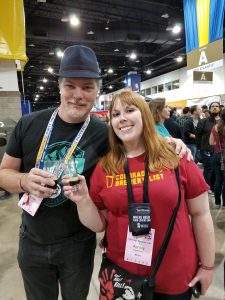 "My discovery outside of Colorado brewery for the 2017 GABF is Sun King Brewing out of Indiana.  I was blown away by everything they had, including their silver medal winner Magpie Muckle (Scottish Wee Heavy) and bronze medal winner Cherry Busey (a Flanders-style Oud Bruin which was a three-peat for the Belgian-Style Fruit Beer category)." ~ SA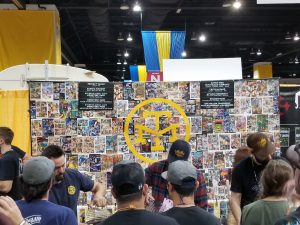 "Modern Times Beer from San Diego, California was my great non-Colorado find. Their booth was split between beers from their barrel house and their more regular offerings. I especially loved the collage of comic book pages they used as their booth backdrop. You can bet I greedily grabbed a sticker and a coaster which read "Tastes Like Wizards." Yep, I'd say that pretty much sums it up."~AS
"Being a veteran of GABF, I've been a low-key fan of the east coast beers. This year when reviewing the beer list under the unicorn category, I stumbled upon a beer named Sunday Brunch and was immediately intrigued. Once the ribbon had been cut to open the flood gates, I rushed to island A and  found Kane Brewing Company out of Ocean, NJ and was not disappointed. This dark and flavorful beer emulated what Sunday brunch tastes like with cinnamon and maple syrup." ~ BS
Favorite Beers
How do you choose your favorites among the thousands of offerings? We narrowed it down to a few each that stood out more than any of the others.
The finalist list includes, in no particular order:
Favorite Region
Our favorite regions included the mid-west for their overwhelming hospitality along with the Brewer's Guild Island where beers from breweries unable to get a booth at the fest could be sampled. But the overall winner for favorite region was Great Lakes. It's hard to go wrong when you are in the Great Lakes section – virtually anything you have there will be nothing less than amazing.
Favorite Part of the Fest
"I had a blast chatting with so many wonderful people from Colorado breweries and talking to them about their future plans.  I also had a fabulous beer geek moment when I got to meet Randy Mosher (author of Tasting Beer) who was pouring for Forbidden Root and tell him of my favorite Colorado breweries namely Beryl's Beer Co and Purpose Brewing & Cellars." ~ SA
"I really enjoyed the feeling I got being around so many other beer lovers. GABF is special in the sense that it is unlike every other beer festival. The sense of community overwhelmed me and I have never felt so comfortable (even while wearing a unicorn horn and a big fluffy tutu). The costume contest was a blast to participate in and watch, who knew that craft beer lovers were so crafty?" ~ BS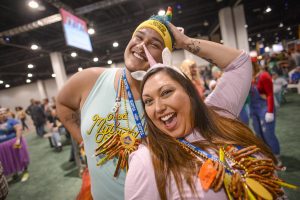 "I love food and beer pairings and I was just as disappointed as Stephen to not have the opportunity to attend Paired this year, but there were great free food samples around the fest. The Red Robin booth had fresh french fries, of which I am always a fan. At one point, Oskar Blues was giving away free donuts. I also wanted to go through the Cheese Society's line, but it was always so long that I had to prioritize. Would it be worth it to waste 15-20 precious minutes in line to indulge in my cheese addiction, or to just continue on? I settled for drinking beer at the Guild Pavilion while intermittently glaring across at the cheese stall." ~ AS
"The best part of GABF this and every year is getting to meet brewers from all over the country who all love this industry so much. To have the unique opportunity to taste so many beers brewed in such a wide variety of ways representing so many different viewpoints and styles is such a blessing. Too often the importance of a GABF appearance is downplayed since the majority of breweries are outside of their target markets and there is a misconception that GABF is just a huge, drunken party. But if a brewery takes it seriously and sends their best products and their dedicated staff to make that personal connection with the attendees, it makes a real impact. I can't tell you how many breweries we have gone out of our way to stop at simply because we met someone from their brewery at GABF and wanted to see them again. Craft beer is intensely personal, from the mash tun to the glass, and that personal connection is what brings us back to craft breweries – and to GABF – again and again." ~ DA
"The best part of GABF – for me at least – is just the overwhelming sense of community. This sense is why I fell in love with craft beer in the first place, and it is exciting to experience it again every year at the fest. From the excitement of waiting in line, hearing the bagpipes, searching out the places I've always wanted to try – to just seeing my friends here and there throughout the evening – I love everything about GABF. Well, except for the last pour of the last session – then it feels like Christmas is over." ~ DS
What Would I Like to See Next Year
"Not sure if it would help, but perhaps having taped sections on the floor to make line lanes. This way it will be obvious if you are in line or trying to stand out of the way to drink your beer. Otherwise, this event is so well organized, I can't really complain about anything else." ~ AS
"I was really disappointed when the great folks that put on GABF changed the format for Paired and didn't give any opportunity for folks with media credentials to attend.  I would love to have had the option of buying a supplementary ticket for Paired along with my press pass.  I would also love to find a way to slow time within the convention center in order to try even more beers from all of the great breweries from around the country!  I'll get working on that!  :D" ~ SA
"Each year the organization of the festival is improved. This year, I was particularly impressed with the app features and how helpful it was in planning my route to make sure that I tried the beers I wanted to. I would love to see this grow to be more and more specific, but we'll see next year!" ~ BS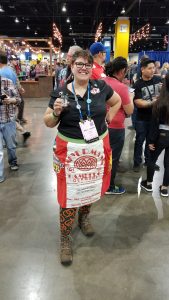 "The BA continues to improve the experience of GABF for attendees and brewers (with one notable exception this year), but there will always be ways to make the already amazing festival event better. Since the fest has gotten so huge – both in scope and scale – and the app has become crucial for anyone looking to make the most of the festival by mapping their route and keeping track of the beers they've tried. In order to take this incredible tool to the next level, adding each beer's style to the app so that it's visible and searchable would make a huge difference (not to mention adding it to each brewery's signage). If, like me, you're looking to hit breweries serving up a certain style, the app will only pull up beers with that style in the name. This does a disservice to the breweries and to the drinkers. Providing the styles allows for better navigation as well as education, which is a key part of the fest.  Mostly, next year, I want to see another year of even more passionate beer geeks crowd the halls asking great questions, drinking fantastic beers, and making real connections with the dedicated brewers who make craft beer what it is." ~ DA
We Came, We Drank, We Shared Our Thoughts
Sadly, GABF 2017 has come and gone – but I think all of us at Colorado Brewery List can agree that we all had a great time and experienced some amazing beers from breweries far and near from the ever-growing craft community.
Next year's festival will be here before you know it, so – take this bit of advice: whatever you would like to get out of the festival, go after that experience. Nobody can tell you what you should find unique, or craft your experience for you. Make your experience what you want it to be – get out there and enjoy yourself. You might find a new favorite beer, a new vacation destination, discover a new food and beer pairing, or just renew your love for the beer industry.
Cheers!