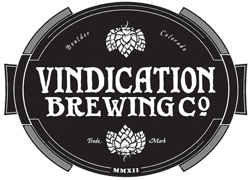 Description
A Brewery Founded on the Principles of Craft and Precision, with an Obsession for the Details of Quality, and a Belief in the Power of Beer to Bring People Together.
We obsess over the details of quality in the creation of every one of our beers. Our approach to brewing is centered around this obsession. Our equipment is custom made to provide exactly what we need to put the most flavor in our beers. We believe in the Power of Great Beer.
We use several unique processes to make our beers so full of flavor. With years of brewing experience, we have created some specialty brewery equipment to help introduce flavor to our beer in ways never before attempted. Our Hop-Back allows us to add hops and other flavor additions at different times in the brewing cycle, and our custom valve system provides us with precision hand-controlled temperature regulation throughout the Brewing Process.
Beers Brewed by Vindication Brewing Company
This list includes beers brewed currently, previously, or seasonally by Vindication Brewing Company. Contact the brewery for current beer availability.
| Name | Style | ABV | Availability |
| --- | --- | --- | --- |
| Brewtegrity IPA | American IPA | 8.6 | Rotating |
| The Stallion | Coffee Porter | 6.8 | Rotating |
| The Antihero | American Amber Ale / Red Ale | 6.7 | Rotating |
| First Crop IPA | American IPA | 7.7 | Rotating |
| Bishop's Hammer Imperial IPA | American Double / Imperial IPA | 9 | Rotating |
| Premium Session Bold Ale | American Amber Ale / Red Ale | 5.9 | Rotating |
| Edge Of Town Brown | American Brown Ale | 6.5 | Year-Round |
| 1618 Rye IPA | Rye Beer | 6.6 | Seasonal |
| Bolder Imperial Bold Ale | American Amber Ale / Red Ale, Other Imperial Beer | 11.7 | Rotating |
| Colorado Amber | American Amber Ale / Red Ale | 6.4 | Year-Round |
| Winchester Wheat | American Wheat Ale | 5.2 | Rotating |
| Momentum IPA | American IPA | 5.7 | Year-Round |
| Freedom Stout | American Stout | 6.8 | Year-Round |
| American Bold Ale | American Amber Ale / Red Ale | 7.2 | Year-Round |