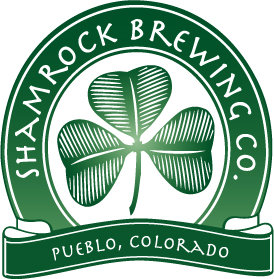 Brewery Details
108 W 3rd St.
Pueblo, CO 81003
719-542-9974
www.shamrockbrewing.com/
Hours:
| | |
| --- | --- |
| Sunday | 10:00 AM - 10:00 PM |
| Monday | 11:00 AM - 10:00 PM |
| Tuesday | 11:00 AM - 10:00 PM |
| Wednesday | 11:00 AM - 10:00 PM |
| Thursday | 11:00 AM - 10:00 PM |
| Friday | 11:00 AM - 10:00 PM |
| Saturday | 10:00 AM - 10:00 PM |
Visitors:
Visitors Welcome
Tours:
Food:
Breakfast / Brunch
,
Brewpub Fare
,
Full Service Restaurant
Other drinks:
Full bar
,
Guest Beers
,
Non-alcoholic
Beer to go:
Growlers
,
Kegs
Merchandise:
Gift Cards
,
Glassware
,
Hoodies
,
Shirts
Parking:
Street Parking
Dog Friendly?
Outdoor seating/Patio:
Opening Date:
July 1, 2005
Description
Located just two blocks from the Courtyard Marriott Hotel and the Pueblo Convention Center in the heart of historic Pueblo, Colorado, Shamrock Brewing Company offers a distinct dining alternative. Equal parts Irish pub, craft brewery, and restaurant make Shamrock Brewing Company a truly unique Pueblo restaurant experience. We believe great craft beer, excellent food, and good friends go hand in hand. The food is great, the beer is world class, and the craic is outstanding! Craic (pronounced crack) is a Gaelic word, meaning a fun, friendly and exuberant atmosphere.
Whether for business or pleasure, Shamrock Brewing Company is the place to meet. Our antique mahogany bar is warm and inviting. We offer an extensive list of top-shelf Irish and Scotch whiskeys, an ample wine selection, and specialty cocktails; but our passion is craft beer. Not to sound too selfish, but we brew what we want to drink. Our base two-row base malt is the freshest around, malted right here in southern Colorado by Colorado Malting Company. We also use the choicest hops from the Pacific Northwest and yeast strains carefully chosen by our brewer. We never use additives, preservatives or pasteurization in our brewing process.
We are equally passionate about our food and, of course, we cook with our beer – something that good cannot be reserved entirely for drinking! Chef and GM Gordon Cossar (a.k.a. Chef Gordo) only uses the freshest ingredients and everything is house made – including our salad dressings and desserts. Our chef-inspired Irish specialties and American brewpub fare offer something for the entire family.
Beers Brewed by Shamrock Brewing Company
This list includes beers brewed currently, previously, or seasonally by Shamrock Brewing Company. Contact the brewery for current beer availability.
| Name | Style | ABV | Availability |
| --- | --- | --- | --- |
| Shamrock: Belgian Wit | Witbier | 4.7 | Rotating |
| Big PAPA | American Double / Imperial IPA | | Rotating |
| Chocolate Coconut Porter | Coconut Porter | 6.5 | Rotating |
| Shamrock: Rooster's Red | Rye Beer | 7 | Rotating |
| Pueblo Chili Ale | Chili Beer | | Rotating |
| Pumpkin Drublic | Pumpkin Beer | 6.3 | Seasonal |
| 3rd Street Coffee Stout | Coffee Stout | | Rotating |
| Foot Burner Pale Ale | American Pale Ale | 6.2 | Special Release |
| Jailhouse Jawbreaker | Belgian Golden Strong Ale | 7.7 | Seasonal |
| P.A.P.A. | American Pale Ale | 5.7 | Year-Round |
| Shamrock: Irish Porter | English Porter | 4.8 | Year-Round |
| Shamrock: Irish Red Ale | Irish Red Ale | 5.3 | Year-Round |
| Steel City Gold | Golden or Blonde Ale | 5 | Year-Round |