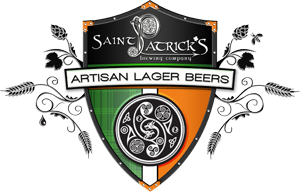 Description
We are a lager-centric micro-brewery located in Littleton, Colorado. Why do we only brew lagers? Lagers are more subtle, can be more complex are crisp on your palate, and easier to drink than ales. We brew over 80 varieties of lager beers. Our brewer, Chris Phelps creates traditional lagers, experimental lagers and he re-invents your favorite ales as amazing lagered beers.
When you enter Saint Patrick's Brewing Company, you will know that you are in for a unique craft brewery experience.
Attached to Lucile's Creole Cafe. Also partnered with Lucile's so you are able to order Lucile's food right to your table.
Beers Brewed by Saint Patrick's Brewing Company
This list includes beers brewed currently, previously, or seasonally by Saint Patrick's Brewing Company. Contact the brewery for current beer availability.
| Name | Style | ABV | Availability |
| --- | --- | --- | --- |
| French Barley Wine Lager | American Barley Wine, Wood / Barrel Aged Beer | 8.1 | Special Release |
| Belgian Barley Wine Lager | American Barley Wine, Wood / Barrel Aged Beer | 12.6 | Special Release |
| Strawberry Basil Saison | Fruit Beer, Spice / Herb / Vegetable Beer | 6.6 | Rotating |
| Amber Saison Lager | Altbier, Saison / Farmhouse Ale | 6.1 | Special Release |
| Dry Hop Saison Lager | Saison / Farmhouse Ale | 7.1 | Special Release |
| Berry Saison Lager | Fruit Beer | 7.5 | Seasonal |
| Belgian Dubbel Lager | Belgian Dubbel | 8.5 | Special Release |
| Belgian Pale Lager | Belgian Pale Ale | 6.6 | Special Release |
| Belgian Quad Wit Lager | Belgian Quadrupel Ale, Witbier | 7.8 | Special Release |
| Belgian Imperial Pale Lager | Belgian Pale Ale, Other Imperial Beer | 7.8 | Special Release |
| Strawberry Kolsch | Fruit Beer | 6.3 | Seasonal |
| Pineapple Fire Lager | Chili Beer, Fruit Beer | 8 | Seasonal |
| Peach Vanilla Kolsch | Fruit Beer, Spice / Herb / Vegetable Beer | 6.1 | Seasonal |
| Malibu Dragon Lager | Spice / Herb / Vegetable Beer, Wood / Barrel Aged Beer | 8.2 | Special Release |
| Cherry Bock | Fruit Beer | 6.6 | Seasonal |
| Berry Chili Lager | Chili Beer, Fruit Beer | 7.3 | Special Release |
| Oaked Sweet Stout | Milk Stout, Wood / Barrel Aged Beer | 4.9 | Special Release |
| Russian Stout Lager | Russian Imperial Stout | 8.9 | Seasonal |
| Robust Porter Lager | Dark American Lager | 5.8 | Special Release |
| Saint Patrick's Märzen Oktoberfest | Oktoberfest / Märzen | 6 | Seasonal |
| Kölsch Lager | Kölsch | 5.9 | Seasonal |
| Imperial Helles | Munich Helles, Other Imperial Beer | 8.7 | Special Release |
| Espresso Blonde Lager | Munich Helles | 6.4 | Special Release |
| Czech Hefe Lager | Czech Pilsener, Hefeweizen / Weiss bier | 6.2 | Rotating |
| Coroni | Munich Helles | 5.2 | Rotating |
| Japanese Rice Lager | Japanese Rice Lager | 5.4 | Rotating |
| Saint Patrick's German Pilsner | German Pilsener (Pils) | 4.9 | Rotating |
| Saint Patrick's American Pilsner | Classic American Pilsener | 5 | Rotating |
| Sour Cherry Saison | Fruit Beer, Saison / Farmhouse Ale, Sour Ale | 7.5 | Special Release |
| Czech Golden Pils | Czech Pilsener | 6.1 | Rotating |
| Cali Lager | American Pale Lager | 5.9 | Rotating |
| Saint KilPatrick's Stout | Irish Dry Stout | 5 | Seasonal |
| Saint Patrick's Saison | Saison / Farmhouse Ale | 6.3 | Seasonal |
| Saison Apple Lager | Fruit Cider, Saison / Farmhouse Ale | 7 | Seasonal |
| Red Lager | American Amber / Red Lager | 6.1 | Seasonal |
| Rawbone Dubbel Dog | Dark American Lager | 6.6 | Seasonal |
| Pilsner Wit | German Pilsener (Pils), Witbier | 6 | Seasonal |
| Luminosity Oak Reserve | Munich Helles, Wood / Barrel Aged Beer | 5.8 | Rotating |
| Imperial Oak Oatmeal Stout | Oatmeal Stout, Wood / Barrel Aged Beer | 9.5 | Seasonal |
| Lana'i Dry Hop Lager | American Pale Lager | 7 | Year-Round |
| Imperial Patio Lana'i | American Double / Imperial IPA, Wood / Barrel Aged Beer | 8.9 | Seasonal |
| Imperial Amber Lager | American Amber / Red Lager, Other Imperial Beer | 8.1 | Seasonal |
| Farmhouse Lager | Saison / Farmhouse Ale | 6.3 | Special Release |
| El Draque Lager | Spice / Herb / Vegetable Beer, Wood / Barrel Aged Beer | 8.3 | Rotating |
| Saint Patrick's Dunkel Rye | Rye Beer | 6.8 | Seasonal |
| Saint Patrick's Dunkel | Munich Dunkel | 5.8 | Seasonal |
| Altbier Amber Lager | Altbier | 6.1 | Seasonal |
| American Barleywine Lager | American Barley Wine | 15.5 | Special Release |
| Helledel Helles | Munich Helles | 5.2 | Rotating |
| Centennial Amber Lager | Oktoberfest / Märzen | 4.7 | Rotating |
| Centennial State Lager | Classic American Pilsener | 4.3 | Rotating |
| Rosemary Tripel Lager | Spice / Herb / Vegetable Beer | 7.8 | Seasonal |
| Pumpkin Vanilla Chai Lager | Pumpkin Beer, Spice / Herb / Vegetable Beer | 5.8 | Seasonal |
| Chocolate Pumpkin Lager | Pumpkin Beer | 5.9 | Seasonal |
| Strawberry Chili Blonde | Chili Beer, Fruit Beer | 6.8 | Seasonal |
| Limoncello Lager | Fruit Beer | 11.4 | Seasonal |
| Strawberry Fire Lager | Chili Beer, Fruit Beer | 7 | Seasonal |
| Honey Helles Bock | Maibock / Helles Bock | 7.4 | Seasonal |
| Chai Peach Cream Lager | Cream Ale, Fruit Beer, Spice / Herb / Vegetable Beer | 6 | Seasonal |
| Chocolate Peppermint Lager | Dark American Lager | 7.3 | Seasonal |
| Toasted Coconut Mocha | Dark American Lager | 8.4 | Seasonal |
| Cranberry Snowflake Lager | Fruit Beer | 7.8 | Seasonal |
| Apple Pie Amber Lager | Fruit Beer | 8 | Seasonal |
| Midnight Mocha Lager | Schwarzbier (black beer) | 6.2 | Year-Round |
| Luminosity Lager | Munich Helles | 5.8 | Year-Round |
| Colorado Golden Lager | European Amber Lager | 6.3 | Year-Round |
| Cerevisia Amber Lager | California Common / Steam Beer, Vienna Lager | 6.3 | Year-Round |