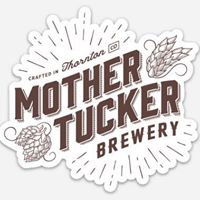 Description
Thornton's 1st & Only Nano Craft Brewery!  Our Beers are made with a Whole Lotta Love and a little Attitude!
This is an exciting time for us! Our business is expanding and growing! After two years of testing and growing our craft beer line, Mother Tucker Brewery has launched a nano craft brewery in the North Metro Denver Area. Our craft beers have gone through a thorough examination and vetting and we are ready for the next step… a Tasting Room & Beer Garden to continue our passion to bring great beer to you!
Beers Brewed by Mother Tucker Brewery
This list includes beers brewed currently, previously, or seasonally by Mother Tucker Brewery. Contact the brewery for current beer availability.
| Name | Style | ABV | Availability |
| --- | --- | --- | --- |
| Irish Brown Ale | Scottish / Irish Ale | 6.1 | Rotating |
| Farmhouse Saison | Saison / Farmhouse Ale | 6.3 | Rotating |
| Brown Sugar Blonde | Golden or Blonde Ale | 6.0 | Rotating |
| New England IPA | New England IPA | 6.3 | Rotating |
| English Porter | English Porter | 4.7 | Rotating |
| Honey Cream Ale | Cream Ale | 5.1 | Rotating |
| Scotch Ale | Scotch Ale / Wee Heavy | 6.3 | Rotating |
| Nitro Stout | American Double / Imperial Stout, Nitro | 6.0 | Rotating |
| The Magic | Other Imperial Beer, Saison / Farmhouse Ale | 9.9 | Rotating |
| Black Jack Oatmeal Vanilla Stout | Oatmeal Stout | 8.0 | Rotating |
| Master Debater IPA | American IPA | 7.5 | Rotating |
| Hope UR Hoppy | American Pale Ale | 7.5 | Rotating |
| Hefeweizen | Hefeweizen / Weiss bier | 6.1 | Rotating |
| Belgian Wit | Witbier | 6.4 | Rotating |
| Cream Ale | Cream Ale | 5.1 | Rotating |
| Blonde Ale | Golden or Blonde Ale | 4.2 | Rotating |