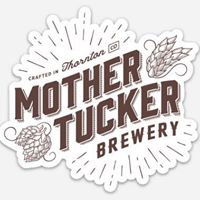 Description
Thornton's 1st Nano Craft Brewery!  Our Beers are made with a Whole Lotta Love and a little Attitude!
The Mother Tucker tasting room is the perfect place to relax and experience a sense of family, friendship, community…and great beer!
Mother Tucker is known for putting our unique spin on well loved classics. With around a dozen delicious brews on tap in a wide range of styles, there is sure to be something for everyone.
Our unique flavor profiles are a result of a whole lot of love and a little bit of attitude. But, our smooth, clean quality comes from the local premium malted grains, hops, yeast and water we use in all of our recipes. We don't cut corners and we don't skimp on quality, which is why our beer just tastes better. Stop by our tasting room to see for yourself. Grab a crowler to go, sip a pint and stay a while, or live life to it's fullest and sample our full selection.
Beers Brewed by Mother Tucker Brewery
This list includes beers brewed currently, previously, or seasonally by Mother Tucker Brewery. Contact the brewery for current beer availability.
| Name | Style | ABV | Availability |
| --- | --- | --- | --- |
| Irish Brown Ale | Scottish / Irish Ale | 6.1 | Rotating |
| Farmhouse Saison | Saison / Farmhouse Ale | 6.3 | Rotating |
| Brown Sugar Blonde | Golden or Blonde Ale | 6.0 | Rotating |
| New England IPA | New England IPA | 6.3 | Rotating |
| English Porter | English Porter | 4.7 | Rotating |
| Honey Cream Ale | Cream Ale | 5.1 | Rotating |
| Scotch Ale | Scotch Ale / Wee Heavy | 6.3 | Rotating |
| Nitro Stout | American Double / Imperial Stout, Nitro | 6.0 | Rotating |
| The Magic | Other Imperial Beer, Saison / Farmhouse Ale | 9.9 | Rotating |
| Black Jack Oatmeal Vanilla Stout | Oatmeal Stout | 8.0 | Rotating |
| Master Debater IPA | American IPA | 7.5 | Rotating |
| Hope UR Hoppy | American Pale Ale | 7.5 | Rotating |
| Hefeweizen | Hefeweizen / Weiss bier | 6.1 | Rotating |
| Belgian Wit | Witbier | 6.4 | Rotating |
| Cream Ale | Cream Ale | 5.1 | Rotating |
| Blonde Ale | Golden or Blonde Ale | 4.2 | Rotating |