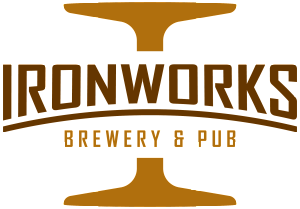 Description
At over a quarter century old, Ironworks Brewery and Pub is Lakewood's oldest brewery. In a blossoming and beautiful climate for the future of craft beer, Ironworks stands proud as a staple of the community. A true neighborhood bar with all the personality and character that makes for a relaxing and fun atmosphere.
Whether you want to watch the game, have some tasty bar eats, play pool, play darts, play pinball, or try the latest and greatest in house craft beers: You'll find something to entertain yourself.
Beers Brewed by Ironworks Brewery & Pub
This list includes beers brewed currently, previously, or seasonally by Ironworks Brewery & Pub. Contact the brewery for current beer availability.
| Name | Style | ABV | Availability |
| --- | --- | --- | --- |
| Hilltopper's Pride Kentucky Common Ale | Kentucky Common | 5.5 | Rotating |
| Thrilla with Vanilla Porter | Vanilla Porter | 4.4 | Rotating |
| Hop Killa | American IPA | 6.2 | Rotating |
| Agave Wheat | American Wheat Ale | 5.0 | Rotating |
| Out of This Galaxy | Black IPA / American Black Ale | 6.4 | Rotating |
| Bob E. Brown Ale | American Brown Ale | 5.4 | Rotating |
| Alameda Amber | American Amber Ale / Red Ale | 5.5 | Rotating |
| 'WIT' Knee Houston Ale | Witbier | 5.5 | Rotating |
| Green Mountain Pale | American Pale Ale | 5.7 | Rotating |
| Ornery Oatmeal Stout | Oatmeal Stout | 4.6 | Rotating |