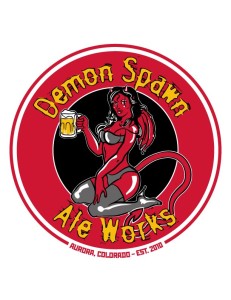 Description
Demon Spawn Ale Works was formed in 2010 by Doug & Ann Westphal in Aurora Colorado. We are a local craft beer brewery in the planning stage bent on creating great tasting beer and scoffing at the "BIG 3"!
Currently looking for a location.
Beers Brewed by Demon Spawn Ale Works
This list includes beers brewed currently, previously, or seasonally by Demon Spawn Ale Works. Contact the brewery for current beer availability.
| Name | Style | ABV | Availability |
| --- | --- | --- | --- |
| Get Into Heaven Coconut Porter | Coconut Porter | 5.4 | Seasonal |
| Seductively Sinful Chocolate Raspberry Stout | Fruit Beer | 4.7 | Seasonal |
| Heavenly Hopped IPA | American IPA | 7.0 | Year-Round |
| Dirty Blonde Rye | Rye Beer | 6.0 | Rotating |
| Raging Rye IPA | American IPA, Rye Beer | 5.5 | Year-Round |
| Angry Bitch Strong Ale | Strong Ale | 7.0 | Year-Round |
| Demon Spawn Pale Ale | American Pale Ale | 6.0 | Year-Round |