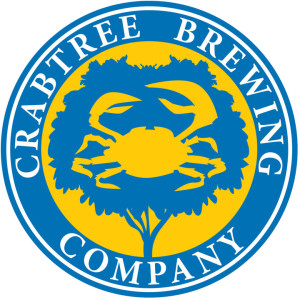 Description
The Crabtree Brewing Company is dedicated to serving the environment, the community, our customers, and our valued employees. Requiring the best ingredients to support unique premium beers. Keeping a dynamic business mind while remaining modestly profitable. Employing technology, embracing ethics, growing to meet the needs of our customers and employees, and having fun doing what we love… making great beer.
Beers Brewed by Crabtree Brewing Company
This list includes beers brewed currently, previously, or seasonally by Crabtree Brewing Company. Contact the brewery for current beer availability.
| Name | Style | ABV | Availability |
| --- | --- | --- | --- |
| Peach Habanero | Chili Beer | 7.6 | Rotating |
| Magna Carta IPA | American IPA | 7.2 | Rotating |
| Rebel Rye IPA | India Pale Ale, Rye Beer | 6.9 | Seasonal |
| Sesession Pale Ale | American Pale Ale | 4.4 | Year-Round |
| Trichome Wheat | American Wheat Ale, Fruit Beer | 4.3 | Special Release |
| Stephanie's Oatmeal Raisin Cookie | Oatmeal Stout, Wood / Barrel Aged Beer | 10 | Special Release |
| Syzygy | Black IPA / American Black Ale, Wood / Barrel Aged Beer | 8.0 | Special Release |
| Cezanne Saison | Saison / Farmhouse Ale | 8.0 | Year-Round |
| Raspberry Berliner Weisse | Berliner Weissbier | 4.3 | Seasonal |
| Berliner Weisse | Berliner Weissbier | 4.3 | Year-Round |
| Golden 8 | Belgian Golden Strong Ale | 9.0 | Special Release |
| ESB | Extra Special / Strong Bitter (ESB) | 6.25 | Seasonal |
| Dearfield Ale | Fruit Beer, Golden or Blonde Ale | 4.8 | Year-Round |
| Braggot | Braggot (barley Mead) | 7.85 | Year-Round |
| Eclipse | Black IPA / American Black Ale | 7.7 | Year-Round |
| Head Turner Blonde | Golden or Blonde Ale | 4.8 | Year-Round |
| Chunkin Pumpkin | Pumpkin Beer | 5.7 | Seasonal |
| Oatmeal Stout | Oatmeal Stout | 7.5 | Year-Round |
| Peachtree Cherry Wheat | Fruit Beer, Hefeweizen / Weiss bier | 6.0 | Year-Round |
| Twisted Creek Wheat | Hefeweizen / Weiss bier | 5.0 | Year-Round |
| Boxcar Brown | English Brown Ale | 5.28 | Year-Round |
| Ginger Bee | Golden or Blonde Ale | 6.5 | Year-Round |
| Serenity | American Amber Ale / Red Ale | 6.1 | Year-Round |