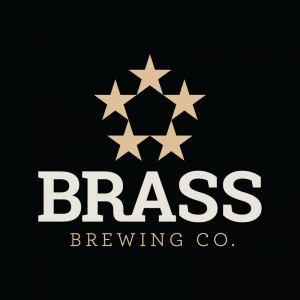 Description
Brass Brewing Co. is a veteran-owned and operated craft brewery in downtown Colorado Springs. Owners Wayne (Woody) and Kellee Briggs, Ohio State and West Point graduates respectively, served in the U.S. Army.
Quality over quantity

Brass' brewers Stacy Bomhoff and Kevin Glaspie run our seven-barrel brew house focusing on great quality beer with lots of flavor.

1% back to Veterans

Brass donates 1% of profits back to non-profits that serve our veterans.
Brass Brewing Co. takes over former Triple S Brewing by Colorado Springs Independent – 8 Feb 2018
Beers Brewed by Brass Brewing Company
This list includes beers brewed currently, previously, or seasonally by Brass Brewing Company. Contact the brewery for current beer availability.
| Name | Style | ABV | Availability |
| --- | --- | --- | --- |
| March Order Belgian Sour | Sour Ale | 5.2 | Rotating |
| Dogger Drinks Chili Coffee | American IPA | 6.0 | Rotating |
| H-21 Flying Heff | Hefeweizen / Weiss bier | 6.0 | Rotating |
| Task Force | American IPA | 4.7 | Rotating |
| Front Risers | Witbier | 5.2 | Rotating |
| Blue Falcon | Belgian Blonde Ale | 7.8 | Rotating |
| Pogey Bait | Fruit Beer | 5.0 | Rotating |
| Sick Call Ranger | Extra Special / Strong Bitter (ESB) | 5.2 | Rotating |
| Bunksitter | Golden or Blonde Ale | 5.0 | Rotating |
| A-Bag Earl Grey | American Amber Ale / Red Ale | 4.2 | Seasonal |
| Stand To Saison – Hibiscus and Cracked Pepper | Saison / Farmhouse Ale | 5.0 | Rotating |
| Hot Chow | American IPA | 6.3 | Rotating |
| Battle Buddy Brown | English Brown Ale | 6.0 | Year-Round |
| Overwatch | American Stout, Golden or Blonde Ale | 6.0 | Rotating |
| PoPo Pale Ale | American Pale Ale | 4.7 | Year-Round |
| Lost Lt. Blonde | Golden or Blonde Ale | 4.4 | Year-Round |
| Red Bag Amber | American Amber Ale / Red Ale | 5.9 | Year-Round |
| Staff Duty Porter | American Porter | 6.5 | Year-Round |
| 5-Jump Chump | Golden or Blonde Ale | 5.8 | Year-Round |
| Oh-Dark-30 | American Stout | 6.3 | Year-Round |
| Dogger IPA | English IPA | 6.4 | Rotating |
| Rounds Complete Saison | Saison / Farmhouse Ale | 5.0 | Year-Round |