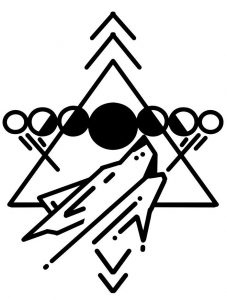 When we at Colorado Brewery List sent out our 2017 year-end survey, the brewery that was voted most-anticipated was Primitive Beer in Longmont, and with good reason – Primitive has a unique style, brewing lambic and gueze-style beers not readily experienced in the Colorado beer scene. We were lucky to be able to catch up with owners Brandon and Lisa Boldt ahead of their April opening and get a behind-the-scenes look – and lots of smells and tastes – of what Colorado beer-lovers have to look forward to starting April 14.
Primitive Beer, located at 2025 Ionosphere St. in Longmont, is the passion project of Lisa and Brandon – it grew from their love of travel and uniquely-brewed and spontaneously-fermented beers. They are, in their own words, "Colorado's first exclusively spontaneous, barrel-fermented beer blendery. Inspired by centuries-old Belgian brewing techniques and a flair for the modern, we are excited to release blends that reflect our passion for funky yet balanced flavor -profiles emphasizing Colorado ingredients." Primitive not only uses all Colorado ingredients – like Highwire Hops and Troubadour Malts, Palisade peaches and plums, and Montmorency cherries from Deer Tree Farm – they also incorporate water and micro-flora from local snow melt, reservoirs, and crisp, Colorado air. Primitive is so passionate about sustainability and local ingredients, they even reuse fruit blends several times, which extracts unique and funky flavors.
During our visit, we were given the privilege of sampling a plum blend, along with variations of cherry as well as peach. The lambic-style is purposely cask, and very light and refreshing with very complex and dry with muted notes of fruit and a subtle funkiness. The Boldt's plan to use a variety of wine and spirit barrels for aging in order to blend and inspire different facets and flavors. Debittered hops are used in the brewing process, so you can expect a beautifully smooth flavor. We were able to smell the debittered hops, and their aroma was beautiful – like a carefully crafted tea.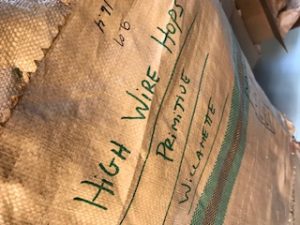 Concerned that their beer would be misunderstood and perceived as 'flat' in standard beer-to-go containers, Primitive's lambic beers will be available in a 'bag-in-box' style which will allow for a full experience and appreciation of the beautifully still brews. This method of takeout beer, while not ideal for standard carbonated brews, is perfect for Primitive's cask-style lambic and plays homage to old-world serving methods. The gueze-style beer is highly carbonated, so those beers will be bottled.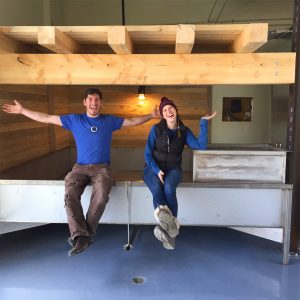 Primitive's old-world, Belgian brewing techniques are complex, yet also have many elements that are outside of the control of the brewer. Wort production takes more time and thought when using this brewing style, as this step in the brewing procedure is where environment can be controlled and results determined. After wort production, it cools for 12-14 hours in the koelschip – a beautiful lattice-covered pool within the brewery. Spontaneous fermentation takes it from there, and is heavily influenced by what is in the air in the atmosphere or even in the neighborhood on a particular day. Brandon told us that this tradition is steeped in folklore, with many brewers using the koelschip technique never replacing any pieces of the lattice if they get damaged for fear of changing the taste of their beers. Instead, they add onto the existing structure and let the wild fermentation continue.
The folkloric koelschip and the magic that it brings to Primitive's delicious beers is not the only sight to behold in this new taproom. Beautifully-aged barrels line the windowed space – stacked perfectly and adding rustic beauty and charm. You'll want to come here and take your time with your beer and your friends, and the long tables inspire conversation and community. You'll be able to get a round of beers in a charming ceramic pitcher and experience this old-world brewing style at its intended stillness.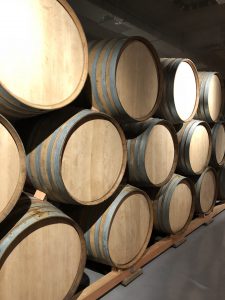 When asked what they wanted people to know about their passion project – Primitive Brewing – Lisa stated that "while this is an ancient and traditional style of beer, it does not have to be boring," and Brandon added that "while it is a complex style, we want it to inspire approachability and fun." After their April 14th opening date, they plan to be open during every-other-Saturday open houses while they determine business and quantity levels. This ancient style of brewing takes time, so supplies will be limited. Don't miss out on your chance to try these unique beers! Head to Longmont and be inspired by dedication, knowledge, and passion put into this product, relax in the beautiful taproom, and sip on a still but funky Belgian-inspired beverage built from love and with a strong Colorado foundation.