Here you are – The Great American Beer Festival. The dull roar from thousands of voices envelops you. You are in the middle of a throng, herded into a lane to wait until the stroke of beer o'clock. Trying not to feel intimidated or anxious, you distract yourself by thinking about your journey ahead and studying the map to make a plan of attack. The anticipation and general sense of furor is palpable.
And then you hear it – the unmistakable skirl of bagpipes. Suddenly, the bodies around you are moving. Unlike most lines this long, you are almost jogging just to keep up. It's time!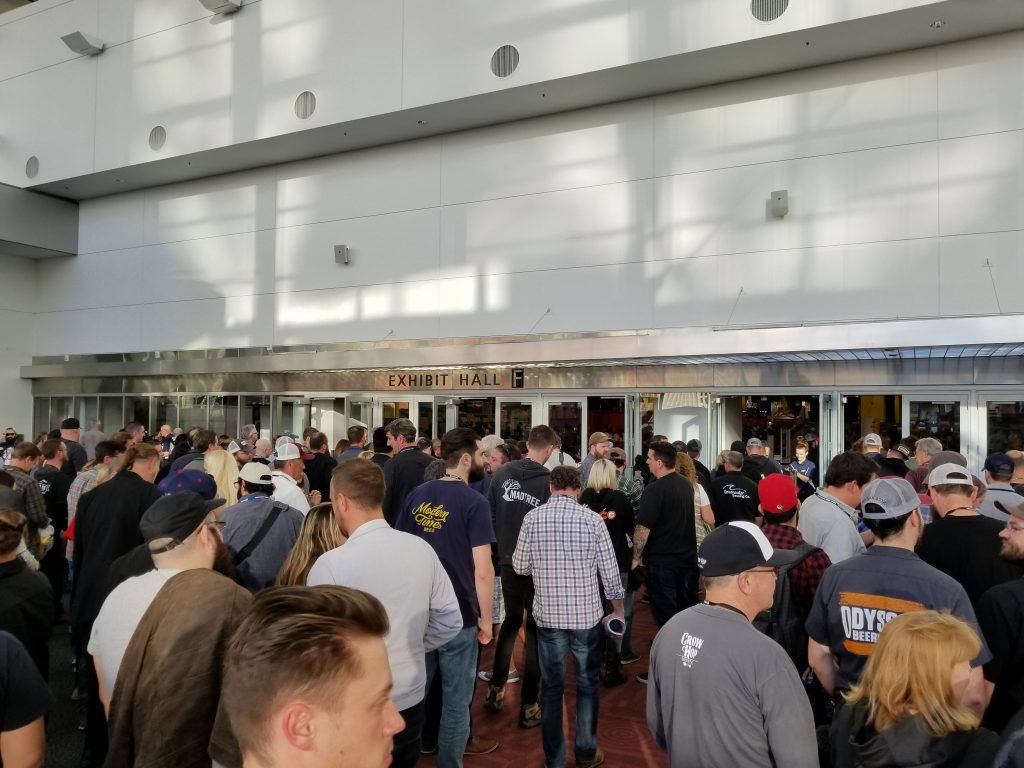 As your fingers slip around the plastic cup that will be your trusty companion for the next four hours, you wonder at how much work has gone into this event. From the convention center employees and volunteers, Brewers Association members, brewery owners from across the nation… all here to share their passion for beer.
You take a moment to get a good look at the vastness of the convention center floor. You already appreciate how much there is to see and do. The otherwise barren concrete expanse is transformed with elaborate booth facades, even whole vehicles house some brewery's taps. Eye-catching banners and props demand that you consider their beer above all else.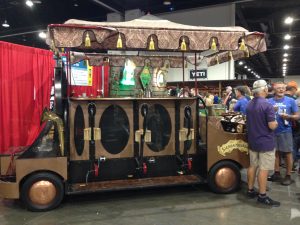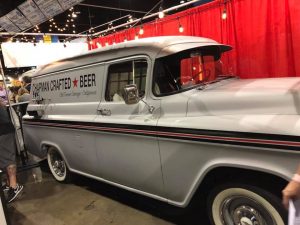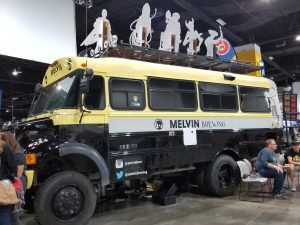 Cup in hand, you approach the closest booth. It is striking, with garlands of hop bines scaling the exterior. Not only is this booth physically appealing, this brewery's beer names are terribly clever. You greet the beige clad pourer and decide to start out strong with a tripel. As you hand over your glass, you wonder how many beers you will end up tasting. Will you even come close to 100? More? Then you wonder who holds the record for the most samples consumed in one session. On second thought, you also fear the consequences of that feat.
With the cup christened, you hold it up to get a look at the coloration. Despite the dusky convention center lighting, you can see that your beer is a slightly hazy straw color with a white creamy head. You inhale and pick up aromas of clove, bubblegum and pepper. The flavor is dense and sweet with a dry finish. And with that, you're off!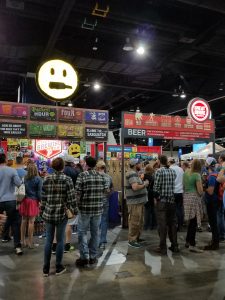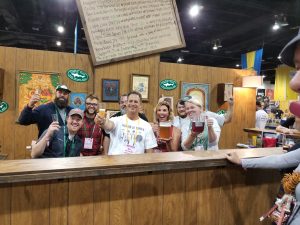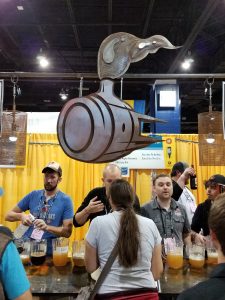 As you progress, you start to accumulate a variety of paraphernalia – things like buttons, stickers, koozies, beer-flavored chapstick, even brewery branded sunglasses. You're a sucker for any sort of keepsake that will help you remember this day. The decision to splurge and get an official GABF t-shirt was too easy.
You know the styles you like, but you make it a point to try the more obscure styles and visit unfamiliar regions. During your travels, you are pleased to find that there are food pairings with some of the beers. Cheese cubes, donuts, beef jerky, mini marshmallows, even french fries and ice cream help enhance these beer's unique flavors.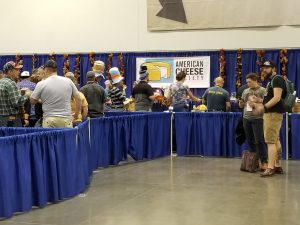 You are starting to get used to the close quarters, but take a moment to stand out of the traffic flow. While you sip your latest sample, a malty, deep-ruby scotch ale, you observe your fellow beer peers. Most have a big smile on their faces and are jovially chatting in groups or going straight to another line right after getting their latest sample. And boy are some of the lines impressive. At times, it can be hard to discern what all the hubbub is about from the back, but the curiosity factor often overwhelms you.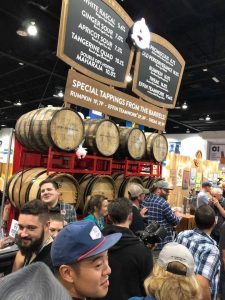 The people who aren't in beer-centric or staff t-shirts can be found in costume. Foam beer bottles and kegs lumber past you. Traditionalists in German lederhosen and dirndls proudly saunter by. Pirates, superheros, vikings, Mario characters, life-size snack foods… and you realize, you've just found your 8th Waldo.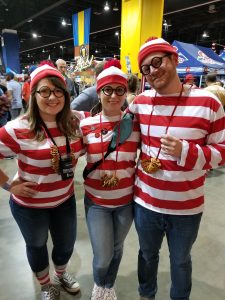 As you break off another pretzel from your ever dwindling necklace, all of a sudden you hear the unmistakable clatter of plastic on concrete. A cacophony of "ohhhhs" erupts, traveling down the aisle like a tsunami. You add your own howl to the ruckus and turn back to your most recent sample. This gem is worth getting excited over: a Bourbon Barrel Aged Mexican Hot Chocolate Stout. A parade of chocolate, cinnamon, nutmeg and oak wash over your palate, with a not unpleasant heat left on the back of your tongue from the chilis. You shudder in delight and have your own personal Anton Ego moment.
And with that, it seems it's finally time to break the seal. Since you know the lines for all surrounding bathrooms to be notoriously long, you decide to journey to the less desirable porta potty area. Though unpleasant, the lines are shorter so you are back on the floor sooner.
As you wander back out, an overhead sign welcomes you to The Backyard, a lively section complete with astroturf, lawn chairs and cornhole games. Farther in, you find the silent disco tent where patrons wearing headphones dance to unheard beats. People don foam beer can costumes and shake it for all they're worth, which you realize would be a crime against a real beer. Regardless, you can't help but crack a smile and even let out a snort.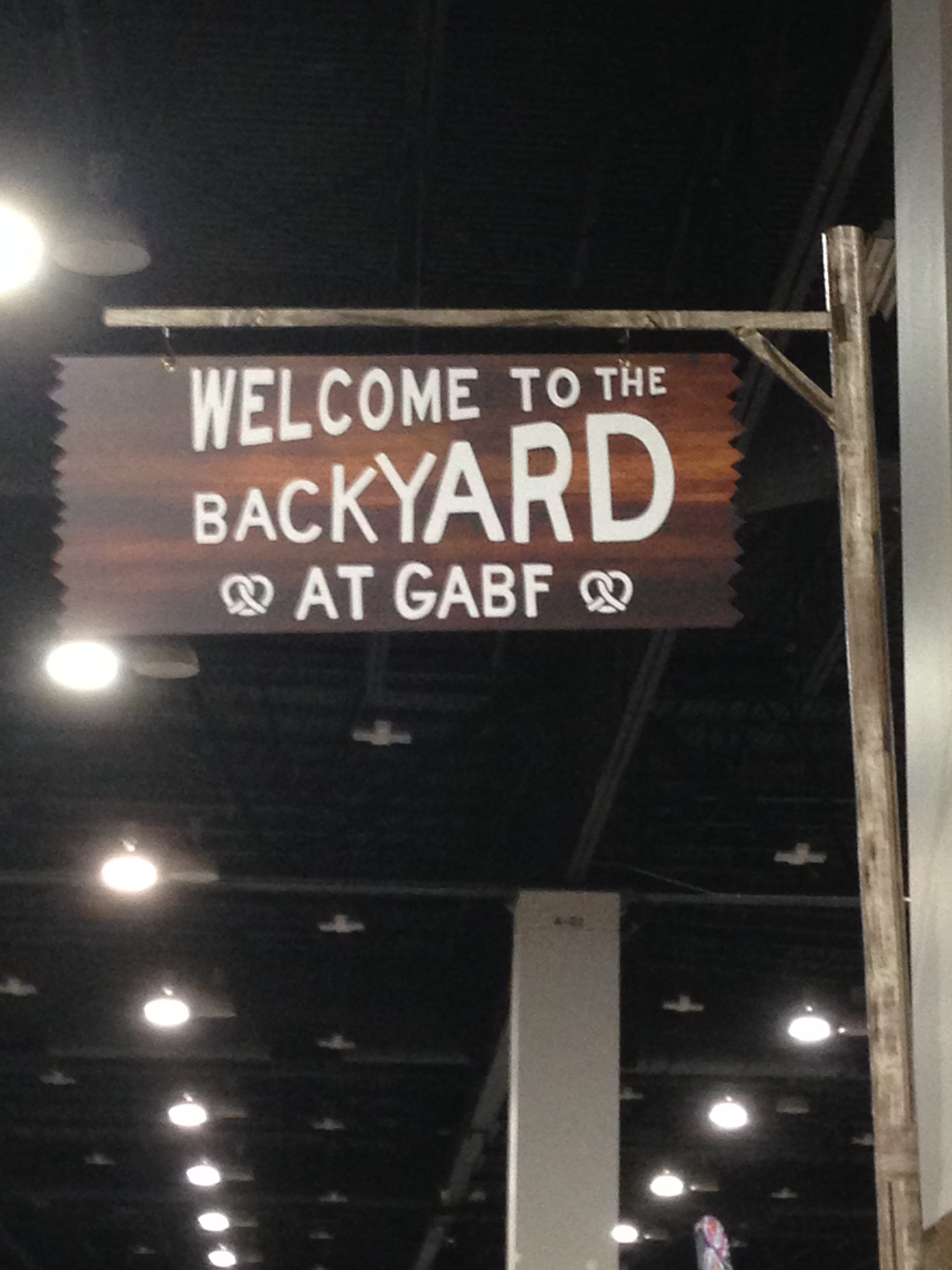 An odd sight catches your eye: a man is carrying a baby wearing noise canceling headphones in one of those baby backpacks. You decide to secretly name this baby Li'l Fuggles and wonder what sights he's witnessed. You immediately envy him for being ferried around as you realize how bad your feet ache.
How can this be? Pourers are already holding up last call signs! You hurriedly rush around to get your final samples, but are disheartened to find that most booths are out of the popular beers. Rather than settle for the dregs of the last pitchers, you decide to work your way to the doors while savoring the remnants of a coffee porter.
As you exit the convention center and make your way onto the frenetic streets of Denver, you check your phone for a list of the medal winners. Oh! That first beer you tried – the tripel? It won a silver medal.