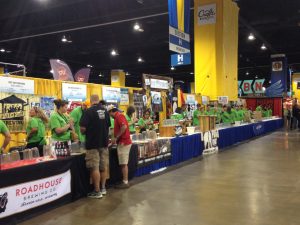 The Great American Beer Festival (GABF) is the ultimate gathering of beer lovers and industry professionals alike. For about one week per year, people from around the nation file into the mile high city of Denver, Colorado to experience what breweries across America have to offer. GABF is split up into four separate sessions running from Thursday night through Saturday night. While each session can be an amazing experience (especially for first-timers), there are some differences to consider when purchasing tickets. The following is a brief comparison of what you can expect at each session.
Thursday Evening Session
The first session to kick off GABF takes place Thursday evening. Everyone is excited, their palates are clean, and brewers are anxious to share their work with the world. You can expect to see many of them at their table or sometimes pouring your samples themselves (even outside of the Meet the Brewers section). Breweries' supplies may be limited, but as this is the first session, there is a good chance that you'll be able to try all of a brewery's offerings including special releases. The biggest disadvantage of this session is that it is weeknight, so many people have to get up for work the next morning.
Friday Evening Session
Friday evening might the most popular and media covered night. Fun events of 2016 included a costume competition hosted by Kyle Clark of 9News (a local news celebrity and beer aficionado). The Paired event was also hosted this evening, so those holding the special tickets could participate in the food and beer pairing in addition to the regular festival (see our previous coverage of Paired). Unfortunately winners of the competition won't be decided until Saturday morning so you won't be able to seek out medal winners, but that will not prevent you from discovering great beers. If you don't have a plan, make a point to visit a few small unknown breweries in regions you may never visit. Sometimes you might be pleasantly surprised by the differences in taste preferences and ingredients. If not, try to appreciate the fact that you are experiencing a "beer snapshot" from a completely different locality that you may never visit in person.
Saturday Noon Session (Members Only)
The Saturday noon session has the distinction of being available only for members of the Brewers Association (BA) and the American Homebrewers Association (AHA). Because of this, the session tends to be the most "civilized" of the four and attendees are entrusted with a special glass commemorative tasting cup instead of the standard plastic cup. Competition award winners are announced prior to or during this session, so this gives you the best opportunity to sample the new winners before they run out. Though arguably the best session to attend, there are a couple items to consider. First, as mentioned earlier, ticket sales are open only to members of the BA or AHA so you're unlikely to get tickets unless you are a member or have family or friends that subscribe. To get access to this session and a chance at the presale you can join the AHA but note that there are deadlines to join in order to get access for the current year's GABF sale. Also, since the tasting glasses are made from actual glass, (unlike the plastic cups used in the other sessions), these are much less forgiving if dropped.
Saturday Evening Session
The final session of GABF is the Saturday evening session. It is often regarded as the most rowdy session because some of the attendees are more interested in the act of drinking rather than tasting. It is a highly energized crowd, with many people donning their best costumes and having a great time. This level of activity also makes this session feel the most crowded, but this could be due to longer lines forming into the aisles. Another slight disadvantage is that by this point in the long weekend, many of the brewers are out on the floor visiting other booths rather than pouring their own beers, so while you may not be able to talk to as many of them directly, you may find yourself drinking alongside them in other regions.
However, don't let the drawbacks scare away from this session! The fact is this is still the Great American Beer Festival, and is a wonderful experience for everyone who attends. Also unlike the Thursday and Friday sessions, the awards have been publicized prior to this session, so you still have a chance to sample medal winning beers.
Bottom Line
Though all four sessions are very similar, each one has a few features that make the experience unique. Thursday night is a great night to experience the initial excitement of the fest, chat with the brewers while their minds are fresh, and have access to most beers before they run out. The Friday evening session will let you experience the festival while leaving the rest of your weekend open for other beer-related activities in town. Saturday noon session is a must if you're a BA or AHA member, granting you best access to brewers, official medal-winning beers, and a special tasting glass. Saturday evening is a high-energy session and a exciting way to cap off the weekend. Despite any of the pros or cons, ANY of the sessions will offer an amazing GABF experience. Find more information about purchasing tickets here. But be prepared – tickets have sold out in about an hour the last couple of years, so make sure your Ticketmaster account is up to date and that you're ready to purchase them the moment tickets go on sale.
*As of 2018, The Great American Beer Festival is using AXS.com as its ticketing partner.