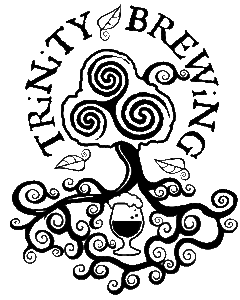 Description
TRiNiTY BREWiNG Company is a Public Ale and Lager House. Inspired by Belgian and English tap houses, our pub focuses on three major concepts: Artisanal Beer, Slow Food, and Conscious People. Cheers!
Closed Mondays during Winter.
Beers Brewed by Trinity Brewing Company
This list includes beers brewed currently, previously, or seasonally by Trinity Brewing Company. Contact the brewery for current beer availability.
| Name | Style | ABV | Availability |
| --- | --- | --- | --- |
| Magical Brettanomyces Tour | American Wild Ale, Wood / Barrel Aged Beer | 5.6 | Special Release |
| The Menacing Strawberry | Fruit Beer | 6.4 | Seasonal |
| Rind & Pepperberry | American Wild Ale, Saison / Farmhouse Ale | 6.8 | Seasonal |
| Sauvage Blanc | American Wild Ale, Wood / Barrel Aged Beer | 6.6 | Special Release |
| Saison Beams | Saison / Farmhouse Ale, Wood / Barrel Aged Beer | 5.4 | Special Release |
| Accessibility Mode | Saison / Farmhouse Ale | 6.4 | Seasonal |
| Koelorado | American Wild Ale, Wood / Barrel Aged Beer | 5.0 | Special Release |
| 45th Parallel | American IPA | 7.5 | Special Release |
| Chocolate River | American Double / Imperial Stout | 11.0 | Special Release |
| 365 Day Golden Sour | American Wild Ale, Wood / Barrel Aged Beer | 5.0 | Special Release |
| Wild Apple Saison | American Wild Ale, Fruit Beer | 8.1 | Seasonal |
| Layer Cake Goes-uh | Gose, Spice / Herb / Vegetable Beer | | Seasonal |
| Super Juice Solution | American IPA, American Wild Ale | 4.1 | Seasonal |
| Chilly Water | Baltic Porter, Wood / Barrel Aged Beer | 8.5 | Seasonal |
| Houdini Hopper | American IPA, Wet Hop Beer | 6.4 | Seasonal |
| Farmhouse Walloon | Saison / Farmhouse Ale | 5.0 | Seasonal |
| Farmhouse Soleil | Saison / Farmhouse Ale | 3.8 | Seasonal |
| Wee Banshee | Scottish Gruit / Ancient Herbed Ale | 7.0 | Seasonal |
| Passed Stout | American Double / Imperial Stout, Wood / Barrel Aged Beer | 11.0 | Seasonal |
| Chi Belgian Pilsener | German Pilsener (Pils) | 5.1 | Year-Round |
| Slap Yer Mammy | American Double / Imperial IPA | 10.5 | Year-Round |
| Trinity: Farmhouse Saison | Saison / Farmhouse Ale, Spice / Herb / Vegetable Beer | 3.0 - 12.5 | Seasonal |
| Awaken Chicory Coffee Stout | Coffee Stout | 6.0 | Year-Round |
| Flo India Pale Ale | American IPA | 6.4 | Year-Round |
| Sunna Wit Bier | Witbier | 4.8 | Year-Round |
| Soul Horkey Ale | Spice / Herb / Vegetable Beer | 5.5 | Year-Round |
| Seven Day Golden Sour | American Wild Ale | 5.0 | Rotating |
| Brain of the Turtle | Sour Ale | 5.8 | Special Release |
| The Flavor | Fruit Lambic, Wood / Barrel Aged Beer | 5.8 | Special Release |
| Old Growth | Flanders Oud Bruin | 5.8 | Special Release |
| Double Swingline | American Wild Ale, Other Imperial Beer, Wood / Barrel Aged Beer | 8.2 | Seasonal |
| Passion Swing | American IPA, Fruit Beer | 4.1 | Seasonal |
| Session Swing | American IPA | 4.1 | Seasonal |
| Easy Swinger | American Wild Ale, Wood / Barrel Aged Beer | 4.1 | Seasonal |
| Swing Se Pliser | American Wild Ale, Wood / Barrel Aged Beer | 4.1 | Special Release |
| Damn, it Feels Good to be a Gangsta! | American Wild Ale, Wood / Barrel Aged Beer | 8.1 | Special Release |
| Red Swingline | American Wild Ale | 4.1 | Special Release |
| Oh Face! | American Wild Ale, Saison / Farmhouse Ale, Wood / Barrel Aged Beer | 6.5 | Special Release |
| TPS Report | American Wild Ale, Wood / Barrel Aged Beer | 4.8 | Rotating |
| Blow Up Your TV | American Wild Ale, Saison / Farmhouse Ale | 3.8 | Special Release |
| Saison Man | American Wild Ale, Saison / Farmhouse Ale, Wood / Barrel Aged Beer | 4.9 | Year-Round |
| Hopped Toddy | Braggot (barley Mead), Wood / Barrel Aged Beer | 13.8 | Special Release |
| You Never Even Call Me by My Name | Saison / Farmhouse Ale | 12.2 | Seasonal |
| Emma's Pumpkin Saison | Pumpkin Beer | 9.5 | Seasonal |
| Le Capitaine | American Wild Ale, Spice / Herb / Vegetable Beer, Wood / Barrel Aged Beer | 10.4 | Seasonal |
| Three Flowers | Saison / Farmhouse Ale | 7.0 | Seasonal |
| Mr. Saison | Saison / Farmhouse Ale | 5.6 | Seasonal |
| Pappy Legba Saison | Fruit Beer, Other Imperial Beer | 13.0 | Seasonal |
| Elektrick Cukumbahh | Saison / Farmhouse Ale, Spice / Herb / Vegetable Beer | 6.4 | Seasonal |