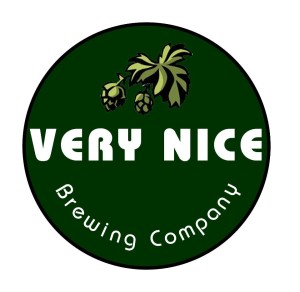 Brewery Details
Hours:
| | |
| --- | --- |
| Sunday | 12:00 PM - 8:00 PM |
| Monday | Closed |
| Tuesday | Closed |
| Wednesday | 12:00 PM - 8:00 PM |
| Thursday | 12:00 PM - 8:00 PM |
| Friday | 12:00 PM - 9:00 PM |
| Saturday | 12:00 PM - 9:00 PM |
Visitors:
Visitors Welcome
Tours:
On Request
Food:
Bring Your Own / Nearby Restaurants
,
Snacks
Other drinks:
Coffee
,
Gluten Free/Gluten Reduced Beer
,
Non-alcoholic
Beer to go:
Growlers
Merchandise:
Beanies
,
Gift Cards
,
Glassware
,
Hats
,
Hoodies
,
Koozies
,
Other
,
Shirts
,
Stickers
Parking:
Parking Lot
Dog Friendly?
Dogs Welcome
Outdoor seating/Patio:
No
Opening Date:
October 1, 2012
Description
The Very Nice Brewing Company was first thought of while I was in college. I worked my way through school with some of the most interesting, fabulous and caring individuals at the Junction Bar and Grill in Bowling Green, Ohio. I was hooked on the pub scene. Not for the wild times, but for the peace and solace of the companionship a neighborhood pub can provide a community. It was always "Very Nice", and thus the name for our beer was born.
I cannot paint, draw, sing, play an instrument, or write poetry, so as far as my artistic side goes, it was non-existent. Then I found fermentables!!! I found this to be a venue in which I could express myself artistically and realized I had a passion to be where the beer was born. I love conversing with other beer nerds for hours and never get tired of it. So please, stop by!
I am joined in this adventure with my partner and wife, Susan Green. She is the level headed "Ying" to my impetuous "Yang". Together we are partners in this mid-life crisis called The Very Nice Brewing Company.
-Jeffrey Green
Beers Brewed by Very Nice Brewing Company
This list includes beers brewed currently, previously, or seasonally by Very Nice Brewing Company. Contact the brewery for current beer availability.
| Name | Style | ABV | Availability |
| --- | --- | --- | --- |
| Fuggly & Brown | English Brown Ale | 5.9 | Rotating |
| Fuggly Pumpkin | Pumpkin Beer | | Seasonal |
| Porter de los Muertos | Chili Beer | 6.5 | Special Release |
| Greener's Gruit Ale | Scottish Gruit / Ancient Herbed Ale | 6.9 | Special Release |
| Phunkin Monster | American Barley Wine | 11.2 | Special Release |
| Grandfathered In | Scottish / Irish Ale | | Rotating |
| Petrichor ESB | Extra Special / Strong Bitter (ESB) | 6.5 | Rotating |
| Special Lady Friend | Saison / Farmhouse Ale | | Special Release |
| The Logical Fallacy | Black IPA / American Black Ale | 5.4 | Year-Round |
| Royal We IPA | American IPA | 7.95 | Year-Round |
| Monk's Phunk | Belgian Dubbel | 6.13 | Year-Round |
| Very Nice Pale Ale | American Pale Ale | 6.7 | Year-Round |
| Steffie's Heffe | Hefeweizen / Weiss bier | 4.2 | Year-Round |