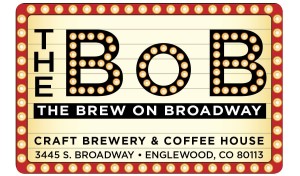 Description
The Brew on Broadway, which we affectionately call "The BoB", is a combination craft brewery and coffee shop. Our coffee shop offers only the finest coffees and teas, plus select sodas and chocolate drinks. Our brewery serves hand English style crafted beers brewed right here on the premises in downtown Englewood, Colorado. We are pleased to offer folks the highest quality products in a friendly atmosphere, without having to travel to downtown Denver.
We feature a dog friendly beer garden, live music, and welcome patrons to bring in food from any of the surrounding restaurants.
Beers Brewed by The Brew on Broadway
This list includes beers brewed currently, previously, or seasonally by The Brew on Broadway. Contact the brewery for current beer availability.
| Name | Style | ABV | Availability |
| --- | --- | --- | --- |
| Porter 7 Coffee Vanilla Porter | Coffee Porter, Nitro, Vanilla Porter | 5.9 | Seasonal |
| Scotch Smoked Mild | Smoked Beer | 4.5 | Seasonal |
| Little Dry Creek Australian Sparkling Ale | Australian Sparkling Style Ale | 5 | Seasonal |
| The Griffin Ryerish Redhead Ale | American Amber Ale / Red Ale, Rye Beer | | Rotating |
| Shadyside Blonde DHA | Golden or Blonde Ale | | Rotating |
| Swedish Sanatorium Double Rye Double IPA | American Double / Imperial IPA, Rye Beer | | Rotating |
| Orchard Place Caramel Apple Stout | American Stout | | Seasonal |
| Cinder Alley New Australian Brown Bitter | Extra Special / Strong Bitter (ESB) | 6.1 | Rotating |
| So Bro (South Broadway) Foreign Export Stout | Foreign Export Stout | 6 | Rotating |
| Cinderella's Evil Wet Twin Sisters Double IPA | English IPA, Other Imperial Beer, Wet Hop Beer | 10.2 | Rotating |
| Seven Saloons Barley Wine | American Barley Wine | 11.5 | Seasonal |
| Skerritt's Russian Imperial Stout | Russian Imperial Stout | 9.2 | Seasonal |
| Gothic Sour Imperial Stout | American Double / Imperial Stout, Sour Ale | 9.8 | Seasonal |
| Cinderella Twin Double IPA | American Double / Imperial IPA | 10.2 | Year-Round |
| Social Club Coffee Milk Stout | Coffee Stout, Milk Stout, Nitro | 5.2 | Year-Round |
| Tuileries IPA | American IPA | 6.7 | Year-Round |
| Eaglerock Pale Ale | American Pale Ale | 6.7 | Year-Round |
| Placer ESB | Extra Special / Strong Bitter (ESB) | 5.8 | Year-Round |
| City Mark Mild | American Pale Ale | 4.5 | Year-Round |