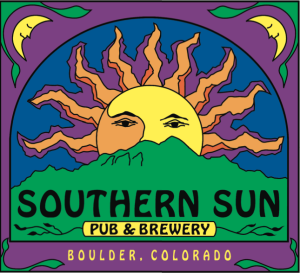 Description
With the same unique business philosophies, a larger version of the original pub opened in South Boulder in September 2002. Designed with a ten-barrel brewery, the Southern Sun boasted a living room, an expansive patio and greater seating capacity. Just like the Mountain Sun, there were no televisions and instead book shelves filled with novels and board games.
Beers Brewed by Southern Sun Pub & Brewery
This list includes beers brewed currently, previously, or seasonally by Southern Sun Pub & Brewery. Contact the brewery for current beer availability.
| Name | Style | ABV | Availability |
| --- | --- | --- | --- |
| Number One | Belgian Tripel | 9 | Rotating |
| Big Krane Kolsch | Kölsch | 5 | Seasonal |
| FYIPA | American IPA | 6.5 | Year-Round |
| Illusion Dweller IPA | English IPA | 6.9 | Year-Round |
| Quinn's Golden Ale | Golden or Blonde Ale | 4.8 | Year-Round |
| Annapurna Amber | American Amber Ale / Red Ale | 5.4 | Year-Round |
| Isadore Java Porter | Coffee Porter | 5.4 | Year-Round |
| XXX Pale Ale | American Pale Ale | 5.6 | Year-Round |
| Colorado Kind Ale | American Pale Ale | 6.3 | Year-Round |
| Old School Irish Stout | Irish Dry Stout | 5.6 | Year-Round |
| Blackberry Wheat | Fruit Beer | 5.25 | Year-Round |