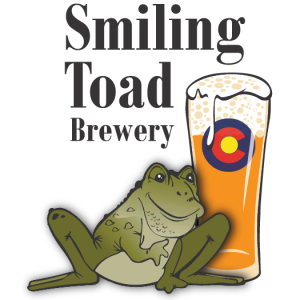 Description
We are a small and homey brewing operation based out of Colorado Springs. We love what we do, but most importantly we love it when people come to our brewery to have a great time with friends. Good company and good beer is the name of the game at Smiling Toad Brewing Co. We are a customer focused brewery and we always aim to please. Conversation is a dead art, we are trying to bring it back!
Beers Brewed by Smiling Toad Brewery
This list includes beers brewed currently, previously, or seasonally by Smiling Toad Brewery. Contact the brewery for current beer availability.
| Name | Style | ABV | Availability |
| --- | --- | --- | --- |
| UPS Brown | American Brown Ale | | Rotating |
| Saison 565 | Saison / Farmhouse Ale | | Rotating |
| Fulcrum IPA | American IPA | | Rotating |
| Seeing Red IPA | American IPA | | Rotating |
| West Side IPA | American IPA | | Rotating |
| ChemTrails IPA | American IPA | | Rotating |
| Smiling Toad: Chili Lime | Chili Beer | | Rotating |
| Jana's ESB | Extra Special / Strong Bitter (ESB) | | Rotating |
| ella Lavender | Spice / Herb / Vegetable Beer | | Rotating |
| IPA Freely | American IPA | | Rotating |
| Smiling Toad: Imperial Stout | American Double / Imperial Stout | | Rotating |
| Bobs Your Dunkel | Munich Dunkel | | Rotating |
| Wallonian Belgian | Saison / Farmhouse Ale | | Rotating |
| Lickety Split Vanilla Porter | Vanilla Porter | | Rotating |
| Amberdextrous Ale | American Amber Ale / Red Ale | | Year-Round |
| McFly's Irish Red | Irish Red Ale | | Rotating |
| Callipygian Pale | American Pale Ale | | Year-Round |
| Blonde Kat | Golden or Blonde Ale | | Rotating |
| Orange Blossom IPA | American IPA | | Rotating |