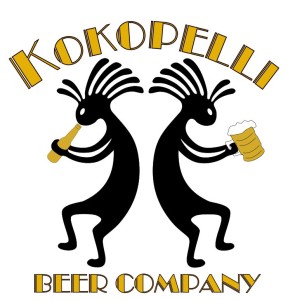 Brewery Details
8931 Harlan St.
Westminster, CO 80031
303-284-0135
www.kokopellibeerco.com/
Hours:
Mon-Thurs: 11:00am-10:00pm :: Fri-Sat: 11:00am-11:00pm :: Sun: 11:00am-10:00pm
Visitors:
Visitors Welcome
Tours:
On Request
Food:
Brewpub Fare
,
Gluten Free Food
,
Pizzeria
Other drinks:
Gluten Free/Gluten Reduced Beer
,
Guest Beers
,
Hard Cider
,
Limited bar
,
Non-alcoholic
,
Wine
Beer to go:
Bombers
,
Crowlers
,
Growlers
Merchandise:
Gift Cards
,
Hats
,
Shirts
Parking:
Parking Lot
Dog Friendly?
No Dogs Allowed
Outdoor seating/Patio:
Yes
Opening Date:
January 10, 2014
Description
We are a small brew pub located in the Solaire Shoppes at 8931 Harlan Street in Westminster Colorado, just across from the future Westminster Mall renovation. We enjoy brewing quality and consistent handcrafted ales and meeting new folks, so we decided to put them together. As a brew pub, we offer a small menu to compliment our ales.
Beers Brewed by Kokopelli Beer Company
This list includes beers brewed currently, previously, or seasonally by Kokopelli Beer Company. Contact the brewery for current beer availability.
| Name | Style | ABV | Availability |
| --- | --- | --- | --- |
| Vaquero | American Brown Ale, Wood / Barrel Aged Beer | 5.3 | Special Release |
| OTOGOB | Irish Dry Stout | 5.0 | Rotating |
| Twin Slugger | American Double / Imperial IPA | 9.5 | Rotating |
| Tripel Pi | Belgian Tripel | 7.8 | Rotating |
| Blarney Stone | Irish Red Ale | 5.5 | Rotating |
| Spencer's Pale | American Pale Ale | 6.0 | Rotating |
| Pom Da' Wheat | Hefeweizen / Weiss bier | 5.0 | Rotating |
| Zest Lemone | Hefeweizen / Weiss bier | 5.0 | Rotating |
| Vanillapeal | Hefeweizen / Weiss bier | 5.0 | Rotating |
| Seven Summers | Hefeweizen / Weiss bier | 5.0 | Rotating |
| Colonel Maize | Cream Ale | 4.8 | Rotating |
| Belliup Strong Belgian Ale | Belgian Strong Ale | 8.9 | Rotating |
| Berryana Strawberry Weizen | Fruit Beer, Hefeweizen / Weiss bier | 5.1 | Rotating |
| Lederhosen Moktoberfest | Oktoberfest / Märzen | 6.3 | Seasonal |
| Razzamatazz | Milk Stout | 5.3 | Rotating |
| Vanilla Moon | Milk Stout | 5.3 | Rotating |
| Black Crimson Kiss | Milk Stout | 5.3 | Rotating |
| 8 x 8 Elk Brown | English Brown Ale | 4.2 | Rotating |
| See'N Dubbel | Belgian Dubbel | 7.5 | Rotating |
| Copper Road ESB | Extra Special / Strong Bitter (ESB) | 5.5 | Rotating |
| GateKeeper | Saison / Farmhouse Ale | 6.0 | Rotating |
| Bare Bones | American Pale Ale | 6.0 | Rotating |
| Bodacious Blonde | Golden or Blonde Ale | 4.5 | Rotating |
| White Lace IPA | Belgian IPA | 5.5 | Rotating |
| Split Wit IPA | Belgian IPA, Witbier | 6.7 | Rotating |
| Wile E Wit | Witbier | 4.7 | Rotating |
| Worker Bee Honey Ale | Cream Ale | 5.9 | Rotating |
| Kokomo Brown Ale | American Brown Ale | 5.2 | Rotating |
| Smok'n Jo Porter | Brown Porter, Smoked Beer | 5.8 | Special Release |
| Sojourn SMASH | American Amber Ale / Red Ale | 5.8 | Rotating |
| Night Thunder | India Pale Ale | 7.9 | Rotating |
| Cow Tipper | Milk Stout, Nitro | 5.4 | Year-Round |
| Hop Slugger | American IPA | 6.9 | Year-Round |
| Goofstaf Altice | Old Ale | 5.0 | Year-Round |
| Red Moon Ale | Irish Red Ale | 5.5 | Year-Round |
| Pale Face Ale | American Pale Ale | 5.8 | Year-Round |
| Weizen Up | Hefeweizen / Weiss bier | 5.1 | Year-Round |