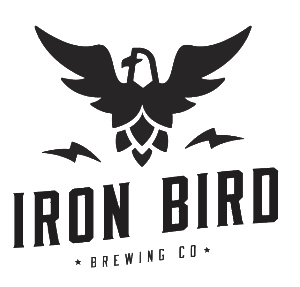 Description
Iron Bird Brewing Co specializes in cask ale. We welcome everyone to taste and enjoy our refreshing craft beer. Come sample different cask ale and their hard carbonated equivalents on tap every day. If you're new to cask ale, please come in and give it a try!
We're a couple of small town guys with a passion for beer and keeping it real. Everything is brewed on location and we'd love to have you join us for a round of flavorful session style beer. Hope to see you soon!
Beers Brewed by Iron Bird Brewing Company
This list includes beers brewed currently, previously, or seasonally by Iron Bird Brewing Company. Contact the brewery for current beer availability.
| Name | Style | ABV | Availability |
| --- | --- | --- | --- |
| Dead Stick Double IPA | American Double / Imperial IPA | 8.5 | Year-Round |
| Barnstormer | American Amber Ale / Red Ale | 6.3 | Year-Round |
| Bushwacker | Cream Ale | 5.5 | Rotating |
| Pin Setter | California Common / Steam Beer | 5.2 | Rotating |
| Whipstall West Coast Amber | American Amber Ale / Red Ale | 5.2 | Rotating |
| Iron Bird: Cask Pumpkin | Pumpkin Beer, Wood / Barrel Aged Beer | | Rotating |
| Iron Bird: Cask Oatmeal Stout | Oatmeal Stout, Wood / Barrel Aged Beer | | Rotating |
| Iron Bird: Cask Slumlord | English Pale Ale, Wood / Barrel Aged Beer | 4.9 | Rotating |
| Iron Bird: Cask Red | American Amber Ale / Red Ale, Wood / Barrel Aged Beer | 6.7 | Rotating |
| Slumlord | English Pale Ale | 5.0 | Seasonal |
| Iron Bird: Cask Brown | American Brown Ale, Wood / Barrel Aged Beer | 4.7 | Special Release |
| Iron Bird: Cask Nelson | American Pale Ale, Wood / Barrel Aged Beer | 5.4 | Special Release |
| Iron Bird: Cask Propaganda IPA | American IPA, Wood / Barrel Aged Beer | 6.3 | Rotating |
| Ahtanum Montana | American Pale Ale | 5.8 | Rotating |
| Nelson Pale Ale | American Pale Ale | 5.4 | Year-Round |
| Easy Amber | American Amber Ale / Red Ale | 5.4 | Year-Round |
| Gourdy Pumpkin | Pumpkin Beer | 5.2 | Seasonal |
| Steelhead Red | American Amber Ale / Red Ale | 6.7 | Year-Round |
| Deathbot Wit | Witbier | 5.0 | Year-Round |
| Cran-dad Rye | Rye Beer | 7.1 | Seasonal |
| Black Auger Stout | Irish Dry Stout | 5.1 | Year-Round |
| Propaganda IPA | American IPA | 6.3 | Year-Round |