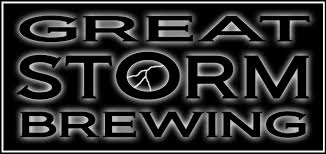 Description
Just like you, we love beer. We've been making beer for many years now and wanted to share our love of beer with as many people as we could. With that in mind, we founded Great Storm Brewing in 2010, and opened our doors and our taps to the public in March 2012.
Our name? Well, for us, there's a lot of anticipation in tasting a new beer. The way the foam settles in a glass of dark stout, or the raining effect you can see in a pint of IPA served on nitro… they remind us sometimes of the expectant feeling we get watching powerful storms roll in over the mountains in our home town of Colorado Springs. Yes, we tend to wax poetic over a pint glass. I told you we love beer. But anyway, that was part of the inspiration. The other part was our beloved half Husky, half Aussie brewdog, Storm. He's a little… wild. Like our beers.
We hope you'll find the same passion for drinking our beers as we do for making them. Come in and see us, we'll be pleased to pour you a pint.
And maybe wax a little poetic about it.
Beers Brewed by Great Storm Brewing
This list includes beers brewed currently, previously, or seasonally by Great Storm Brewing. Contact the brewery for current beer availability.
| Name | Style | ABV | Availability |
| --- | --- | --- | --- |
| Lightning Wit | Witbier | 5.0 | Rotating |
| Downtown Sour Brown | Flanders Oud Bruin, Wood / Barrel Aged Beer | 6.0 | Rotating |
| Uncle Drunkel Dunkel | Munich Dunkel | 4.0 | Rotating |
| Red Oktober | Irish Red Ale, Oktoberfest / Märzen | 5.0 | Seasonal |
| Oscuro Lager | Vienna Lager | 5.5 | Rotating |
| 8 Bit Pale Ale | American Pale Ale | 5.5 | Rotating |
| Shine On Oaked Belgian Golden Strong Ale | Belgian Golden Strong Ale, Wood / Barrel Aged Beer | 8.1 | Rotating |
| Seven Wolves IPA | American IPA | 7.6 | Year-Round |
| Black Bear Zwartbier | Schwarzbier (black beer) | 5.9 | Rotating |
| Brass Ale Honey Amber | American Amber Ale / Red Ale | 5.6 | Rotating |
| Nitro Rum-Raisin Stout | American Stout, Nitro | 8.1 | Rotating |
| Nitro Seven Wolves IPA | American IPA, Nitro | 7.6 | Rotating |