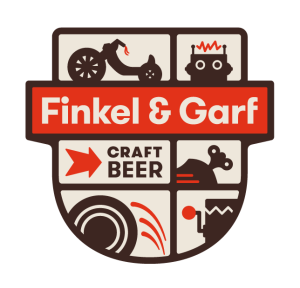 Description
Finkel & Garf Brewing Company is a collaboration between Eric and Dan Garfinkel, a father (Finkel) and son (Garf). We share a love of well crafted beer and an appreciation for the life experiences we have enjoyed with a beer in hand.
Our passionate and expert brewer, Myke Johnson, has been brewing remarkable beers for more than 8 years and has been a brewer at Fate, Tommyknocker, and Tallgrass breweries.
Our Brewery is centered around a 15 barrel brew house designed to produce beer for our Tap Room and for restaurants and stores along Colorado's Front Range.
We are often asked why we chose to put toys in the Finkel & Garf crest rather than images of hops and barley. The answer is because we are all still kids at heart. Toys are fun and they remind us not to take ourselves too seriously.
Beers Brewed by Finkel & Garf Brewing Company
This list includes beers brewed currently, previously, or seasonally by Finkel & Garf Brewing Company. Contact the brewery for current beer availability.
| Name | Style | ABV | Availability |
| --- | --- | --- | --- |
| Dry Hopped Amber | American Amber Ale / Red Ale | 5.2 | Rotating |
| Oatmeal Milk Stout | Milk Stout | 5.5 | Rotating |
| Imperial Red | American Imperial Red Ale | 9.8 | Rotating |
| Rye Saison | Rye Beer, Saison / Farmhouse Ale | 6.5 | Rotating |
| Raspberry Wheat | Fruit Beer | 4.7 | Rotating |
| Peach Wheat | Fruit Beer | 4.7 | Seasonal |
| Wheat | American Wheat Ale | 4.7 | Year-Round |
| IPA | American IPA | 6.5 | Year-Round |
| Pale Ale | American Pale Ale | 4.8 | Year-Round |
| American Lager | American Pale Lager | 4.8 | Year-Round |
| Dark Cream Ale | Cream Ale | 5.5 | Rotating |
| Cream Ale | Cream Ale | 5.4 | Year-Round |