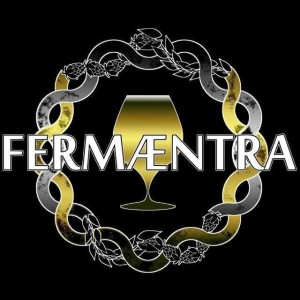 Description
FERMÆNTRA is a 7bbl brewery that produces bold, artful, inspired craft beer. Our brews are rooted in traditional style, yet amplified to embody the evolution of American craft beer.
Beers Brewed by FERMÆNTRA
This list includes beers brewed currently, previously, or seasonally by FERMÆNTRA. Contact the brewery for current beer availability.
| Name | Style | ABV | Availability |
| --- | --- | --- | --- |
| BOURBON BARREL MERISTEM | Russian Imperial Stout, Wood / Barrel Aged Beer | 9.2 | Special Release |
| CHARDONNAY BARREL SALEOS | Belgian Golden Strong Ale, Wood / Barrel Aged Beer | 9.2 | Special Release |
| RED WINE BARREL CANTICLE | Belgian Dubbel, Wood / Barrel Aged Beer | 7.4 | Special Release |
| WHISKEY BARREL KNICKER TWISTER | English Barley Wine, Wood / Barrel Aged Beer | 9.3 | Special Release |
| FEISTY BOURBON BARREL BRABBLE | English Porter, Wood / Barrel Aged Beer | 5.9 | Special Release |
| DEMIURGE | Witbier | 5.2 | Rotating |
| SIDEREAL | Rye Beer | 5.0 | Rotating |
| SERPENTES | American Wild Ale | 6.4 | Rotating |
| ROZZER | Southern English Brown Ale | 4.1 | Rotating |
| SALEOS | Belgian Golden Strong Ale | 9.2 | Rotating |
| QUIXOTIC | Belgian Quadrupel Ale | 10.5 | Rotating |
| MANGATA | Belgian Pale Ale | 5.4 | Rotating |
| KNICKER TWISTER | English Barley Wine | 9.3 | Rotating |
| INAMORATA | Belgian Dark Ale | 4.8 | Rotating |
| HYPERBOLE | American IPA | 6.4 | Rotating |
| BACKLIT | Black IPA / American Black Ale | 7.0 | Rotating |
| ANTUMBRA | Belgian Pale Ale | 5.1 | Rotating |
| ACCENTOR | Rye Beer | 6.0 | Rotating |
| SYSTEMIC | American IPA | 6 | Rotating |
| ARCHFIEND | American Double / Imperial IPA | 8.5 | Rotating |
| MACHINATION | Strong Ale | 10 | Rotating |
| BRABBLE | English Porter | 5.9 | Rotating |
| IMPRINT | Saison / Farmhouse Ale | 5.9 | Rotating |
| APHION | American Double / Imperial IPA | 7.9 | Rotating |
| MERISTEM | Russian Imperial Stout | 9.2 | Rotating |
| CANTICLE | Belgian Dubbel | 7.4 | Rotating |
| TERRARUM | English Brown Ale | 5.0 | Rotating |
| REDOLENT | Belgian Blonde Ale | 7.1 | Rotating |
| PRISMA | American Pale Ale | 4.9 | Rotating |
| AMALGAM | Golden or Blonde Ale | 5.4 | Rotating |
| FLUENCE | Hefeweizen / Weiss bier | 5.1 | Rotating |