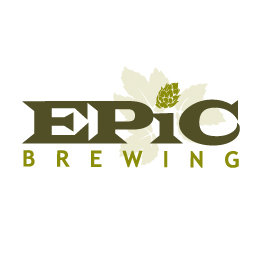 Description
Epic Brewing Company opened in Salt Lake City, Utah with six fermentation tanks giving it the flexibility to create a variety of small batch, artisanal beer. Within a few short months, Epic began earning medals for its beers domestically and internationally. The beer became a big hit with locals and out of state visitors alike and demand quickly increased.
Three years later, in 2013, Epic expanded its brewery operations into Colorado by opening a second brewery in the River North district of downtown Denver. The Denver brewery offered enough space to support growing national distribution, expansion of the popular barrel aged beer program and the introduction of a line of sour beers. Along with these improvements the addition of a "proper" tap room featuring 25 taps was a long awaited realization, allowing Epic to feature its substantial beer selection on draught.
Beers Brewed by Epic Brewing Company
This list includes beers brewed currently, previously, or seasonally by Epic Brewing Company. Contact the brewery for current beer availability.
| Name | Style | ABV | Availability |
| --- | --- | --- | --- |
| The Gourdian | Pumpkin Beer | 5.2 | Seasonal |
| Sour Brainless® on Peaches | American Wild Ale | | Special Release |
| Element 29 Pale Ale | American Pale Ale | | Rotating |
| Wild Apple Saison | American Wild Ale, Fruit Beer | 8.1 | Seasonal |
| Brainless® Raspberries | Fruit Beer | 9.9 | Rotating |
| Brainless® IPA | Belgian IPA | 6.5 | Rotating |
| Blue Law Porter | American Porter | | Rotating |
| Glutenator | Spice / Herb / Vegetable Beer | | Rotating |
| Santa Cruz Brown Ale | American Brown Ale | 6.9 | Rotating |
| Elder Brett: Saison-Brett Golden Ale | American Wild Ale, Wood / Barrel Aged Beer | 9.1 | Rotating |
| Utah Sage Saison | Saison / Farmhouse Ale | 7.9 | Rotating |
| Double Skull Doppelbock | Doppelbock | 8.4 | Seasonal |
| Fermentation Without Representation | Other Imperial Beer, Pumpkin Beer | 8.2 | Seasonal |
| Big Bad Baptist | Coffee Stout, Other Imperial Beer | 10.9 | Rotating |
| Hop Syndrome Lager | American Pale Lager | 4.6 | Rotating |
| Rio's Rompin' Rye Ale | Rye Beer | 5.6 | Rotating |
| Epic: Imperial Stout | American Double / Imperial Stout | 10.8 | Rotating |
| Brainless® On Cherries | Fruit Beer, Wood / Barrel Aged Beer | 11.2 | Rotating |
| Epic: Barley Wine | American Barley Wine | 10.8 | Rotating |
| Straight Up Saison | Saison / Farmhouse Ale | 7.3 | Rotating |
| Mid Mountain Mild Ale | English Mild | 4.9 | Rotating |
| Sour Apple Saison | Saison / Farmhouse Ale | 8.0 | Rotating |
| Epic: Wit Beer | Witbier | 5.4 | Rotating |
| Fest Devious | Oktoberfest / Märzen | 6.3 | Seasonal |
| Smoked and Oaked | Smoked Beer, Wood / Barrel Aged Beer | 10 | Rotating |
| Epic: Smoked Porter | Smoked Beer | 6 | Rotating |
| Brainless® On Peaches | Fruit Beer, Wood / Barrel Aged Beer | 11.5 | Rotating |
| Epic: Imperial IPA | American Double / Imperial IPA | 10.3 | Rotating |
| Epic: Imperial Red | American Imperial Red Ale | 8.3 | Rotating |
| Hopulent IPA | American Double / Imperial IPA | 8.7 | Special Release |
| Copper Cone Pale Ale | American Pale Ale | 6.8 | Special Release |
| Brainless® Belgian-Style Golden Ale | Belgian Golden Strong Ale | 8.8 | Special Release |
| 825 State Stout | American Stout | 5.8 | Special Release |
| Blue Ski Lager | Classic American Pilsener | 5.3 | Year-Round |
| RiNO Pale Ale | American Pale Ale | 5.8 | Year-Round |
| Escape to Colorado IPA | American IPA | 6.2 | Year-Round |
| Cross Fever Amber Ale | American Amber Ale / Red Ale | 4.8 | Year-Round |
| Capt'n Crompton's Pale Ale | American Pale Ale | | Year-Round |
| Pfeifferhorn Lager | Standard American Lager | 5.3 | Year-Round |
| Galloway Porter | American Porter | | Year-Round |
| Spiral Jetty IPA | American IPA | 6.6 | Year-Round |
| Intermountain Wheat Beer | American Wheat Ale | | Year-Round |