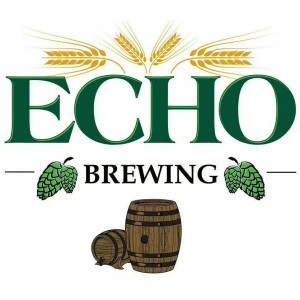 Description
Echo Brewing Company is a small family run brewery nestled between the towns of Firestone and Frederick in the heart of Colorado's Carbon Valley. Founded by twin brothers who have a passion for brewing the best beer possible. Homebrewers of eight plus years they keep their brewing concept at Echo similar to their homebrewing history: brew one fine beer followed by another while sharing them with the local community.
Beers Brewed by Echo Brewing Company
This list includes beers brewed currently, previously, or seasonally by Echo Brewing Company. Contact the brewery for current beer availability.
| Name | Style | ABV | Availability |
| --- | --- | --- | --- |
| Ancho Flavored Alt | Chili Beer | | Special Release |
| Frank! | Belgian Dark Strong Ale | 10.0 | Rotating |
| Front Range Collaboration | American IPA | | Seasonal |
| Elk Mountain Collaboration | American IPA | | Seasonal |
| Right Brain Collaboration | Sour Ale | | Seasonal |
| Wild Woods Collaboration | American Stout | | Seasonal |
| Echo: Grand Cru | Grand Cru | 11 | Rotating |
| Nocturnal Black IIPA | American Double / Imperial IPA, Black IPA / American Black Ale | 9.5 | Rotating |
| C.V. Milk Stout | Milk Stout | 5.0 | Year-Round |
| Perky Pika Porter | Coffee Porter | 6 | Rotating |
| Pika Porter | American Porter | 6 | Year-Round |
| Tri-Town Brown | Northern English Brown Ale | 5 | Year-Round |
| Echo: Rye IPA | American IPA, Rye Beer | 7 | Rotating |
| Mirror Image IPA | American IPA | 6.5 | Year-Round |
| Echo: IPA (Formerly Ice Mountain) | American IPA | 6.4 | Year-Round |
| Amarillo Session Ale | American Pale Ale | 3.8 | Rotating |
| Powder Run Pale (Formerly Powder Daze) | American Pale Ale | 6.0 | Rotating |
| Echo: Pumpkin Ale | Pumpkin Beer | 6.9 | Seasonal |
| Echo: Roggenbier | Roggenbier (Rye beer) | 5.6 | Rotating |
| Echo: Hefeweizen | Hefeweizen / Weiss bier | 5.2 | Seasonal |
| Echo: Apricot Wheat | American Wheat Ale, Fruit Beer | 5.3 | Seasonal |
| Razz Raspberry Wheat | Fruit Beer | 5.3 | Rotating |
| Wind Forest Wheat | American Wheat Ale | 5.4 | Rotating |
| Echo: Saison | Saison / Farmhouse Ale | 7 | Rotating |
| Echo: English Pale Ale | English Pale Ale | 5.9 | Rotating |
| Echo: Amber Altbier | Altbier | 5.2 | Year-Round |
| Balefire Irish Red | Irish Red Ale | 4.9 | Year-Round |
| Kirby Kölsch | Kölsch | 5.4 | Rotating |
| Echo: Munich Helles | Munich Helles | 4.9 | Rotating |