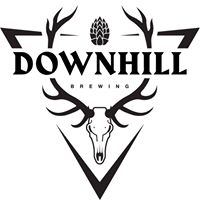 Description
Owners Doug Hyndman and Jake Minturn are pursuing our lifelong dream of running their own brewery and purchased Elk Mountain Brewing Company.  They will operate under that name (their outside sign still says Elk Mountain) until licensing goes through to become a brewpub.
Ski-Foes-Turned-Friends Will Buy and Rename Elk Mountain Brewing by Jonathan Shikes of Westword – 28 Feb 2017
Beers Brewed by Downhill Brewing Company
This list includes beers brewed currently, previously, or seasonally by Downhill Brewing Company. Contact the brewery for current beer availability.
| Name | Style | ABV | Availability |
| --- | --- | --- | --- |
| Apres Amber | American Amber Ale / Red Ale | 6.2 | Year-Round |
| R.I.P Stan Lee | American Pale Ale | 5.5 | Rotating |
| Bikini Girls with Machine Guns | Coconut Porter | 5.6 | Rotating |
| Melisandre | Fruit Beer | 5.5 | Rotating |
| Monkey Stardust Express | Fruit Beer | 5.9 | Rotating |
| Parker Politics | American IPA | 5.9 | Rotating |
| John Marston | American IPA | 6.0 | Rotating |
| Nazgûl | American Double / Imperial IPA, Wood / Barrel Aged Beer | 9.0 | Rotating |
| Saturday Nut Fever | American Brown Ale | 5.3 | Rotating |
| Case of the Mondays | Coffee Stout | 5.3 | Rotating |
| Ghost Town Brown | American Brown Ale | 5.3 | Year-Round |
| Collision Kolsch | Kölsch | 5.3 | Year-Round |